uKnowva implemented in EXIM Bank
Export-Import Bank of India (EXIM) is the premier export finance institution commenced by the Government of India. It was launched with the aim of enhancing exports from India and be a key player in the promotion of cross-border trade and investment
200%

Reduction in Emails

100%

Improvement in Knowledge Sharing and Team Work

500%

Improvement in Employee Engagement

400%

Improvement in Internal Processes and Efficiency
Challenges Faced
Managing a large workforce of employees
Handling internal communications across different EXIM branches all over the country
Low collaboration and communication among employees
Investigating the cause
Thousands of employees work at EXIM, but the systems followed to manage them were old and outdated
The existing social intranet platform was not interesting for the employees and difficult to edit and control for the team
There was no platform for the employees to share personal and professional space
Data management and sharing was a difficult task due to the dynamics of the industry and employee distribution across states
Strategy Devised
Integrated uKnowva for all the branches of EXIM
Focused on the two main needs of the client- Social Intranet & Data Management
Our Solution
We conducted in-depth market & competitor research before executing the best practises in user experience design.
More interactions

The Social Intranet in uKnowva has changed the entire communication trend in EXIM. Employees find it very convenient to reach out to team members across different offices at one click through Instant Messaging. With the communications rising, the team work is getting stronger, resulting in improved performance of the employees as well as the bank.

Less email clutter

Since uKnowva provides various communicating options like Personal Messaging and Instant Messaging, employees at EXIM have started to feel more comfortable to communicate through such user-friendly platforms. This has led to a reduction in the overall email count. Employees now expect faster communication that helps in quick decision making.

Useful Help Network

EXIM has a large group of employees working for the bank from different regions and multiple offices. For various tasks if a specialized personnel is needed, it was earlier difficult to track which employee will be suitable for that task. But with the Help Network by uKnowva filtering employee data is a matter of few seconds.

Efficient support system

uKnowva has facilitated an easy query raising and resolving platform to ensure that work never gets affected.

Data Maintenance

For any bank, data is the key; the same goes for EXIM. uKnowva's Document Repository has proven to be a real asset to the bank. All the documents are now easily shared among all employees without risking the security of the data. Also, for important data like the defaulter list, which is lengthy and keeps revising, smart filters are provided for easy and fast access.

Learning experience

The employees at EXIM enjoy using uKnowva to the extent that they use it for knowledge sharing using the Discussion Forums. They share experiences, updates or general inputs that help in increasing the learning experience of all employees.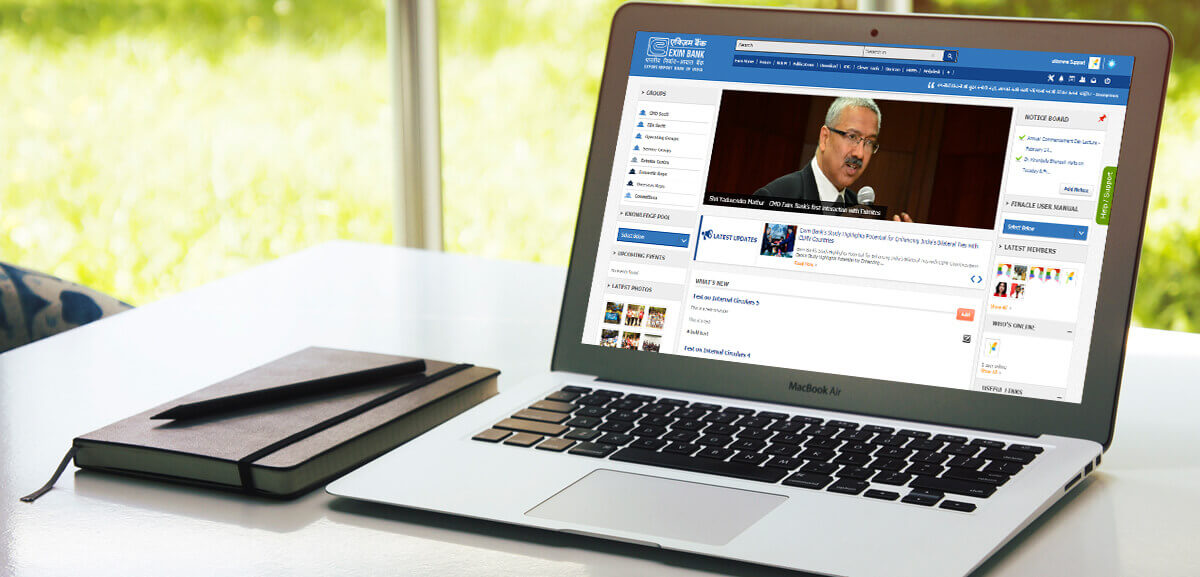 uKnowva's user-friendly interface and ease-of-use has helped us improve our internal communications and overall management tremendously. It has also made the employees more participative and proactive.
Key Stats
200%

Reduction in Emails

100%

Improvement in Knowledge Sharing and Team Work

500%

Improvement in Employee Engagement

400%

Improvement in Internal Processes and Efficiency
Departments benefited
HR: With increase in the employee interactions, a more transparent culture is developed that makes the overall working environment pleasant and employee-friendly
Operations: With easy availability of accurate data, day-to-day transactions and tasks are done faster and in an organized manner
Admin: Various daily admin tasks are executed with more ease and in a way that is interesting for all the employees
IT: Support for the staff and management of digital data security is taken care of
Data Managers: Entire data is uploaded on uKnowva and can be accessed by anyone from any branch, including an easy search and filter feature for lengthy documents like the defaulters list.
Overall support: Employee satisfaction and internal communications have seen a commendable positive shift, making people more comfortable to work at EXIM