uKnowva implemented in Prime Focus Technologies
Prime Focus Technologies (PFT) is the technology subsidiary of Prime Focus. PFT brings together a unique blend of Media and IT skills to help broadcasters, studios, brands, sports and digital organizations drive creative enablement, reduce cost and realize new monetization opportunities. PFT has an employee strength of around 2,500 and an annual turnover of approximately INR 200-250 crores.
300%

Reduction in emails

50%

Increase in everyday employee footfall

1000%

Improvement of efficiency of processes

500%

Improvement of internal communications
Challenges Faced
Unavailability of an employee directory with all employee records like personal info, work experience, attendance, salary slips that could be easily searched by employees
Tracking and managing activities of teams consisting of 50-70 members was getting cumbersome for managers
Inefficient attendance and billing system to track the actual reimbursement for team members, especially freelancers
Management required an organization chart where they could see the hierarchy of all employees, along with information such as reporting managers, team members, colleagues, etc.
Zero interaction between employees
HR required a reminder for employee birthdays so that birthdays could be celebrated at the workplace with all colleagues present
Lack of an efficient leave management system
HR and Admin teams required a more effective support system to address employee grievances with respect to travel reimbursements, travel requests, meeting room bookings, etc. and decentralize internal operations
Lack of a performance recognition system was causing many high performers go unnoticed
Management felt the need for a one-stop portal through which other company websites and blogs could be accessed and a single location where all company policies could be parked and accessed by employees when required
Low-level admin setup
Investigating the cause
PFT deals with several freelancers and employees on third-party payroll. The methods for calculating leaves and measuring attendance were outdated and inefficient for such a dynamic setup
No common platform for employees was available to collaborate and share thoughts
Since emails were used for all internal communication, the sheer volume of emails caused many grievances to go unnoticed and unresolved
HRIS platform used was not up to the mark and failed to interest users
No system was built to maintain employee database and plan the optimum use of resources
Strategy Devised
Integrated uKnowva for Prime Focus Technologies
Other than the general features provided by uKnowva, focused on adding customized inputs for adding more value to the setup
Our Solution
We conducted in-depth market & competitor research before executing the best practises in user experience design.
Task Tracking

As PFT's requirement was very specific, we created a custom extension called task trackers (a generalized version of this feature will be available on our extension store soon). Using Task Trackers, PFT was able to track the actual working time of the freelance engineers and other manpower resources. Task Trackers works on an automated system that starts tracking as soon as someone begins operating the system and stops when the system is left on standby or shut down or when the user logs out.

Active Directory Integration for SSO

Since PFT had an existing Active Directory, we integrated it so that users need not remember multiple usernames and passwords. They could log in to the system using the Active directory logins itself.

Secure PDF Viewer

We installed our PDF Viewer Extension from the Extension store.

Meeting Room Booking System

We installed our Meeting Room Booking System Etension from the Extension store.

Accurate Billing

Automated time tracking has resulted in accurate billing for the actual working hours. uKnowva also facilitates generating reports that can be easily exported for record keeping.

Social Intranet

The user-friendly features have helped increase the interaction time between employees. The video conferencing feature and instant messaging have successfully replaced other video conferencing apps and the internal IP system. Mr. Ganesh Sankaran, the founder & COO of PFT has made an internal declaration to his team that they need not send him emails anymore, they can connect with him through uKnowva's instant messaging feature because it is quick, easy and convenient.

Easy Data Sharing

Document repository has helped in easy sharing of large amount of data between teams. For a creative organization like PFT this is particularly important as it helps save the transferring time and keeps the documents secure.

Admin & HRIS

The HR team at PFT has made most advantageous use of uKnowva by using it for different tasks like keeping track of leaves by integrating the attendance records with the card swipe system, uploading salary slips for internal as well as third-party employees, ID card requests, and for performance reviews and appraisals. PFT rewards its best employees regularly by updating their names in the customized reward section on uKnowva. uKnowva is also being used to update events and happenings in the organization.

A Single Point of Contact (SPOC) from the HR team has been assigned to every employee at PFT for easy access and better grievance solving. The simple way to reach out to the SPOC is by raising a request on uKnowva. Various requisites like travel booking and expenses are also taken care at PFT using uKnowva. The real winning point is that the internal team enjoys using uKnowva's HRIS features unlike the earlier boring one used by PFT. The time spent by the employees on HRIS has considerably increased.

Employee Directory

At PFT, it is important to maintain the database of the employees including the projects they worked on, their specializations and other important details. The employee directory feature on uKnowva not only stores the data but also helps to filter it and give specific results in case the company is looking for a specialized manpower resource.

Transparency of work

The overall interaction between employees and the company has seen a huge positive shift. Also, with the automation of various tasks the internal conflicts has also zeroed down. All this has lead to transparency of work, which is the key requisite for a visionary booming company like PFT.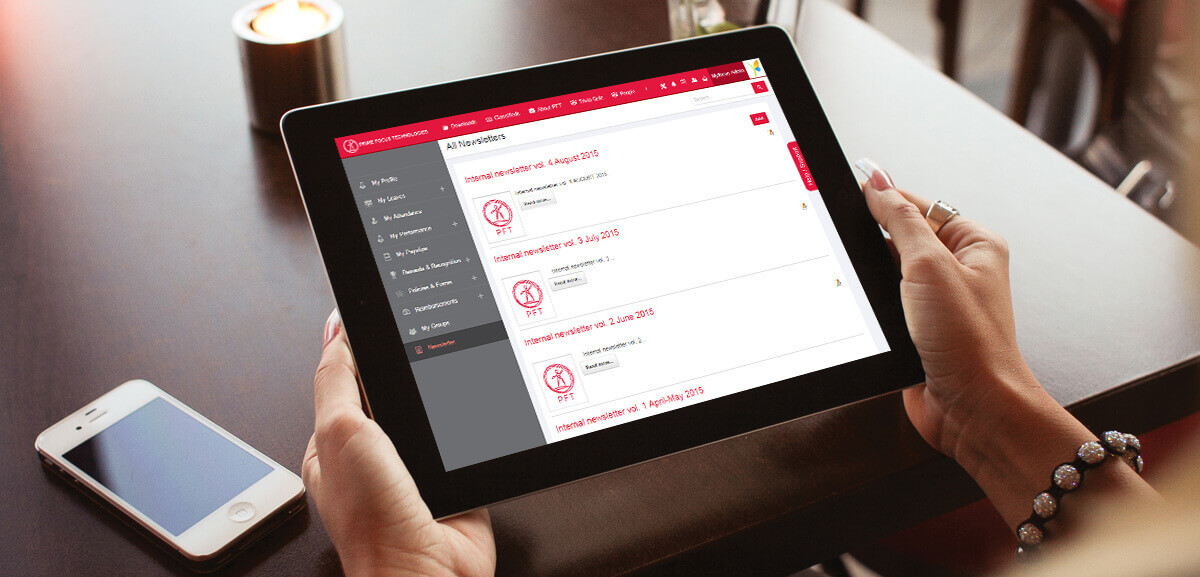 Biren, Vicky and the Entire team you guys have done an incredible Job, the portal has come up fantastically well!! I personally am enforcing my complete team of 2500 employees to stop sending me emails and communicating with me only through uKnowva. I plan to transfer the complete performance appraisal system and other critical processes also to this platform very soon!
Everyone who sees this portal for the first time have commented WOW! We wanted this long time back :)
Key Stats
300%

Reduction in emails for internal communication

50%

Increase in everyday employee footfall

1000%

Improvement of efficiency of processes like leave application, leave approval, travel reimbursement, travel request, etc.

500%

Improvement of internal communications with teams and employees
Departments benefited
HR: All HR processes are aligned well on the portal, they have become highly efficient and effective compared to the earlier offline processes.
IT: Internal support and help desk has improved. The implementation of SSO has made the IT process much simpler.
Marketing & Corporate communications: It has become very simple for Marketing. To communicate internally with all employees, all they need to do is put an update on the activity wall (just like tweeting).
Business development: The BD team can calculate the actual hours worked by users on specific projects perfectly so that the billing is transparent and accurate.
Administrative Departments: Many admin tasks like meeting room bookings, ID card request, business card printing requests are now automated and self working as they are embedded as a workflow in the system.
Finance & Accounts: It is now very easy and convenient for finance team to track reimbursements and process them as it all works through the systematic work flow created in uKnowva.