uKnowva implemented in Uniglobe Travel (South Asia)
Uniglobe is a leading travel management service provider which is spread across six continents and present in more than 60 countries. It has a network of franchises which delivers maximum efficiency through travel expertise. The Modi Group operates the Regional Master Franchise of UNIGLOBE Travel in the South Asia Region that covers India, Nepal, Sri Lanka, Bangladesh, Bhutan, and Maldives.
300%

Reduced emails for communication 

100%

Increased efficiency in all the franchises

75%

Cost reduction to manage HR activities

250%

Increase in overall business growth
Challenges Faced:
Current communication was unfavorable because it was dependent on emails which were inconvenient and confusing
Lack of real-time communication between employees and management also within parent company and other franchises
HR and CRM work was carried offline which was unorganized and time-consuming
Operations in all the franchisees were chaotic and cluttered which led to inefficiency
Investigating the cause:
No collaborative platform for upward, downward and sideways communication
No platform to manage all the HR process within an organization
Delay in announcements going viral which hampers work productivity
Need for common system to communicate with employees from franchises
Strategy Devised
Integrated uKnowva in Uniglobe Travel (South Asia).
Special attention was paid to build one common platform where employees can easily connect and communicate across various franchises
HRMS and CRM was integrated with Intranet for all the franchises
Our Solution
We conducted in-depth market & competitor research before executing the best practices in user experience design.
Collaborated work

uKnowva has developed a collaborative network for UNIGLOBE's franchise and their employees through which they can instantly connect with & stay updated about latest news, trends, and deals. The access to the intranet is open for everyone through which they can get notifications for new events. All the employees can easily post status/issues/thoughts on the intranet which can be viewed by all the members instantly.

Employee engagement

The easy to use platform by uKnowva has increased the overall interaction between employees and the company. There is an open way of communication which improved the employee-to-manager relation. Employees were now more engaged because questions were answered immediately. Employee engagement was enhanced as they were now well informed & more connected with the subordinates.

Increased productivity

uKnowva's Intranet has now become a common information sharing platform through which all the operations are handled efficiently. This resulted in better management of internal activities as well as the tourism service delivery process.

Streamlining the process

With one systematic platform, all the operations are streamlined. uKnowva has helped Uniglobe's employee to be in touch with their colleagues from different locations thus improving the flow of work.

Reduced email traffic

Employees at Uniglobe are now less depended on emails for internal communications. They can now comfortably communicate with each other through instant messaging and intranet portal.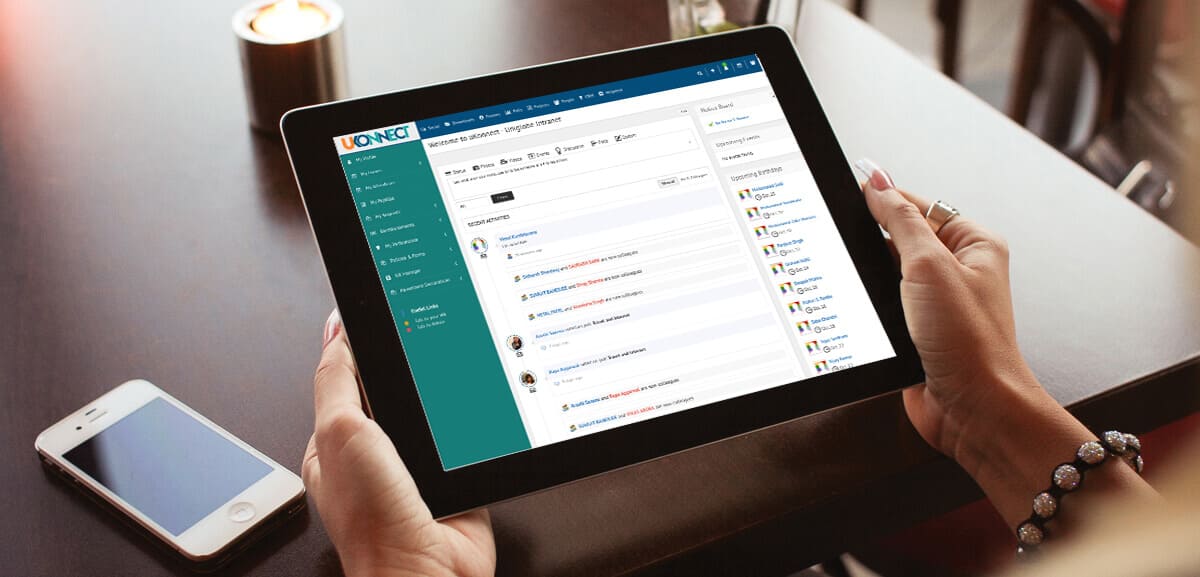 "uKnowva has helped us create a very simple and easy to use Intranet+HRMS system. It works awesome on all devices. We can now interact with all our employees and our franchisee employees as well who are distributed across the world with a click of a button. They helped us create our self-branded Mobile Apps as well. On top of it they have an excellent support team with a very short TAT. I reported a minor issue but it was resolved within a couple of days."
Key Stats
300%

Reduced emails for communication 

100%

Increased efficiency in all the franchises

75%

Cost reduction to manage HR activities

250%

Increase in overall business growth
Departments benefited
Operations: Complete data under one platform has helped to bring uniformity in operations of different franchises.
IT: There was a better flow of information between IT and the staff. Technical issues were quickly solved with less intervention. Easy knowledge sharing for the entire team across branches.
HR: Increase in internal communication has enhanced the work culture and has brought employees closer. Most of the HR activities are automated making it easier to manage people.
Corporate Communication: Streamlined flow of work with the unified flow of communication. Meaningful connections were established in an organization creating an open and transparent environment.