uKnowva implemented in Delhivery
According to the RedSeer Report, Delhivery is India's largest and fastest-growing fully-integrated logistics services player by revenue as of Fiscal 2021. With its nationwide network covering over 17,000 pin codes, the company provides a full suite of logistics services such as express parcel transportation, PTL, TL freight, cross-border, supply chain, and technology services. Delhivery has successfully fulfilled over 1 billion shipments since inception and today works with over 21,000 customers, including large & small e-commerce participants, SMEs, and other enterprises & brands.
300%

Increase in internal communication

50%

Improvement in process management

1000%

Increase in overall business growth

50%

Reduction in email and phone call dependency
Challenges Faced
Before uKnowva, they had multiple solutions for managing off-roll employees. These solutions had failed to bridge gaps between the ever-evolving process of a supply chain service company.
uKnowva was specially chosen to bridge these gaps and offer an integrated solution that is scalable and flexible to the constantly maturing nature of a highly tech-driven logistic company.
With the requirement for automation at its forefront, Delhivery aimed to automate all onboarding processes for all kinds of Off-roll Employees in the company. They aimed to kill any dependency on excel or google sheet which increased manual tracking efforts further lowering their productivity.
Delhivery stated the need for a complete digitized workflow for managing Ad Hoc manpower ( Contractual Labor) across India, with an aim to onboard every user and even the vendor on one system. This would help streamline every manpower request coming from all centers of the country and help generate precise billing against the actual man-hours put forth by the labor force.
With the company expanding rapidly, they struggled for a smart hiring system that would automate and streamline the entire manpower planning and hiring process. Identity Proofing was a requisite, as the count of Ad Hoc manpower employees onboarded each day exceeded a few thousand.
Meanwhile, a solution that works in tandem with all other existing systems by integrating attendance and Financial data in real-time had become essential.
Investigating the cause
There was no solution or platform that provided data flow in one central unified management system.
Earlier systems lacked flexibility for incorporating unpremeditated Adhoc manpower onboarding.
A need for a scanner that scans and parses unique IDs and fetches data to onboard Ad Hoc manpower tout de suite was needed to drastically reduce onboarding and clock-in time.
Setting limits for processing manpower requests that adhere to the company budget norms were required to be configured on set parameters. This was needed to curb the overestimation of manpower planning for both Ad Hoc and Offroll employees.
There was a need for a smart system that automatically prohibited recording punch against any manpower whose Agency/Vendor had no rates mapped in the masters. Thus not allowing any vendor invoicing that amounts to zero.
Strategy Devised
Built an Ad Hoc Portal, that sufficed the need of vendor management, manpower planning, Invoicing and billing, attendance management via Aadhar scanning.
Focused on building an interface that allowed configuring rules of manpower planning for both ad-hoc and Offroll employees. These rules both confined and exempted the manpower planning process based on vacancy count.
Admin/manager to own rights for shift allocation to users while onboarding. Here Shift Assignment is to be controlled at different levels.
A system that allows different definitions of 'Present punches' for different types of employees based on designations or departments.
An interface that restricts the manipulation of attendance data at different levels of hierarchy and time frame.
Real-time attendance sync at every juncture to be met. Integration with more than 10 different attendance sources to be captured and substantiated in one system.
Our Solution
We conducted in-depth market & competitor research before executing the best practices in user experience design..
Rapid onboarding by Scanning

Taking into account the company's outpour of punches recorded in a day, there was a need for rapid punch recording. uKnowva built a system where it would scan the Aadhar card and onboard the employees tagged to the unique ID and simultaneously record a punch. This process automated onboarding by parsing the information by barcode/QR code scanning.

Automated Smart budget Manpower planning

Here uknowva was capable to set limits to raise requests of vacancies for different types of workforce manpower. This allowed the manpower planning process to adhere to company budgets based on the limits set.

Complete Vendor Management

A complete vendor management system was built by uKnowva. This took care of invoicing and vendor billing. The system made sure that the invoice raised was based on the latest rates recorded against the vendor for the accurate man-hours logged.

Overcame Attendance Manipulation

uKnowva built in a system that restricted attendance manipulation for already recorded punches. The system restrained users from making a backdated change in Shift assignments and weekly offs for employees. Real-time sync of attendance from different sources was captured in uKnowva. Option for auto attendance approval was defined for special cases.

Flexible manpower onboarding

uKnowva offered higher flexibility by allowing any time onboarding of manpower. Here the punch recording opened up only during the shift windows assigned to respective users. A facility for users that allowed auto-punch out after a certain set of defined hours was built to provide more adaptability to employees.

All integrated solutions

uKnowva delivered a real-time integration for leave and attendance. It is also integrated with the other systems allowing a seamless flow of data throughout. Along with other integrations, uknowva incorporated financial integrations for accurate billing and invoicing.

Seamless Exit management

uKnowva built a seamless exit automatic approval system. The system also supported the transfer of employees within centers across India while maintaining the same unique ID but with vacancy movement under different manpower planning combinations.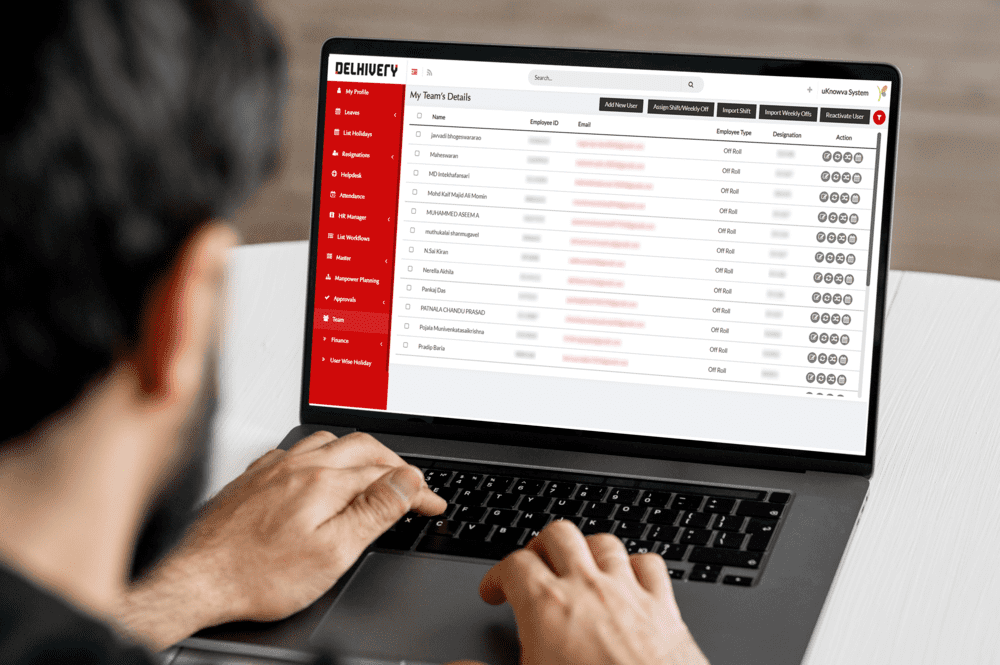 Key Stats
30%

Reduction in Attrition

100%

Improvement and financial transparency with Vendors

1200%

Improvement in onboarding TAT

700%

Increase in TAT for updating onboarding/exit information into other realtime systems

900%

Improvement in exit/separation management TAT

100%

Improvement in Overall real time visibility in attendance of Adhoc/Offroll employees
Departments benefited
HR:Most of the HR conditions are automated making it easier to manage people and manpower requests. There is more visibility for HR.
Operations:Better Control, better interoperability, better discipline induced.
Finance:Financial data in real time could be accessed. By incorporating financial integrations for accurate billing and invoicing made the process seamless.
IT: More control over the complete technology behind the application. Seamless integration with other systems, hence better interoperability