We all know nurturing employees is important. Equally important is how you take the information about the perceived company culture from departing employees.
Such information helps you in improving the organisation's current employee retention score. 
When departing employees debrief you about their impending or unsolved issues, you can focus on areas that need realignment/readjustments.
Most likely, departing employees will be more truthful to you as they have nothing to lose. They do not fear losing their job as they're already leaving. 
So, their feedback on your existing company culture will be most objective, probably free from usual bias.
Pay heed to the questions listed below to gauge better feedback from your departing employees. These help you in breaking the ice or confusion between you and your employee. 
These questions are useful in conducting an exit interview with your departing staff whenever possible.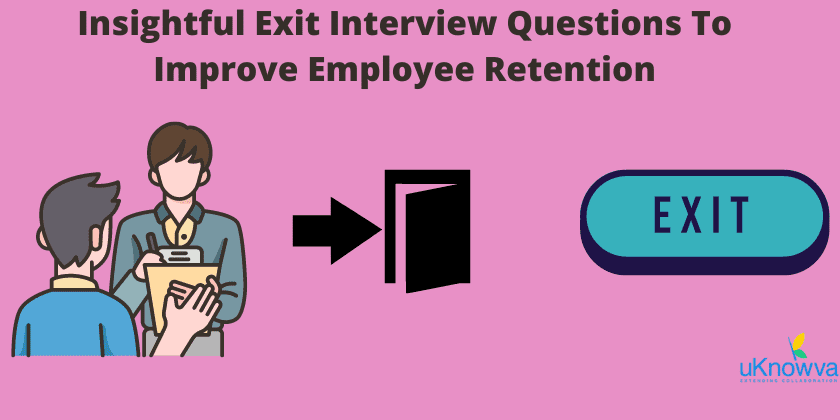 Insightful Exit Interview Questions To Improve Your Employee Retention Score:
When and why did you look for another job?
This is one of the straightforward questions. Answering this will be tough for some, but others will help you in knowing where the troubling point in the culture is. If they remember the exact moment, it will be more fruitful. 
Their reason for looking for another company or job position is equally important. It tells you how your company was not serving the employee in their best interest. And then it will show you the timeframe of that incident. 
This way, you as an HR can prepare for similar episodes in the future to improve your firm's employee retention score. If the situation is unavoidable, be better prepared for a rise in attrition rate during that period. 
Why are you considering leaving your current job now?
It takes time for an employee to make a decision to leave a job. It's harder for them to leave after 2-3 years of involvement in their current job roles/responsibilities. However, even after such a scenario or experience, the employee decides to leave. 
It means there must be a strong reason for breaking their current involvement with the company. Knowing that reason is crucial for the reporting and hiring manager. 
This answer gives them a clear picture of what went wrong and how – especially for senior or experienced employees. Paying attention to those mishaps, you have another chance to improve your employee retention rate the next time.
What better opportunities are you being offered in your new position?
An employee exit interview becomes more interesting and insightful with these questions. Firstly, many employees might not tell you what is being offered to them in another job role. However, if they think you can give them a better offer, they will surely tell you the same. 
Later, you can discuss the scenario with the management to decide on any counteroffer if possible. Otherwise, you will have one breaking point where employees can consider shifting for better job roles and opportunities. 
This answer also justifies what the other company offers more than yours for the same role. 
Do you think we could have nurtured your talent well to avoid this scenario? If yes, how would you like that to be known to the management?
That's another important question to be asked in the exit interview from the departing member. Answering this question might take time for the employee. They must go down their entire employee journey memory lane, regardless of duration.
They might jot down some points for you. Many might already be resolved or are in the pipeline to nurture the talent well. 
That will be possible while using digitally transforming uKnowva HRMS for increasing employee engagement rates at every click. 
Besides, these employees might not enlist all the points they remember while answering the question. Whatever points they tell you, pay attention to those. You will have to investigate why you lacked in nurturing the employee considering those parameters.
This answer or listicle could actually be quite eye-opening for your strategy and policymakers. They will have to reshape and redesign the corporate culture if there are many loopholes. 
At least your next employee will be nurtured well if those points are very serious and demanding. 
For example,
It could be related to the firm not focusing much on employees' working hours, overtime, due incentives/recognitions, and mental well-being. Those are some serious allegations a company must repeatedly and consistently work on.
Will you consider returning to the company later on?
This is another interesting question to ask your employee during an exit interview. Human resource professionals can list potential and high-performing candidates who want to return to the company later. 
That would mean company culture is on the right path even if offered salaries or perks are currently limited. If employees refuse to return, your human resource professionals still need to work proactively in fine-tuning the culture. 
Employees might leave today for better salaries, but company cultures are distinct and often attract ex-employees back. 
However, a bad or unfavourable culture will bear more losses. It creates a negative impact and reputation. Ex-employees do not wish to return, nor do they recommend the company to anyone else. 
Such a bad reputation spreads steadfast in the labour market. Soon, acquiring new employees will become more costly than nurturing the existing ones. 
However, that's usually the case. But with a bad reputation and employees not wanting to return, the cost of new hires will be almost unbearable. It shows your company will be limited to existing talent. Entry of new talent will be in jeopardy. 
That directly impacts the current employee retention rate. If existing employees find no new hires, it shows them there's something wrong with the company. 
They would want to make a switch where the culture constantly involves and welcomes fresh talent to extend their networks.
Conclusion:
There are 100s of employee exit interview questions to be asked. The more you ask, the more you will know about your current company culture from an objective perspective. However, when your time with the ex-employee is limited, utilise it well. 
The above-listed questions are the most important ones to improve employee retention scores next time.