The revolution of the workforce and work cultures is here. An SHRM 2021 study already stated that 60% of employers are ready to shift into remote work styles. 49% of the company heads gave an "okay" to remote working on some days.
The pandemic has caused a seismic change in work cultures. Employees now demand better work positions, job profiles, and culture. And the uKnowva HRMS software plays an important role here. 
Read from the post below. Identify how uKnowva's HRMS is helping reshape the new world of work for the new gen.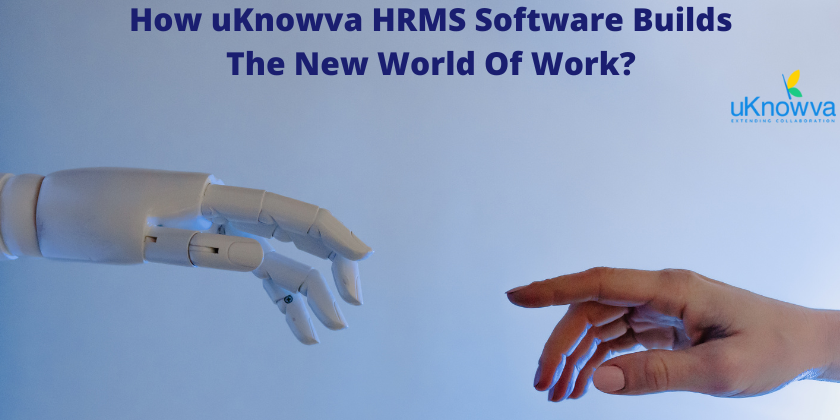 5 Ways In Which uKnowva HRMS Software Builds The New World Of Work:
Flexibility in schedules and roster.
uKnowva HRMS software enables teams to work flexibly. They can set their rosters accordingly. Managers set team KRAs or OKRs on time. Teams can collectively discuss and set their goals and get approval from the manager.
The workflow matters the most. Working hours or style in the latest HR technology world is secondary. However, uKnowva software allows freedom to work with greater mobility. The tool is accessible with any stable network and broadband service. 
It does not limit any worker, employee, or team to work at particular locations. It is accessible throughout most Indian regions. So, WFH/WFO/Hybrid schedules are easily possible from this tool. 
Deeper and more meaningful connections with colleagues.
The pandemic has taught everyone to seek out meaningful connections and relations at the workplaces. An average full-time worker spends 12-14 hours daily with colleagues. Having no connection is a bizarre situation. It leads to depression, anxiety, and other negative emotions. 
But uKnowva HRMS follows the latest HR trends. It allows people to connect virtually despite their working schedules, routines, or time zones. The process of connecting is uncomplicated, transparent, and purposeful.
Each conversation on the tool is to ensure to drive business success together. Teams efficiently receive live notifications of missed messages in their emails. They also access the uKnowva HRMS app in the Google play store. 
Teams connect over group chats, personal chats, and streamed chats there on uKnowva. Leaders are helpful and ensure to keep connecting with their employees. The ones working remotely or on-field can reach their backend teammates anytime. 
The messages deliver flawlessly over the server. There is hardly any lag. So, the relationships built on this virtual platform are interactive and meaningful. 
Workers crave autonomy with transparency. 
New-gen and Millennial workers crave to work without interruption. uKnowva HRMS software caters to those workflow expectations. With workflow automation features, it lets employees work at their pace to meet targets on time. 
Reporting managers overview their work using Project & Timesheets, Leave & Attendance, and Happiness Metre. They read insights gleaned on the live dashboards for each team member.
They can know which employee is logged in from which location using the Track My Team feature in uKnowva. It is easy for reporting managers with large teams to supervise their productivity without micromanagement. 
At the same time, teams know that their work gets reflected in the analytics in uKnowva HRMS. It improves transparency between teams without boosting micromanagement. Instead, teams work both alone and together. There is a defined balance they find and redefine using the uKnowva complete HR suite. 
Focus on workers' mental well-being.
Workers do not prefer any organisation where their health is neglected. That's one of the crucial HR trends to follow and respect. Employees have started focusing on their mental well-being, now more than ever before. '
uKnowva HRMS software recognises the importance of well-being. It has HR analytics that highlights possible burnout symptoms, lowering productivity episodes, higher attrition rate, disconnection between teams and more. 
Admins can tweak those reports to get more insights as per their company's policy. Reporting managers see some reports related to their team members. They can refine the group dynamics and expectations if they see trouble in mental well-being. 
It could be because workers are not:
Interacting often. 

Punching in/out of the system on time.

Engaging with teams when required the most. 

Giving new ideas or suggestions to increase group productivity. 
Reporting and talent managers have to work together to find the actual cause. They can launch a vote or survey for their teams on time on uKnowva HRMS. From there, employees can show their genuine worries and concerns. 
It is all timely activity because the HRMS alerts the managers and super admins before matters are out of hand. 
Focus on finding the right talent.
Recruiters find the right talent at a reasonable cost using uKnowva's recruitment engine. It is a feature-rich tool which also boosts automation. It allows companies to hunt, hire, and scout talent whenever required. 
HR analytics is the central part here. It helps recruiters decide the right career portal, job engine, and efficiency rate for each hire. Recruiters leverage the existing ATS in uKnowva HRMS software. 
It shows stats like:
The total number of applicants in the system. 

Ease of filling the application for the applicants. 

Total shortlisted applicants.

The total number of job and culture-fit applicants, based on predefined criteria. 

The total number of applicants who are yet to complete the assessment tasks.
The list goes on. The overall hunt for the right talent in bulk is easy for recruiters and hiring managers using uKnowva. That's one of the latest HR tech tools to rely on for small and medium companies. 
The system might also hide sensitive information from recruiters like age, gender, location, etc. The recruitment of the right talent is without bias or manipulation. Only the most deserving one gets enrolled.
Conclusion:
uKnowva is a feature-rich enterprising and workflow management tool. It's apt for growing and maturing businesses. A company with 10-100+ members can easily install its instance independently after choosing the plans. 
uKnowva HRMS software helps build the new world of work in multiple ways. We hope your understanding of its features is clear from the post above. The tool has an in-built extension store. It's also available on the mobile app. Companies can access this tool from anywhere at any time. The server is 99.99% times live and running with complete security and safety of employee data.