Employees in today's age no longer feel that they just have to punch in and out of their offices. A workplace now holds more value to them, including acquiring and nurturing continued employee experience. 
Each organisation's culture is different – no arguing in that. But that too is defined by how employees are hired, developed in perspective of their skillset, managed, and engaged.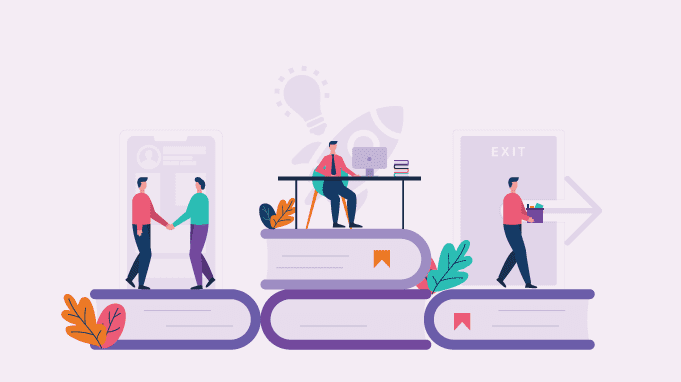 In view of people's experience and ease of use, uKnowva HRMS software has been designed. There is a growing list of benefits employees reap for bettering their experience in the firm using this software. 
To know more, consider the guide below. It narrates points on how uKnowva's HRMS assists employees in any organisation for an engaging and empowering experience.
uKnowva's Agile Steps To Drive Better Employee Experience For Organisations Using Its HRMS Software
1. Smooth Talent Acquisition Process From The Get-Go To Build Trust And Lasting Impressions.
Employee experience with a company initiates from the preboarding and offboarding process. It has to give them a lasting impression that creates a halo effect of the work-life culture in the company they're hired for. 
uKnowva's HRMS considers that idea by offering features like AI-based screening and CV Parsing, offer letter generation, streamlining the tasks involving preboarding and off-boarding like pre-interview stages. 
With AI-based screenings, HR teams are at ease. They don't spend hours shortlisting candidates fit for a particular job, especially when it's demanding and complicated. 
Furthermore, automated CV parsing takes screened candidates to the next stage seamlessly. This step is useful, coupled with automated screening for reducing expected TATs. HR managers also feel that their talent acquisition improves using these features available in HRMS software by uKnowva. 
Similarly, with offer letter generation features, filling in details of the chosen candidate reduces the hassle. 
2. Talent Management Features That Make Employees Self-Reliant.
In today's dynamically digitalised world, data is everything that tells HR teams and managers how well their employees are performing for the tasks assigned. It's an important factor to build stronger employer-employee relationships as well. 
That is why the HR management system by uKnowva provides 360-degree solutions that track every essential employee info. Starting from employee's data for clear reports, leave/attendance, to payroll, claims & reimbursement, timesheet, and exit management.
Using this software, employee experience (EX) accelerates from the employee's point of view. They learn to be self-serving to mark their attendance, leaves, and claim their monthly reimbursement or salary. So, their dependency on microtasks like these on the HR team is lesser. 
On the flip side, HR professionals use HRMS software by uKnowva to understand their employee data better. 
Automated reports from these sections educate HR heads and associates about the consistency, efficiency, scope of improvement, and contribution level of each hired person. 
It's a one-roof solution for team members and managers, so to say. 
3. Comprehensive Talent Development Through Learning Modules For All.
Simply getting hired for a job satisfies not even a single employee. They look for their career growth in every company they interview for. It puts immense pressure on the HR teams and professionals for the greater good. 
That is why uKnowva establishes talent development modules in its HR software. Assessing features like performance management, learning & development, eLMS, and training calendar is essential code for transparency between employee and employer. 
Because of these features, a hired person working remotely, in-house, or contractually can upgrade their knowledge and skills. 
Under performance management features, recruiters are at ease to check which course has been learned by their hires. They can track which talent is suitable for the next job/task in their pipeline. 
In fact, the goal setting and preparing evaluation period after the development of a course is efficiently delivered using performance management. 
Similarly, employee experience gradually improves and nurtures when they mark their learning schedules. Training calendars are there for this purpose and deliver more. With these calendars, employees can learn time and skill management. 
They would know when they are scheduled to learn which module and how many hours are they about to invest. Accordingly, they can then automate their other mundane tasks in the HR management system.
4. Talent Engagement Features To Boost Productivity And Employee Retention.
Employee engagement is a significant mark that reduces attrition, improves productivity, and mental well-being. Employees feel heard, have a sense of belongingness, and are respected by engaging with their team members, seniors, co-founders, and immediate relationship managers. 
They know they can trust their company for any issues they have within a point or click. For that, uKnowva's HRMS software provides features:
Social Intranet

Instant messaging

Polls

Surveys

Happiness index and insights
Employees experience a constant boost in their achievement and job done well by posting the milestone on Social Intranet. 
They have their separate profile like social media to add their teammates. Otherwise, they can like, comment, and react to the latest news in the organisation. 
It spreads out a message that no employee is alone irrespective of the location they're working from. Apart from that, employees can share their opinions and suggestions using, creating, and interacting on polls and surveys. 
The most important factor here is the happiness index or metrics. Employees have to rate their feelings with every punch in and out. HR teams get these insights on the happiness index to ensure that their hired staff is both satisfied and engaged. 
Because satisfaction and engagement are two different aspects. One shows that a hired staff is happy working at the current payroll, incentives, and hours. Whereas, the engagement rate shows active participation and contribution of an employee in the firm's growing culture.
Bottom Line
There is never only one way to draw a positive employee experience in the organisation. That is why HRMS software by uKnowva is a 360-solution. It establishes four important pillars affecting employees' mood, career, work-life balance, and genuine contribution to the company. 
These are no other than: 
Talent Acquisition

Talent Management

Talent Development

Talent Engagement
Employees learn to tread their way into the organisation with a clearer mind, boosted efficiency, and multiplied productivity using these features. 
And recruiters understand better why their employees are behaving in a particular manner. Later, they also discern how to mould it better for the timely achievement of common organisational and individual goals.