HR digital transformation has been a relatively new but rapidly emerging concept for the past decade. HRs must grasp better knowledge in advancing and maturing their HR processes using digitisation. 
In this blog, readers will learn six core points that help digital HR professionals level up their daily duties and responsibilities. 
They can use the intelligent HRMS in India, uKnowva, to automate and streamline daily work flawlessly.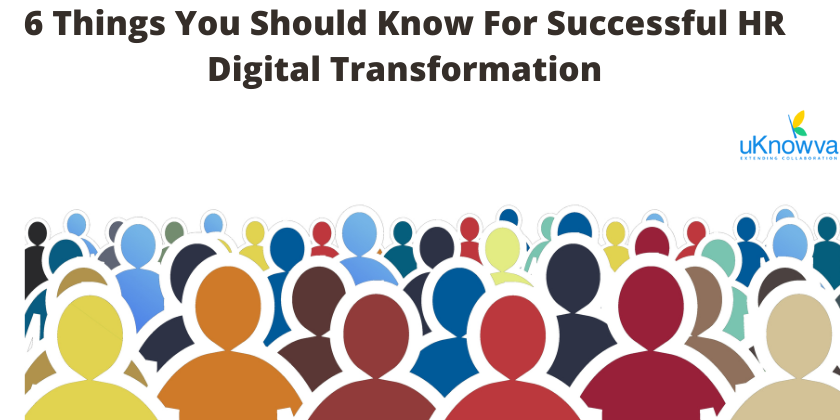 Make Way For Successful HR Digital Transformation In Your Firm In 6 Ways:
Digitise your core HR activities
The first step to welcome digital HR transformation in your current company is digitising its core HR activities. These start from hire and end up to the retirement of the employee. 
That's the major employment lifecycle which HR transformation takes care of – mostly virtually.
The core HR tasks can include:
Automating recruitment, talent hunt, pre boarding and onboarding.

Streamlining the follow-up tasks with potential candidates.

Making use of the ESS portal for increasing autonomy and self-reliance. 

Use of employee engagement tools for better communication.

Use dedicated and separate helpdesks online to solve numerous employee queries on the spot.

Developing talent by giving them new projects and learning opportunities to work on. 

Automated disbursement and regulation of each worker and salaries staff's remuneration at each payment period/cycle.
These core HR tasks have a full scope of digitisation on the uKnowva HRMS. Later, as the firm grows and matures, updates and additions could be there rapidly. 
Active participation from employees in the smart HRMS
Another stage to welcome HR digital transformation is allowing employees to use the HRMS as much as possible. Encourage its daily usage.
Show your employees, especially new ones, the liberating and advantageous factor of using a smart HRMS in India. 
Employees will ask a question initially. Address them patiently and purposefully. Show that you use the HRMS as a leader too. This practice will motivate your employees to trust the uKnowva HRMS more.
Many startups make it mandatory to use the HRMS for managing their workforce. So, the new and existing employees have no option but to adapt to the revolutionary changes brought by the HRMS. 
At times, employees thank their HRs and leaders for implementing the tool. The core reason for this gratitude is that the best HRMS in India helps you automate, streamline, and access your daily tasks on the go. 
No longer would the HRs need to micromanage their staff members, whether on payroll or not. Each employee becomes more responsible and answerable for their deliverables while using the uKnowva HRMS.
Continue to upgrade the system to increase in relevancy
Digital HR demands upgrades consistently in the system. That is to stay updated and aligned with the market trend. Your developers can upgrade the extension store apps or even the overall UI/UX of the uKnowva instance. 
Otherwise, you can take IT and software developers' help from the uKnowva team. They are well-known for developing the best UI/UX for clients on demand and making the implementation as smooth as possible.
Use analytical insights for strategic decisions
The digital HR transformation tool also focuses on using insightful reports it generates based on the data it feeds. These reports help strategic partners, changemakers, and value creators of the firm to do their job as best as possible. 
HR managers and executives learn about their dedicated workers as actual assets to the firm. They know if their workers are happy, satisfied, and productive.
If not, they work on corrective measures digitally, like talking to their employees without delays. 
HR executives develop better team-building and team-bonding exercises and activities by reading their impact using the AI reports. The aftereffect of these activities is more important. 
It tells the reporting managers if their teams are tuning with each other fine. With time, such practices refine the digital HR implemented in the firm to mature its entire HR process further. 
Form dedicated teams on the network to carry out their tasks separately
The best Indian HRMS helps form different teams and groups at ease digitally. They can work and publish news for themselves on the network without disrupting other business units' workflow. 
Simultaneously, the convergence of the tool into the firm is smooth and agile. The teams have multiple functions separately to deliver their dedicated projects with complete sensitivity and sensibility. 
The system can guide teams to fill their timesheets, project details, remarks and reviews and invoice the client right.
Project heads would know how effective each team member is. They also have the best idea of how every team they handle or manage is performing over a period. 
With this guidance and report, project heads don't need to micromanage their employees. It gives teams and their members enough space to reinvent their ideologies.
They can work to deliver projects and tasks on time without having seniors meddle with their business. 
Such HR digital transformation strategies improve user experience and employee journey. They feel better about owning their projects with their teams and having to depend less on seniors for detailed reporting. 
Welcome new and innovative ideas from teams to work upon digitally
Another crucial factor that brings digital HR to the surface is welcoming new and innovative ideas.
There are only so many ways an HR can develop and upgrade the system. Ultimately, employees are the users trying out the experience. 
To improve their review and feedback about the entire HR process, it's better to take their ideas and innovations seriously.
A suggestion box in the uKnowva HRMS meets the need to listen to your employee actively. Employees can get notifications if management selects their ideas and works upon them.
Otherwise, teams can collaborate and engage on polls and pulse surveys. That is another digitally-friendly way to express your opinions and reimagine the culture consistently.
Conclusion:
Every HR leader and executive must focus on the six ways mentioned in this blog post to welcome HR digital transformation. It is the need of the contemporary workforce who wants to work where they add value and initiate mandatory changes.
For now, the best HRMS solution in India is none other than uKnowva HRMS. It aids you in welcoming all the six stages of digital HR in your firm at pocket-friendly rates. 
Contact our team today for a demo on HRMS.