Private and multinational companies use data analysis in various functional areas pertaining to sales, marketing, and finance. But its incorporation into modern HR practices is no less than an emerging reality.
Analytics in HR is a driving force to evaluate team performances and prevent unpredictable mishaps. It has enough scope to serve evolving workforce experiences, hybrid working styles, and cultural norms.
Consider a few pointers surrounding data analytics and its growing relevance in the hr management system below. Establish a holistic understanding of how employee data shapes a company culture with digitally transforming purposes.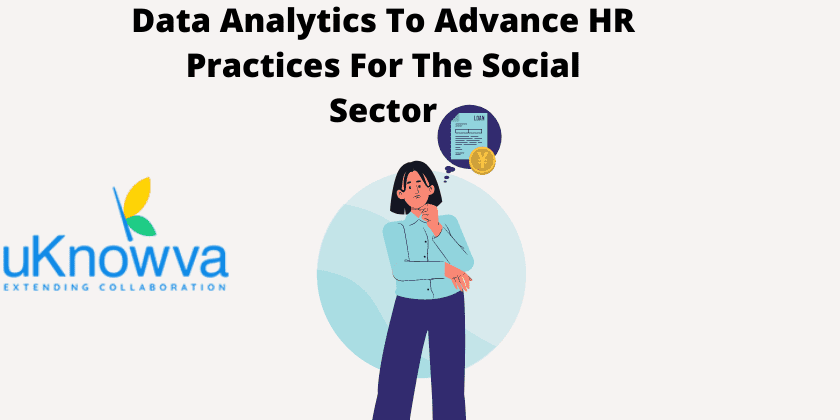 6 Ways To Find How Data Analytics Advances HR Practices for the Social Sector:
1. Power up employee retention:
Organisations estimate their turnover rates for better manpower planning. They set goals and work diligently to achieve the same. Though, it's a nearly impossible task without studying current and previous attrition data. 
With data analytics, it's pretty easy for HR persons to use HRMS systems. They check early, timely, and acceptable turnover reasons there. 
For example, an employee departing from the organisation after 3-4 years to pursue higher studies is an acceptable situation. Whereas an employee leaving the firm after 8-9 months for a better offer is early turnover. 
Companies and human resource persons must avoid such situations to manage their hiring and recruitment effectively. That's when data analytics in these social sectors become more valuable. 
HR persons now improve their HR practices for retaining their employees continuously. They regularly check predictable analysis of these systems. 
After a careful study, they can reform their retention practices, ensuring high-performers find better opportunities in their firms.
2. Level up talent engagement:
You can trust analytical data reports to attend to the underlying issues in your team. It comes from the social intranet engagement boosted within the team. 
If there is a dip, you will know. However, if people are engaging more, even then, the report gives you a clear picture. 
Ultimately, using data analytics in HR practices is a must to control the level of employee engagement. It's an emerging concept altogether, along with the infusion of data analytics in the social sector. 
Both are equally important. With employee engagement, there is a consistent impact on their perception of company culture and values. 
Engaging employees can turn out to be loyalists and brand ambassadors. They always have something better and revolutionary to talk about the firm. 
Your HRMS systems need these employees. They believe in honest opinions and engagements; they can reform how your teams communicate. With data analytics, you're aware of who engages more in the network. 
You can plan to elevate certain employees' engagement levels with reformed team-building activities later. Applying data analytics to HRMS software solutions is a very innovative idea to improve and break employee engagement records.
3. Appropriate attention to employees' well-being:
You start paying appropriate attention to your staff's welfare and mental well-being when data analytics comes into the picture. The reports integrate data from their daily attendance, and punch in or out hours. 
Innovative uKnowva virtual biometric also provides happiness metre. Employees choose their mood while logging in or out. Analysis drawn from there help HRs establish a factual framework of their staff's well-being. 
They know if anyone works too hard or less. They can appropriately arrange detailed conversations for these employees to know what's bothering them. If such matters are handled on time, HR practices show fruitful manpower planning and management results. 
4. Timely rewards and recognitions:
Data analytics brings seriousness to the social sector of HR practices. It gives enough insights on strict and sincere performances delivered by employees. HRs and CHROs can reward and recognise their staff on time using human resource systems.
That's an essential practice for employers to keep their staff engaged and satisfied. The modern workforce, particularly millennials and Gen-Z, has a knack for getting rewarded for their efforts on time. 
They work better when they know their organisations love their input. It boosts their self-confidence too. Therefore, data analytics remains helpful for improving HR management systems to nurture the top performers within defined timelines.
5. Accurate allocation of human resources to tougher projects:
This can be a linking point when you understand the concept of the previous one. With data analytics, surely you get your staff's performance reports on time. With those, though, you know who outperforms and who does not. 
This way, you can allocate more demanding and interesting projects to the one who values timeline and follows a discipline. It saves your time and company's cost in delivering tougher and more worthwhile projects to their clients. 
You also know whom you need to train more before assigning challenging roles or KPIs. This way, you don't stress either as a manager to allocate the right manpower at the right time.
The system generated reports already assist your HR practices enough. This way, you can build better rapport with end-users, clients, and your staff. Because you will be focusing on nurturing the right employee with sincere efforts.
6. Verification of employee involvement:
The HR management system is valuable to HR persons with an infusion of data analytics. It is more so because it shows which employee is more dedicated and disciplined for their job roles. That can be through different deciding factors. Some are:
How many leaves are employees taking or applying for per month?

How many hours is the employee working at the firm every day?

How many employees are not taking any holiday at all per month?

How many employees punch in/out of the system on time?

How many of them working under your supervision are delivering projects on time?
Such answers are necessary for understanding whether your workforce is involved in their job roles sincerely. If not, take corrective measures like digitally transforming team communications towards relevant value-adding collaborations.
Conclusion:
"HR practices" is an interesting topic to study and talk about. Its dynamics keep shifting, as does the employee management/engagement trend. Currently, data analytics is becoming a core part of managing and empowering your employees at a firm.
Through this blog, you acknowledge how modern HR management systems shape company culture and employee experience. 
Learn more about modern uKnowva HR software solutions.