People add success and value to businesses. They honour and maintain the digital transformation in HR communication.
A right tool, an HRMS, assists them and the CHRO in becoming a strategic partner to the CEO.
You must learn the complete guide and information on the HRMS for the same purpose.
From the blog post below, you will understand how you manage your human resource, so they too add value and success to your firm. 
Similarly, you elevate the scope of an HR person, teams, or CHRO with an HR management system. 
uKnowva HRMS is the perfect example here. It fosters flexibility and automation for sharing HR and employees' responsibilities in delivering daily tedious tasks.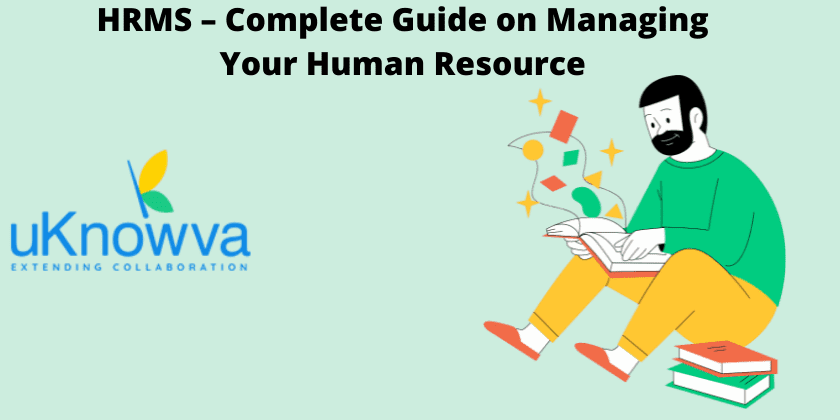 What Do We Mean By An HRMS?
HRMS is a 360-degree solution tool for businesses to automate and streamline their daily HR work. It helps CEOs and CHROs to upgrade the HR value in an organisation.
It is a helping hand in managing the workforce from their 1st day to the last. 
Modern HRMS systems are intelligent, written with rectified and NLP-backed algorithms.
These tools understand the importance of completing strategic tasks at every front important to an HR and their employees.
Purpose Of An HRMS Software For A Startup Firm:
You must depend on cloud-based human resource management software. It will increase your HR functionality and the value it adds. 
These tools are cost-effective, fast to load, and guarantee 99.99% of the live server status. At least, that's what uKnowva HRMS guarantees to every client or customer. 
So as a startup, you need a dependable source for managing data and workforce. An AI- and cloud-based HRMS is what suits the bill. It easily simplifies daily tasks like a punch in and out. 
It also tracks performance and workflow automation. Then, it's handy in spotting errors in employee data, activity, and contribution to the organisation system. 
There are predictions and real-time analyses CHROs can use and present to the CEOs as their strategic partners.
Complete HRMS Process
Applicant Tracking System
The applicant tracking system starts from the electronic process of tracing candidates. They first apply for the job HRMS systems post on various job portals.
Later, HR persons and teams check and trace whether the candidate completed the application. If not, due reminders and follow-ups are sent with triggered responses and actions.
HR persons have to monitor the entire funnel of the tracking system. An HRMS system like uKnowva shares their burden or compulsion to track each touchpoint. 
Simplified Onboarding
ATS is a pre-boarding process. Proper onboarding starts after shortlisting candidates, sending the offer letter, and receiving their acceptance. HRs need to orient the new hires in the firm. 
They must be ready with the company culture, policy, employee benefits, and other T&Cs. A human resource management software comes in handy at this step.
In addition, employees can use the ESS portal to update and upgrade their profiles. 
HRs will forward them their ID and password credentials. Later, the system guides users/employees to complete their profiles. Finally, it will ask for a one-time upload of necessary documents. 
Those would be Aadhaar Card, PAN, UAN, educational/skill set certificates, and ID proofs. These credentials are necessary for the system to integrate employee data with other steps in the funnel. 
Apart from that, the employee can download the company policy to get up close with the nitty-gritty of the culture exercised.
That's available directly in the options of HRMS systems.
Attendance and leaves management
Tracking workforce attendance is a must. HR persons cannot do it manually for the growing number of employees. That would be terrible and tiresome. Instead, employees themselves can punch in and out of the HRMS. 
It is often embedded with the virtual biometric system. Otherwise, you can ask IT support from uKnowva to integrate the VB with the HRMS.
The attendance is aligned with the timesheets in the system. Reporting managers would automatically know how well and punctual their employees are.
They get system-generated reports or live dashboards. They see how efficient their new hires are in punching in and out of the given HRMS system.
This system can further predict attrition and retention rates. HR persons can extract even more classified and customised reports and recommendations from a system. It is entirely situational. 
Reimbursements
Employees can ask for reimbursement if their pay policy gives them this entitlement.
In addition, the HR management system allows them to ask for different claims directly. These could be travel, welfare, well-being, or a particular mediclaim.
The response time for approval or rejection of reimbursement is quick through the system.
After approval, the reimbursement gets added to the payslip of the next cycle. Each employee asking for this reimbursement would be notified of the same.
Performance management system
An HRMS system has to integrate with a PMS. This will allow reporting managers and HR professionals to manage and develop their workforce at a better pace.
They will constantly be aware of how efficiently their staff is completing every assigned task and project. 
They can clock in hours for a particular task, client, or project. Later, HR professionals and reporting managers can better allocate human resources according to their competencies. 
This will help CRHOs bill their clients accurately with justified notes and clarifications on the timeline invested for a project. In addition, it boosts transparency between teams and external clients. 
Shift management
Modern companies now work with a flexible workforce. They hire people matching different work conditions. Many of them prefer to work from remote locations. Others recommend a hybrid style. 
In this situation, tracking shift hours is difficult manually. HRMS systems offer the right helping hand to HR professionals.
Using these systems, HRs at any point know how many employees are active and working in a particular shift. Later, they can design their staff's roster as preferred.
Otherwise, they can have insights generated from these shift and hybrid working hours. It will give them a clear picture of what's working for their staff most of the time. 
Training and development system
Human resource management software is now helpful in training and developing talent regularly. As a result, HR persons no longer have to hire and retire their workforce. 
They can bring that "human" factor into their systems of managing their talented pool for as long as they retain. An HRMS provides them with enough space to upload courses, host webinars, and share live links to learn.
They can continuously encourage their team members and employees to keep reskilling and upgrading themselves every 3-6 months. 
These courses can be certified to upgrade employee portfolios. These upgrades also help employees to get a better hike in the next appraisal cycle. 
Overall, this module encourages employees to retain and connect to their job roles with an entrepreneurial mindset.
Payroll management
Managing the disbursements of monthly pay is most crucial for HR executives. But when rolling it out in a great number, the backed calculations and modifications create a huge mess.
That is not possible to sort manually within minutes or hours. But with an HRMS, that issue is tackled first-hand.
It can integrate all registered and active employee data from the algorithms set in the backend. HR persons can seek IT developers' help to justify the triggered actions and calculations input in the payroll system. 
Later, they have to monitor the final salaries calculated by the system. Plus, the HR management system embedded with a payroll tool would not allow human error to occur. 
This saves companies from heavy losses of under or overpaying their deserving or not deserving employees. 
Real-time reports
HR professionals are a level closer to being the strategic partners to their CEOs with live and real-time reports.
First, they garner these reports from the HRMS they use. Later, they discuss strategic human resources planning and the value added to the firm's success. 
These reports highlight the top-performing workforce and hint at how to value them regularly.
Otherwise, they also know what workforce is underperforming and where they face issues every day in delivering their key performing tasks. 
Exit management 
Exit management or offboarding process is bliss for HR persons when using a stable HRMS. They can organise the entire exit management cycle on their systems, and employees leaving can overview it too. 
Departing employees will be regularly notified about the status update of their full and final. HRs can also increasingly depend on the HRMS for helping execute the offboarding process seamlessly.
This gives a departing employee an experience they will remember and recommend. In addition, it is useful in improving internal branding even when the employee will no longer be actively working.
How To Know If uKnowva HRMS Is Perfect For Your Organisation?
uKnowva HRMS makes a difference in CHROs' and HR professionals' lives every day. This is because the system understands how to give a remarkable experience to each user, client, and customer. 
For startups, this is an HRMS must-have for several reasons. These are, but are not at all limited to:
AI-backed smart and 360-degree HRMS solutions.

Fully configurable interface.

100+ add-on apps are available in the extension store.

Set up your colour-coded chat process. 

Different helpdesks for different departments. 

Extend your smart network collaborations with Social Intranet. 

Track your employees' wellness or mental health with happiness metre. 

Insightful reports are available on-demand to every user with the rights. 

Admins can easily define multiple roles and permissions to each user for a smoother experience. 

Integration with more than 100s of third-party apps for an unforgettable user experience. 

Set up your extension store at uKnowva. 
Conclusion:
An HRMS is a wonderful invention, I would say. It lets people add value to their team's success.
They have the competency and capabilities to meet and enjoy shared common goals. The rate of delivery multiplies with transparency between desired teams.
There is an openness between employees working on projects and tasks. This practice leads to healthy competition and timely recognition of smart inputs and collaborations. 
Therefore, a modern human resource management system is an online base to welcome hybrid working culture with integrity and honesty.