Your firm needs a biometric attendance system to manage a diverse workforce. If it's virtually accessible, that's even better. As it is, employees want less hassle in punching in and out. They can work from anywhere with such a feature. 
With this freedom, they have less pressure to measure their attendance and focus better on completing work. And a modern fingerprint attendance system can have multiple features. 
Read about them below. You will know better as the list goes on. Cross-check which of these you want in your next uKnowva virtual biometric system. Get ahead with it by connecting to the tech support there then.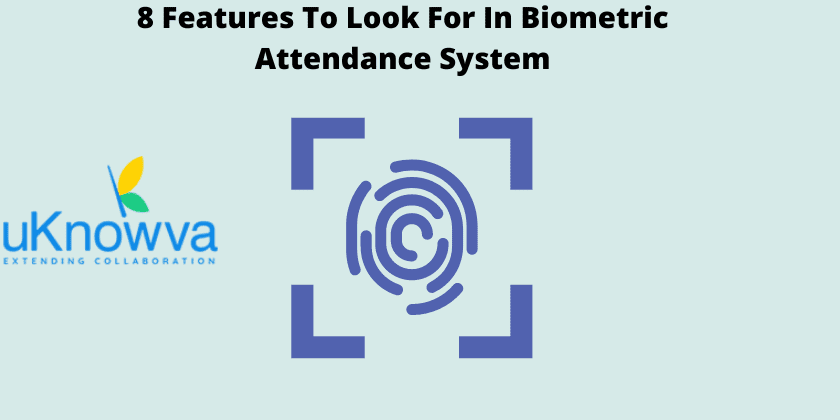 8 Features To Look Forward To In A Biometric Attendance System:
Accessibility and control
Choose a biometric system or device that allows admins and reporting managers customisable control. They can punch in the credentials and overview their staff attendance.
This biometric attendance system should give better accessibility to each registered employee. They must access it on the move. In fact, the uKnowva VB allows the same. So, even sales and hybrid workers can use this system. Their attendance does not hamper this way. 
Managing remote employees or contractors is easy for team leaders henceforth. 
User capacity
The biometric attendance tool or system must not lag. The company would keep fluctuating with the number of actively registered employees. So, it must integrate with the HRMS system used.
This way, the attendance will record the punch in/out of only active employees in the firm. And if the system is online or on-cloud, there is no limitation of users. So, even most mature companies can use this tool or software without worrying about lag or restrictions on users. 
Seamless connectivity
uKnowva virtual biometric attendance system has seamless connectivity. It ensures 99.99 percent uptime of its defined server. So, employees never face a glitch or error while using this tool to punch in and out daily. 
It does not matter wherever you punch in/out from. The server and connectivity remain up always. Each record will be maintained and does not create any roadblocks in managing employees' attendance scores. 
Happiness Metre
The traditional fingerprint attendance system does not have a provision to check up on your employees' wellness. It matters, though. Because employees burning out will perform low every day. 
However, you can judge the happiness/fatigue level with a modern biometric attendance system. The system encourages staff to punch in their mood using emojis while clocking in/out. 
So, managers study how employees start and end their day at work. A detailed analysis draws out based on these clock-ins/outs. 
The HRMS predicts attrition and retention rate from these wellness and happiness metres. 
Integrate with timesheets
Daily punch in/out records in the virtual biometric system must integrate with timesheets. Employees maintain that for their overall invested hours in the task or project. 
Leaves and attendance data regularises accurately from the collated data through the biometric attendance and timesheets. So, employees can plan their vacations or emergency leaves accordingly. 
On the other front, managers overview employees' efficiency levels from different angles. They become assured if their hired talent works productively during their working hours every day. 
Plus, there's no need for managers to manually match biometric data with timesheets with automatic integration. Any mismatch or errors will be aligned or pointed out by the system. 
That is how admins and HR associates work to regularise each employee's attendance within a few clicks. 
Integrate with payroll
Integration of the biometric attendance system with payroll is a must. Salaries disburse only when the leaves and clocked hours are aligned. Thus, an HRMS system must be at the centre of it all in the firm. 
With integration functionalities, the system will automatically deduct or credit the amount in employees' monthly salaries. 
Deductions could be because of taking more leaves than allowed/allotted. Credits could be in the salary for working overtime. This is compensation for those extra hours. 
Manually calculating these deductions or credits is challenging for HR persons. They already have other work to complete. And the calculation of these amounts for 10-100+ employees can demand days or weeks from HR staff. 
But when the biometric attendance system is used, this problem is sorted flawlessly. There is no need to depend on the paperback or excel sheets to deduct or add incentives after matching work hours. 
The system has all the data attached or associated with each actively registered employee. HR managers or associates only overview the salary slip once before approving the disbursement.
IT support
HR persons and employees get full IT support from the uKnowva virtual biometric system. They can talk to the helpdesk and IT support team whenever there is an issue. The IT support team is friendly, interactive, and purpose-oriented. 
They can solve the issue without unwanted delays. Mostly, the issues are very minimal. But the IT support team can also train HR persons to use the system in detail. This way, HRs and their employees don't need to depend on the IT team next time. 
So, the team is always available to make the staff self-reliant and self-serving. It ultimately saves time and total efforts invested. 
Data backup
While you're using a modern and interactive biometric attendance system, backups are a mandate. You will get this feature for sure. Earlier it was not available in every attendance tool.
Traditional fingerprint biometric system was not like this. It was based on everyday physical entries. There was no surety of its backup for bigger companies. 
But that isn't a problem anymore. Regular backup is a feature embedded in the virtual biometric tool. So, admins, accountants, and reporting managers overview and supervise data charts and sheets whenever they want.
The leaves and attendance data audit is on demand because the cloud server safely keeps these datasets. The admins or whoever has the permission to live dashboards log in through their credentials into the system. They can view the dashboard from the panel or home page. 
These reports are downloaded in multiple formats for auditing purposes. Thus, the overall data is secured, and the history is never hampered as long as it is on the cloud server. 
Conclusion:
Make sure your next biometric attendance system is flawless, easy-to-use, and seamless. It must focus on employee wellness, have live geo-tracking, and multiple integration functionalities. 
Every punch in/out is easy and transparent, adding value to the overall analytical reports. These reports help CHROs and team leaders make strategic decisions to better the company culture and employee experience.