Employees are the true assets of your firm. No one would deny that fact ever for growing businesses organically. Similarly, you can win BIG at employee management in your firm. 
Follow the steps mentioned in the blog post for that. Then, witness how your employees revamp and redesign your company culture and outreach. This practice will benefit all: employees, remote workers, hiring managers, and management.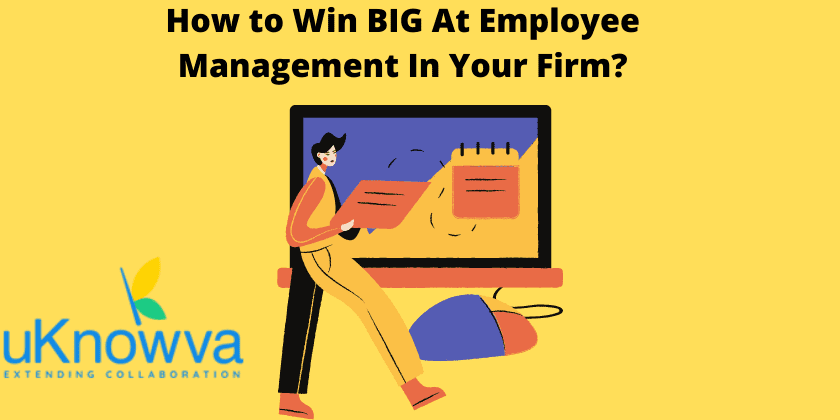 Let's Win BIG At Employee Management In The Firm Win These Steps:
Smooth onboarding processes:
Make the first transition of your employees to the firm as seamless and smooth as possible. Take help from the uKnowva recruitment engine, for that matter. Using that tool/feature, your employees can easily update their documents on the system. 
The employee data connects easily to the other utilities provided in the system. Moreover, each candidate gets served well with the automated and on-cloud applicant tracking system. 
HRs have less burden to treat potential candidates effectively to close the deal in lesser follow-ups. 
They receive instant notifications when the candidates fill out the entire application. Then, there are easy functionalities to roll out offer letters in bulk to multiple candidates for hire. 
Therefore, the entire pre-boarding and onboarding processes are rather flawless. There is hardly any delay in capturing the right talent at the right time with such a system managing the workforce. 
Enrol in effective communication with HR chatbots:
Communication with your workforce is critical to win BIG at employee management in your firm. Indulge in effective, purpose-driven, employee-centric and -friendly communications. 
Use HR chatbots for fulfilling your HR duties: 
Timely follow-ups, 

Exercising and massaging touchpoints, 

Soothing pain points, and 

Resolving queries.
Modern HR chatbots are interactive, intuitive, and intelligent with NLP knowledge. So HRs don't need to actively monitor the chat when there are modernised chatbots available.
These chatbots learn as they communicate with your workforce. The employee could be sitting anywhere in the country. But you get to solve their query rather smartly. This helps save time and your precious efforts. The internal branding also does not hamper.
You can set triggered responses in the chatbot. Take help from developers having NLP experience and knowledge. You can take help of chatbot assistance or add-ons from the uKnowva extension store as well while using its HRMS. 
This is the best solution for HRs and their teams with limited knowledge/experience in coding or developing HR chatbots. 
Resolve queries with interactive helpdesk:
Chatbots don't solve every humane issue. For example, employees might not feel comfortable talking to a chatbot. So to win BIG at employee management, there needs to be a human factor and experience. For the same reason, helpdesks are the best – enabled in the HRMS itself. 
Employees can click the Helpdesk easily given in the portal. This way, they directly reach the HR person without waiting for long. Moreover, they could talk to the HR associate without having to leave their workstation or location. 
They get their queries listened to, answered, or resolved within minutes. HRs get notified about these queries on the spot. If management agrees, there could be different categories of employee queries. 
They can list the queries depending on the urgency and department categories too. If the query is specific to a department, admins or developers can create different helpdesks. 
This is the best way to bifurcate the query traffic to the assigned department without disrupting HRs work. Employees would also know which concerned person to go to. Then there wouldn't be unnecessary delays in addressing their grievances. 
Invite employees to use the ESS portal for a better experience:
Another proven strategy to win BIG at employee management is using the ESS portal. Employees get to serve themselves using the ESS tool or portal. They can:
Enter their experience/educational/hobbies.

Punch in and out daily to mark their attendance. 

Check their leaves allotted and remaining in the balance.

Generate salary slips and download them for tax purposes.

Directly connect with different team members on the chat platform. 

Upload their pictures, bio, and other information to engage with everyone on the platform.

Fill up their timesheets.

Rate or review themselves for appraisal purposes. 

Set up monthly targets or KPIs and get approval on the system from the senior. 
These are just mere examples of how an ESS portal makes employees' life at work easy. When admins are in touch with developers, they can tweak the system as much as possible. 
However, employee experience and management should be in consideration while doing so.
Manage employee appraisals on the go:
An appraisal is one of the core parts of trying to win BIG at employee management in your firm. Without a timely appraisal, employees don't feel like working honestly. Why would they even, if they are not getting paid the desired amount of compensation?
If you put yourself in their shoes, you will understand. That's your job as an HR professional. So having a 360-degree or 540-degree feedback system helps a lot. This can be incorporated into the appraisal or performance management system easily. 
There would not be any need to approach every team member manually. Instead, the system sets reminders on its own to drive employees to the desired action. This way, reviews and ratings for appraisals are on time. 
Reporting managers also approve the ratings and reviews on time when highly motivated. This system encourages employees to break records in the next cycle. 
When the recognition is in front of the entire organisation, employees feel lucky and highly obliged. This could be by announcing "Star/employee/top-scorer/high-achiever of the month/quarter/year."
These activities are all conducted on the HRMS system. There, employees know who's the top performer for the given period and who's not. There is ample transparency. They get motivated and witness the real company culture closely. 
That's what impresses employees in the long term. Because the company never hides anything about managing employees and giving them the right tech tools/platform to outperform.
Conclusion:
In the 5 strategies discussed above, you can win BIG at employee management in no time. 
However, make sure your company uses the right employee management and engagement tool. Only then can they continuously nurture and notice their employees' talented efforts.