Retaining top talent in the firm is the biggest challenge HRs face in growing companies. Employees need a reason to stay. Often, they are unable to perceive that reason. The absence of succession planning and automating tools only amplifies employee attrition. However, employers can find the right reason and tips to follow in this post. Job attrition reduces when firms implement smarter recruitment engines. That is just one tip amongst most. 
Read most of them below. Decide which tip and strategy to implement with a purpose. Then, your employee retention scores will improve over time. But these strategies must be consistent or continuous.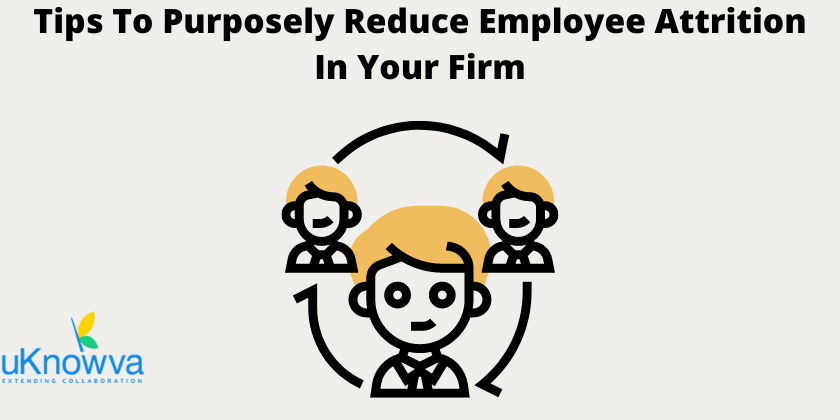 6 Tips To Reduce Employee Attrition in Your Growing Firm:
Know whom to hire and when.
Employers must connect with their recruiters. Know where the skill or talent gap is. The recruiters must get that information to start the talent scouting process. Every step must have a purpose and deadline. 
The recruiter's team maps the entire workflow on uKnowva's workflow management feature. Senior management overviews it and suggests changes beforehand. 
Recruiters have clarity on whom to hire when they connect with concerned department heads. They must regularly connect over a purposeful stream chat on uKnowva's smart messenger. 
Know when candidates are job and culture fit.
The next strategy for reducing employee attrition is this one. Recruiters must use the NLP functionality in the recruitment engine. They receive smarter assistance from the tool to know if the candidate is job-/culture-fit. 
The system reads into the non-verbal cues of the candidate. These insights are helpful to finalise hiring decisions, even in bulk. 
Using smarter uKnowva HRMS is leveraging at this stage of hiring. Recruiters send bulk offer letters and save time or cost. They send offers to collectively chosen candidates after internal discussions. 
These decisions led to onboarding employees who remain loyal to the firm. New hires know their roles and responsibilities well from day one. That's what leads us to our next point. 
Keep onboarding simple, clear, and welcoming.
Ensure your new employees do not feel out of space. They must know whom to report and when. That is applicable even on the first day of their work. That leaves them with a good impression of accepted corporate culture norms. 
Employees with clarity of thought for their job roles intend to stay more. They become loyalists and brand ambassadors. Their minds are sharp and purposeful. 
Otherwise, having uKnowva HRMS for a simpler, clearer, and epic onboarding process is a workable alternative. Talent acquisition managers ensure:
Company policies are visible. 

The employee profile is complete. 

Automation is on point. 

Reporting managers are in the loop.

Employees receive their welcoming kit. 

Employees have enough time to utilise the tech tool.

Existing employees orient the new hire well and respectfully. 
Help employees set strategic, ground-breaking, and measurable goals.
Job attrition score increases whenever employees want to switch. Their need to switch does not occur at once. It happens when talent managers fail to evolve their roles or identify value-adding contributions.
In contrast, managers initiate the use of KRA/KPI settings in the project management feature uKnowva HRMS.
This strategy reduces ambiguity in job roles and responsibilities. Employees suggest their measurable and achievable goals at first. Then, managers are also motivated to break earlier records.
This is a purposeful loop to increase employee involvement. Once employees start setting their goals and targets, the total time utilisation refines.
Give the right support and resources for superior career growth.
The best strategy to make employees stay is to offer them super career growth. Today, workers do not stay more than a year in a firm just for a monthly salary. 
It's high time that managers realise this shift in employees' psychology. They want workplaces where they grow and excel in their career. If there is no talent and skill management tool, employees will go elsewhere in no time. 
To reduce the increasing employee attrition rate, managers leverage the LMS in uKnowva. It integrates with its HRMS. So, there is no hassle to switch back and forth between different tools.
Every user has a swift user experience while browsing this tool for learning purposes.
Managers upload webinars, training sessions, and modules for emerging digital skills to learn and execute. The system records every learner's progress report. 
It is visible to their reporting managers. This progress report proves that the employee is now eligible for tougher projects. In short, workers have the right opportunity to spearhead more projects based on their learnt skills and talent.
There is no bias or manipulation in this strategy. The AI-backed uKnowva HRMS recommends top talents automatically based on their latest projects and skills. That means succession planning automates as long as employees are ready to learn skills.
Promote soft skills.
Soft skills level up the creativity flow and bond between teams. The emotional and social quotients are necessary for employees to harp on. Such skills depend on major principles of communication. Some of them:
Clarity

Conciseness

Completeness

Consideration

Clearness

Courtesy
Incorporating uKnowva's social intranet tool is a strategy to consider for talent managers. It will enable employees to improve their communication, interpersonal, and persuasion skills.
With a shared, they connect online through:
Polls

Surveys

Stream chats

Discussion forums

Live posts and announcements
Employee attrition is easy to address on these social nuggets. Recruiters know the concerning matters inside their employees' minds. In return, they are no longer fearful to comment, like, and cast their honest opinions. 
That is how a strong culture builds, which today's generation admires.
Conclusion:
There is no end to finding new strategies to reduce the employee attrition rate in a firm. With uKnowva HRMS, firms are on alert. They never miss an important message, complaint, suggestion, or idea. 
Employees are in the loop with senior managers on its social intranet. It is a factful strategy that allows the workforce to join the decision-making process.
If they are the changemakers, they wouldn't want to switch. Rather, they optimise the uKnowva HRMS functionalities and automate workflow every day.