June is Pride Month, celebrated across the globe to commemorate the memories, struggles, and freedom of LGBTQIA+ community members. When employers bring more LGBTQ+ friendly strategies to the table, they boost inclusion and diversity. 
With that step, your organisation can become more secular, trustworthy, and respected. LGBTQIA+ community is pretty sensitive even today. That is because they continue to face disrespect, contempt, and discrimination around the globe. 
Even today, the laws are still flawed, offering such people proper privileges to work and earn their keep. They struggle to stand for themselves and have grown as a community to stick together through thick and thin. 
When you calibrate their importance in your company culture, this Pride Month could be special for your employees. At times, you might not if your employees belong to this community. Many of them are shy and fear coming out. 
However, with an open community and respectful culture at your firm, they could lead a healthy work-life. To know more about how you can bring fresh and educated ideas to your organisation, keeping HR tech tools in the loop, read the post below.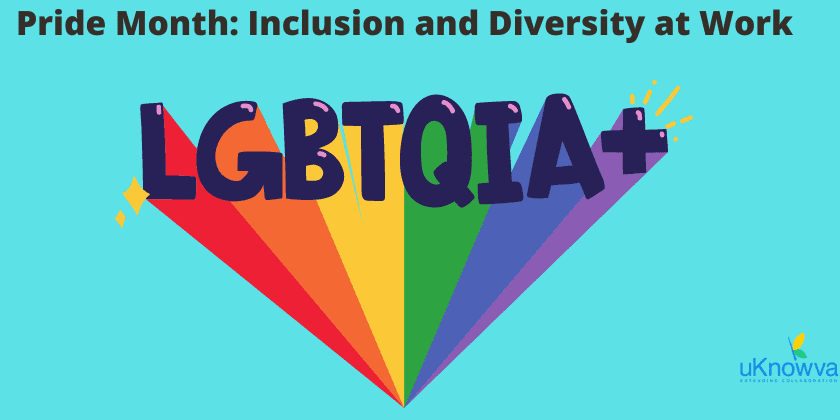 Celebrate Pride Month And Bring More Inclusion & Diversity With 5 Fresh Ideas:
Show your curiosity to know about their issues or troubles at work. 
A close-ended communication has to be from both ways. If you're an active listener, you must also give them the right suggestions. Otherwise, you should be curious enough to ask those members questions about their work life. 
Ensure that they are not facing any performance dips in the given time.
Validate the same from uKnowva performance management software available on the cloud server. You can access it using your assigned credentials to verify your team's performance while on the move.
When you ask them about their work-life, community, and workplace issues, you will have more trust between you two. But don't be too straightforward at first. Use illustrations, memes, emoticons, and other stickers on the chat messenger uKnowva provides. 
Break the ice when you converse with them daily. This subtly shows them that you're there for them. When you readily ask them questions that matter, they give you answers to break stereotypes. 
That's the beauty of listening and asking the right questions at the right time from your staff.
Besides that, you can overview their punctuality and happiness factor from the VBS too. Later, you can develop a question bank when you've overviewed every aspect of their performance from the system. 
This type of conversation will then be holistic, purpose-driven, and respectful. Employees can tell you what problems they face belonging to the LGBTQ+ community. That's how you boost employee engagement at the workplace, despite the workstation location.
Put up impressive and educated polls to spread awareness. 
Help your LGBTQ+ community employees to spread knowledge about their rights, privileges, and struggles. Put up educated, interactive, and latest polls. Let other employees cast their vote and know if any homophonic person is working at your organisation. 
Then this could be one of the most common issues in your firm. Being homophobic is not a crime, nor is being an LGBTQ+ person. But you must respect each other, despite the orientation you all follow. 
That's just a fundamental human right to let each other live, work, and earn in peace. Therefore, when you put up such polls, there will be a sharp rise in employee engagement. They will want to know more about this man-made LGBTQ+ community. 
Certain laws are relevant both in work and private life and applied to these people. You must know about them when you're hiring them. It is just to respect those people because they're humans too. 
With uKnowva's smart solutions, you can digitally transform their lives. People would open up regularly about their mindset about the LGBTQ+ community using these polls. 
Employees get the chance to overcome their fear of coming out. That's after seeing their teammates accepting and being vocal about LGBTQIA+ rights.
Listen to them actively and act upon their suggestions feasibly. 
Start June Pride Month with a pledge to be an active listener for your staff. Act upon their suggestions and queries. Take their point of view seriously. And show them that you care. This could be possible by using the uKnowva social intranet.
On the network, connect with your employees one-on-one. Don't let them feel lonely or isolated.
This is mainly for digital nomads, freelancers, or remote workers. When you listen to them openly, this could be a refreshing way to welcome inclusion and diversity to newer heights. 
Solve their queries and grievances steadfastly. 
Be appropriately investigative and fast in solving LGBTQ+ community members/employees' grievances. You cannot always be there for them, though, if you're the CHRO, RM, or TL. 
However, it's possible if a dedicated grievance redressal and an employee grievance handling committee are behind the same. It will pave the way for more inclusion and diversity in your organisation, despite its growth and size. 
Your employees can put up and raise any query or complain at any hour using the uKnowva grievance redressal system or helpdesks.
These are operating at the side panel of the home screen. Your admins can configure the helpdesk options as they like in the purview of the company policies. 
With such systems, employees will have certain boundaries. They will know not to disrespect anyone at any cost while working in teams. The LGBTQ+ community members will be safe and heard more often because of an investigative system in place. 
Ensure that the employees get notified on time about the verdict of the grievance redressal process. It helps them stay alert and aware of the case of discrimination or harassment at the workplace. 
Later, your grieving employees can move to the labour court if the result isn't satisfactory. 
Put a flag or illustration of Pride Month in your organisation as a tribute. 
Another creative way that brands mostly follow is this one. Around June Pride Month, you will see most brands reforming and refurbishing their branded marketing strategies to support LGBTQIA+ community members in masses. 
This boosts employee engagement in the firm's multiple departments and business units like never before. 
People love to support each other for the more significant cause of humanity. This holds true during the heartfelt month of Pride in June every year. 
You can, too, refurbish and redesign your uKnowva instance to support all your LGBT+ employees. It will make them feel prouder and more inclusive in the firm. LGBTQIA+ flag is in itself a symbol of inclusion and diversity. 
You will gain more traction when you put those two LGBTQIA+ flags in your posts, instances, and creative content. Less informed employees would want to know more about it.
The LGBTQ+ community activists can get a chance to open a dialogue as well using flag symbols in the organisation. 
For example, 
You can plan a digital giveaway like a badge of honours with those two flags. It would be delivered home. That can be for winners of some LGBT+ friendly quizzes or polls you conduct online. 
Conclusion:
Celebrate Pride Month with the creative ideas posted above. Implementing them in your organisation with uKnowva's innovative tools draws in more inclusion and diversity.
To be sustainable in a constantly changing work culture and environment, you can say it's a must-have strategy. 
Contact us here to set up your Intranet today.