Better Up's latest study shows that 61% of respondents don't indulge outside of work. About 43% of them have no emotional connection to their job. And 44% of respondents don't have a true friend at their workplace. 
Such stats compel us to research and implement strategies for increasing the importance of human connection at work. Because executing and onboarding smarter HR tools like uKnowva empower people to communicate and collaborate. 
So, the digital HR world should be empathetic and not compel top talents to become information silos. They are humans; deserving to be heard, connected, respected, and welcomed at work. 
That is why we will tackle the challenges of working remotely and in-house in this blog. 
You will understand better how modern AI-backed HR tools assist HRs in digitally transforming connections with a purpose.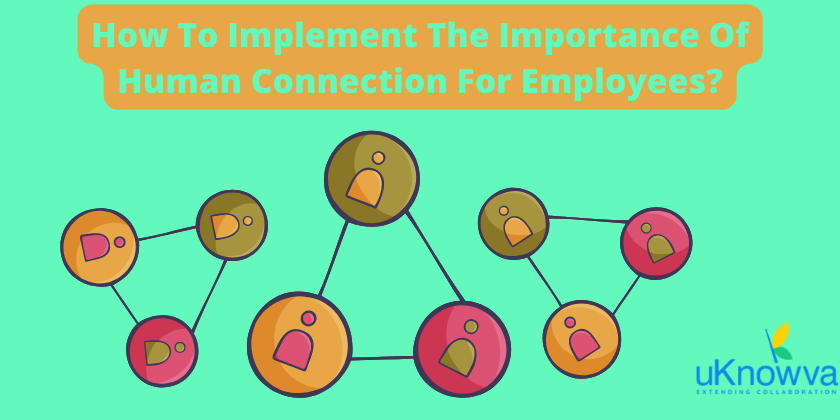 4 List Of Strategies To Implement And Execute The Importance Of Human Connection At Work:
Progressive culture to ask questions and answer accordingly. 
The work environment must be progressively encouraging to build robust human connections between employees. They must have tools to ask queries and doubts, and put up new ideas and suggestions. 
If employees are not getting the right mode or platform, they feel isolated and unheard. The uKnowva social intranet is built by keeping the importance of human connection in mind. 
It is a feature-rich platform enabling employees to ask questions transparently. Each team receives automated updates on their registered emails and mobile devices. So they do not miss important updates from their teammates or colleagues. 
This simplistic advancement of automated updates encourages people to go online and connect. When they do, there is more trust and reliability in each other. 
They will not hesitate to cast a vote, open a dialogue, and ask a query. This can be put up in the helpdesk, grievance system, or the streamed chat for teams to think over.
Either way, this is a progressive strategy for teams to come together and be excited to express. This is applicable to every team member or employee. It won't apply any barriers to remote workers or freelancers to communicate. 
Rather, they can approach senior management directly using the intranet and get answers proactively. 
Share your success and failure stories with the team. 
Team leaders must be open to sharing their success and failure stories. It binds them more deeply to their colleagues, peers, or team members. 
Often, employees think of team leaders and managers to be superhumans. But they have their own struggle stories, which employees seldom hear. That is why there is usually a disconnect between employees and their seniors.
Such misconceptions lead to challenges in working remotely and offline. Employees do not understand their manager's history and form perceptions wrongly. To tackle these misjudgements, managers should pridefully share their success/failure stories.
They can do so on the uKnowva intranet network. Either they use the streams to connect privately with their teams (remote and in-house) or they put up a news post. That is for the entire organisation to comment, like, view, etc. 
This is an important strategy for managers to come out as hidden stars. Their stories encourage employees to break performance barriers consistently.
Hire employees for their right behaviours. 
To execute the importance of human connection, HR leaders must start right. That means they should hire people with the right behaviours, mindset, and attitudes. Having a good or proficient skill set is not enough for working in hyper-digitised work anymore.
The workers of this gen and the next must be humble, proactive, honest, progressive, and goal-oriented. 
Human resource managers must use the uKnowva recruitment engine to study potential candidates' behavioural cues. The system highlights insights like the most/least interested candidate for the job.
Such insights enable recruiting managers to hire future- and job-fit employees. These employees must have great communication skills. That way, sharpening their connection and collaboration levels and perspective wouldn't be a hassle. 
Rather, such members would look forward to improving their team's performances and developing new ideas. They easily jell up in new working environments and often feel happy to lift others' energies.
In short, happy and genuine employees can automatically spread their goodness in teams. 
That is exercisable using uKnowva's social intranet platform, where managers read insightful reports. These highlights judge whether the teams are performing better with competent hires.
Deploy the ESS portal to make employees more responsible.
Trust is the most important factor in any source of communication. Employers can trust employees by providing them with an ESS portal. The uKnowva HRMS already works like that by offering:
Dedicated helpdesk to put up new queries, complaints, or doubts independently.

Automated generation of pay slips, PF documents, tax documents, etc.

The instance to cast a vote, put up a new survey, comment/like/view the latest posts,

Leave and attendance management to balance one's total leave balance. 

Happiness metre to record each day's happiness score.

Virtual attendance system to mark attendance independently without anyone's supervision.

Timesheets to maintain a record of each day's work automatically. 

A To-do list to work makes the priority list of impending tasks.

Holiday/vacancy calendar to check the upcoming holidays in the current year.

Advanced employee directory to find immediate details about any employee recorded in the system: their profile, email ID, work station, live status, and user ID to chat/message.

Note on upcoming birthdays and work anniversaries to wish and celebrate together digitally. 
Such features end up making an employee more reliant. Employers do not feel like micromanaging their workforce anymore. Dedicated and sincere employees can find their way easily over the system.
The easy-to-use and interactive uKnowva HRMS and social intranet are encouraging for people. They set their own rules, goals, and work-life balance. The system helps them free their time to value the importance of human connection each day. 
Employees understand that the organisation hears them and values their unhappy moods. The help desks are prompt and active 24/7 with chatbots. It will enable the company to resolve all common and uncommon queries. 
Each performance record integrates with timesheets, task/project completed, and engagement levels. So, there is immense trust when it comes to individual employees interacting with their software.
Conclusion:
Tackling human connection problems for remote and their offline counterparts isn't easy. But the emergence and involvement of uKnowva's smart and interactive intranet system make it possible. 
There is immense importance of human connection at work. Each employee recognises that importance and works towards exercising the same using smarter and automated ESS portals.