Every employee in each organisation has a unique skill set, working schedule, and KPIs to achieve.
Some maximise their innate potential with periodical targets faster; the rest are slower or mediocre. But when working in unison, teams need to speed up for growing up in the company together.
It becomes a task for HR managers when there is miscommunication and ambiguity in employees' key objectives. And that can occur at any stage of employees' tenure. 
In short, addressing employees' performance growth does not stop at a point. Managers have to be consistent in finding out how employees enhance their work performances. 
That's one core way to nudge the performance improvement to break the benchmarks. But there are many other ways. Managers and employees can find the six most workable tips below to improve how they work and grow.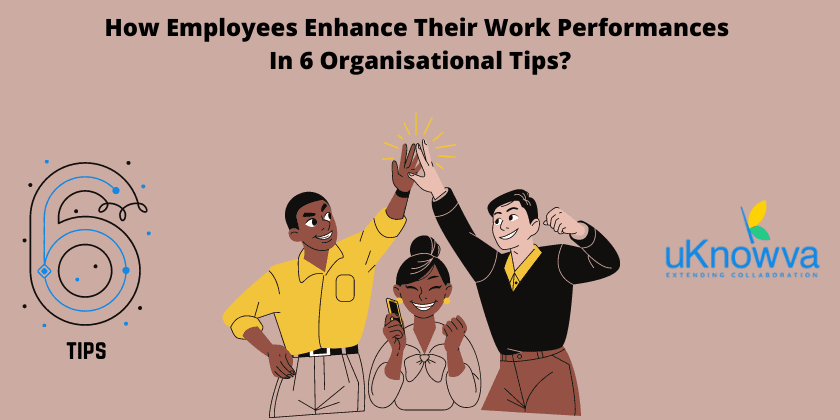 6 Organisational Tips That Show How Employees Enhance Their Work Performances:
Promote and provide clear communication tactics.
Teams work effectively to empower the company's growth when they communicate honestly and on time. There must be no delays to convey what needs to be done. Otherwise, KPIs struggle to get completed. 
But with clear-cut communication, the chances of miscommunication and misunderstanding are almost nil. Teams understand themselves better while together as they use an employee work management system that allows them to collab and communicate. 
uKnowva is such a system. Group members chat here interactively and intuitively. The UI and UX are impressive, modernised, and pleasing to the eyes. Employees feel they can share their concerns within a few clicks. 
Again, this behaviour stops the wastage of time and effort from every talented hire's end. In addition, it results in teams focusing more on their KPIs for the day with a sharp mind and required attention. 
Let employees feel that they're sincerely responsible for setting their goals. 
One of the finest ways to learn how employees enhance their work performances is by assigning them duties to set up goals. They should set these targets considering their strengths, weaknesses, experience, and expertise. 
Afterwards, they will feel ownership towards the achievement of those tasks. It means managers no longer have to micromanage their talented workforce. 
Instead, employees will begin to reach their TLs with new ideas, better targets, and correct suggestions if they face challenges. 
Help teams identify their strengths and weaknesses.
A good manager helps their team members in becoming more self-aware. It helps employees know what they are capable of in a span of time. Later, they will be more genuine in completing their daily tasks. 
Plus, recognising weaknesses is a way for employees to work on them on time. They can consult their team leaders or reporting managers on those weaknesses. 
Using a performance management system, both can work to improve and convert the employee's weakness into a strength. 
That's how mutual trust and respect between seniors and subordinates is developed to take up new challenges effortlessly. 
Conduct team-building exercises to build confidence.
Another effective way to learn how employees enhance their work performances is by bringing new and interactive team-building activities. 
Members get along while performing tasks together. They compensate for each other's weaknesses and synergise strengthening factors. As a result, the whole unit's performance reaches new touchpoints. 
During these activities, teams learn to trust each other for completing individual tasks necessary for an entire game/activity/project. This synergy later reflects on the time-bound and complex corporate and organisational tasks.
Leverage the analytics of an employee work management system.
How employees perform over a period must be known. But, more importantly, HRs must know how well their employees can perform in a given task. This prediction and estimation are possible with historical data entered in the HRMS or performance management system like uKnowva.
From there, HRs can verify if their employees are working behind or on time for the assigned projects. They can also figure out if employees are happy, satisfied, tired, or facing fatigue with the virtual biometric system is in use along with its happiness scorecard.
Such a system will help HRs, in the long run, to improve their workforce allocation strategies for the next project in the pipeline. For example, they will happily assign lengthy and complex tasks to employees who have a strict regime and discipline.
Whereas, smaller projects or tasks can be assigned to employees who still need to upgrade their professional skill set. This also involves how employees have a relationship with time management because deadlines matter in project completion.
Recognise and reward your hard working employees on time.
No employee is working without motivation in a firm. The reason for their zeal and enthusiasm in a firm can be its culture, salary hike, scope of growth, and the tech tools provided.
However, without timely recognition, even top-performing employees feel left out. As a result, they grow unsure about their contribution to the company. It feels like they are not getting the value for their time in the firm.
So, another executable way to learn how employees enhance their work performances is to acknowledge their sincere efforts. This could be on the social intranet of uKnowva. There C-level executives and senior management can congratulate hard-working employees timely.
This way, their whole team and the organisation witness their victory. Furthermore, getting congratulations from known and unknown organisation members boosts employee confidence to a new level.
They start feeling that their time, effort, and skill set matter to a greater extent. They believe they can bring greater changes in the organisation for the betterment of all with such recognition.
At times, these timely recognitions on social media or in front of the team using social intranet are unwinding and rejuvenating. They feel calm and sorted, knowing they did well with their 100%+ efforts.
This case prepares them to work harder for the next projects. It streamlines their growth prospects in the company. Plus, there is social recognition and reputation factor involved. It shows they are equipped with special talent compared to others in the firm.
Conclusion:
How employees enhance their work performances can be a feat with no clarity in the process. HRs can feel extreme pressure in this case. However, if the right tool or tech is put in place, tracking employee performances to improve and multiply them later becomes manageable and monitorable.