Often the employee onboarding process is unfulfilling, leaving employees to feel a disconnect. That could be due to multiple plausible reasons. For example, recruiters cannot find the right talent at the right time. 
Then, there are instances when recruiters are overloaded with other work. As a result, they cannot pay attention to the new hire as much as they should. This gives a wrong impression on the first day of onboarding new employees. 
However, smarter and digital onboarding solutions cater to this issue promptly. After enabling the uKnowva recruitment engine, employers have the power to provide seamless onboarding experiences. 
But knowing how these smarter solutions assist recruiters after implementation is always fruitful. That's where you can leverage this blog post. So, continue reading and know more.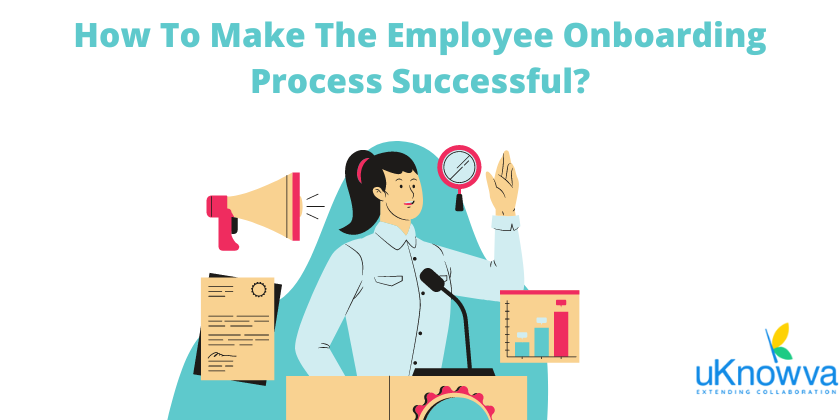 Ideas And Strategies To Make Employee Onboarding Process Successful And More Connecting For New Employees:
Aadhar-based digital onboarding within a few minutes:
Traditional onboarding strategies take hours. It can be tedious, time-wasting, and inviting disconnection to the firm's culture on the first day. However, HRs can revamp and redefine their digital onboarding strategies swiftly. 
That is by enabling Aadhaar-based onboarding. The uKnowva recruitment engine can scan the candidate or new hire's Aadhaar card to start/initiate the process. 
Employees would not feel disconnected where uKnowva HRMS is an associate onboarding technique.
Automated employee ID generation:
Recruiters can smarten up the onboarding process using automation, enabled by uKnowva's recruitment engine. It can scan the necessary documents like Aadhaar cards and PAN cards. 
Afterward, the system automatically generates a unique and unmatchable employee ID for the new hire. It saves multiple minutes for the recruiter and talent manager. 
These new hires can begin completing their profile information within minutes. They do not wait awkwardly for long hours in the conference or meeting rooms.
Rather, they log in from their workstations instantly after uKnowva HRMS creates their employee ID automatically.
This strategy applies to every employee, despite their currently allotted or chosen workstation. 
Provide employees with a welcome kit:
The employee onboarding process is swift, warm, smooth, and welcoming with a "Welcome Kit." Employers must not miss this critical step, even for remote working employees. This kit helps connect new employees to acceptable cultural norms and working conditions. 
Employees can wear the branded t-shirt in the welcome kit as an example while showing up the work. In addition, they can use the branded stationery from the welcome kit to get more oriented with the firm's image and culture. 
Such innovative strategies help newly hired employees feel respected, welcomed, and greeted with open hearts and minds. They need these emotions to start working with spirited enthusiasm. 
Give a proper orientation on time for your new hires:
HR persons or recruiters must not wait for weeks or months to orient the person right away into the organisation. That's where most people feel the disconnect. With time at the workplace, such employees have no connection with the other worker.
This scenario occurs more often with remote workers. This is because they connect with very limited people in the same organisation while working from remote locations or in different time zones. 
But with smarter uKnowva social intranet and meeting rooms, there is not much to worry about. Recruiters and HR generalists help new hires orient well by boosting their purposeful connection and conversations. 
They empower new hires to participate in polls, forums, surveys, and dedicated chats. That way, it's easier for the employee to introduce themselves in front of the firm on the first day. 
When senior managers congratulate them on the spot, employees feel better and more connected. They know management is welcoming and supportive of their employment in the firm. This gives them a boost to work sincerely from the first day itself. 
Introduce senior managers and leaders to new hires:
This step relates to the above point quite closely. When senior management welcomes the new hire, they feel proud and develop a deeper connection. That's why this strategy is one of the smartest ways to make the employee boarding process successful.
Employees would understand greatly that their welcome is not missed. Rather, everyone welcomes them for choosing the position in the company. It builds an unsaid expectation from day one among new hires. 
That is when senior management is available and active in welcoming their new joinees from day one. The same norm is possible when incorporating uKnowva's social intranet. 
Employers would greet their new hires politely over the intranet, even when they are not physically present in the office. 
Such a strategy makes remote workers feel more welcomed than ever. It is because new hires, especially remote workers, often look for validation and recognition from higher management.
It makes them choose the organisation over competitors more often as their work-life cycle moves on.
Assign the work outline and expectations from day one:
Another strategic approach to making the employee onboarding process more successful is to set clear expectations. Those must be about the job roles, responsibilities, flexibility in timings, roster, use of the ESS portal (uKnowva HRMS), etc. 
Employees mustn't be overwhelmed, though. Employers must choose the right balance of information to download on the first day of their new hires. However, with clarity of roles and responsibilities, new hires would know how to kickstart their first day. 
They do their best to make the day exciting when job responsibilities are clear in their minds.
Give employees the right tools to start their day swiftly:
The onboarding often fails for employers because of the non-availability of the right tools from the first day or hour. Moreover, it creates a negative and lousy expression on new hires.
They are not sure whether to trust the operations and administrative department of the firm. 
However, employers are no longer worrying too much after implementing uKnowva HRMS. It is a holistic package for new-gen recruitment strategies and techniques. 
The implementation of uKnowva across all divisions can usually finish in about 7-20 days. This is a one-time process. After that, it's easier to serve new and existing employees with all the right tech tools. 
From the recruitment engine function in this tool, new hires know how to:
Set up their employee ID or profile automatically.

Search for more employees to connect with or contact

Upload their required documents for completing the digital verification.

Downloading their company policy from the panel. 

Checking leaves and attendance allotted as per the given pay grade and job category.

Check up on the manager details to know who they report to. 

Check their roster and timesheets. 

Check the projects they will be working on from the first day. 

Set up their monthly goals or KRA from day one and get instant approval from their manager.
These features are pretty basic. More will be added as the demand arises. So, there is more flexibility and engagement for new hires. That is by using the right HR operations tool as they digitally come onboard.
Conclusion:
The employee onboarding process conducted digitally is more successful after the implementation of uKnowva HRMS. You get the idea for the same from the points iterated above.
Contact us here now for a demo.