The CMMI by Carnegie Mellon University purposefully improves business processes with consistent implementation. 
Each division, business unit, or team develops their core competencies and capabilities using the Capability Maturity Model Integration strategies. 
The model accelerates in delivering promising results by teaming up with intelligent uKnowva business tools. 
How exactly this model benefits enterprises is what you can read ahead.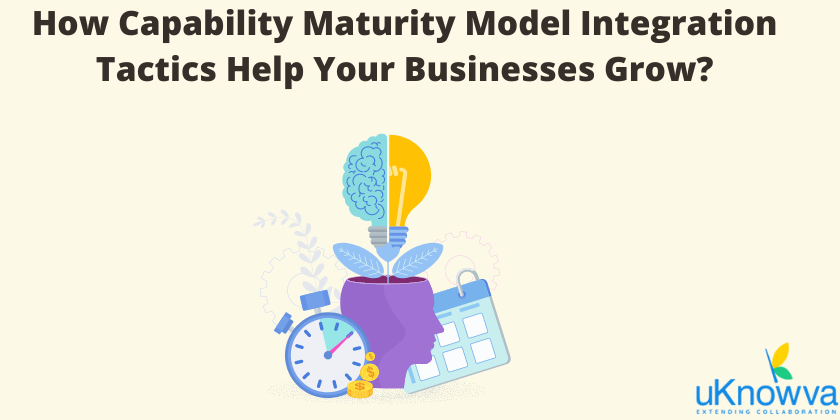 How Capability Maturity Model Integration Boost Your Business Growth In Collaboration With AI-Backed Tools:
Focus on consistency to review performances.
This maturity model has a responsibility for managers to review performances consistently. It is a critical and strategic step under this model.
Using the uKnowva performance management tool, the review system is accessible on the move. It also removes unnecessary micromanagement.
Timely performance assessments and reviews show each team, division, and process' efficiency. Decision-makers need these numbers to establish data-driven strategies for levelling up the business scope and reach.
Under the capability maturity model, people and process managers follow consistency in auditing productivity and performances. That is possible only with the help of AI-backed and on-cloud intelligent business tools.
That way, reporting managers do not depend on paperwork or heavy excel workbooks. They have instant access to information for consistency in performance audits. That is available to them within a few clicks.
Saves cost on rework and vulnerabilities in the process.
The Capability Maturity Model Integration enables CHROs to detect vulnerabilities in the system in earlier stages. 
Addressing them early on using the HR analytics means less expenditure on the rework. The uKnowva HRMS has real-time analytical reports for business heads to access and utilise. 
From there, they identify the anomalies beforehand and get adequate time to reimagine the processes. This assessment further improves the output of every division, people management operation, and value-adding process.
Talent and process managers save investment costs by re-evaluating the efficiency of their systems.
Otherwise, it takes a lot of financial stability for firms to remove the vulnerabilities from the divisions. These vulnerabilities or defaults could be in the context of:
Non-performing employees

Burnout symptoms in employee

Lengthy processes with less impactful output.

Heavy dependency on the paperwork.

Employees ensure who they report to for a project.

Lags in praise and recognition for high-achieving employees.

Disconnection of employees and managers with their job roles.

Projects are not on time. Their delivery is low, faulty and full of unchecked errors.
These are a few examples that the system detects for managers to control before losing clients and profits. 
CMMI is a self-improvement enabler for the workforce.
Developing process and people competency and capabilities are two significant factors of this maturity model. It only happens when the staff has the right tools to experiment with. uKnowva offers eLMS and performance management systems. 
Managers use the same along with their employees to develop the appropriate skill set and talent quotient.
These learning and development opportunities must be tied to a time limit. Employees will take the learning and growth processes seriously by then. 
Managers get alerts on their dashboards when employees and other staff complete a course.
The system helps them assign more interesting tasks to their teams with new knowledge and skill set. With a new skill set, employees continue to expand their professional portfolios.
They earn certificates, accolades, and timely recognition for each training module and course. Their CVs are more impactful and value-adding with these digital skills. 
The capability maturity model ensures every team develops these talents and skills relevant to their job roles. By doing so, teams are more productive and build better relationships with their time at work. 
Moreover, self-improvement opportunities help employees become more self-reliant and self-serving. 
This behaviour doesn't permit micromanagement to tarnish the autonomous corporate culture. Such working styles multiply the output of every employee's contribution to the firm. 
CMMI allows standardisation and automation of critical processes.
One of the best practices for multiplied business growth is to automate and standardise critical daily activities. The Capability Maturity Model Integration continually achieves that for CEOs and their strategic partners. 
The experience for each employee will remain for their job roles. There will be no variation without permission, having equal opportunities to automate mundane tasks.
Similarly, this advantage of automated processes frees workers' time to learn & develop. Then they implement & teach the same skills to their teams. 
Automation in key processes ensures employees adopt the best business practices. Their mental health and working hours productivity remain intact.
With these leveraging factors, employees can use the virtual assistant to increase the company's reach and scalability. 
For example, automation in bulk hiring, scouting, and onboarding frees thousands of hours every quarter for HRs. They focus on developing and nurturing employees for better business prospects. 
The HR analytics anchored with smarter uKnowva recruitment engine hires right from day one.
The system has no bias, fatigue, or manipulation at its backend. Each candidate gets a fair chance and opportunity to get hired for their desired positions. 
That is as long as the CVs meet the criteria for bulk hiring without flaws. 
Follow a path to achieve predefined and predicted performance milestones.
CMMI helps business managers gather more profits directly linked to performances. That's when HR analytics: predictive, prescriptive, and descriptive live reports recommend solutions to achieve goals faster. 
The system recognises the best way possible to accomplish predefined goals. It will study the progress report of each employee. This process assists HRs in assigning projects to the most talented person first. 
It improves each individual, team, and connected business unit's efficiency and effectiveness. This path is more defined in the uKnowva workflow management. It also has the required features to automate mundane tasks. 
Conclusion:
Capability Maturity Model Integration is a process-based initiative for HRs and business development managers to leverage.
The entire framework of this process maturity model boosts overall productivity, performance, and workflow management. 
It boards automation, constant improvements in training and developing talent, ensures standardisation of KPIs. 
With the uKnowva workflow management tool, the CMMI is more effective. The live dashboards highlight results daily for managers to overview and refine their business development policies. 
Contact us here today and book a demo with uKnowva experts.