Reformulating work culture has to be the top priority. Plus, an HR software is a must-have to capitalise on the shift to hybrid working norms for remote staff.
It has implications to smoothly transit employee journey at every touchpoint. 
The employees of the future prefer working where companies recognise their value and contributions. Therefore, develop HRMS systems to improvise the culture with these factors in mind. 
Well, a company culture already witnesses a lot in the age of new normal as it reformulates.
HR managers often feel overwhelmed at that point. They have to adjust to new norms and regrouped employee expectations. 
The entire experience is seamless as organisations invite and implement HRMS software solutions on time. 
Read this blog post to understand how HRMS tools comprehensively reform company cultures for future-ready firms in India.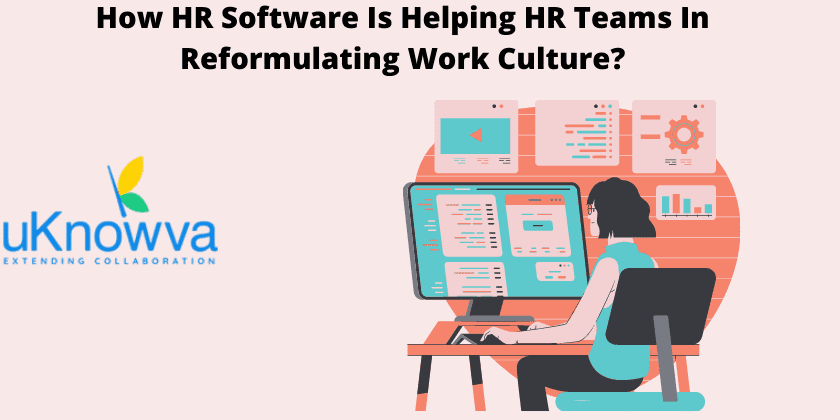 Impact Of HR Software In Helping HR Teams Reform Company Culture:
Interlinking of productivity and performance management:
The productivity of teams and organisations interlinks even more transparently with the performance levels. It's clear to HR persons and reporting managers that high-performers in a team draw in more success. 
Thus, the HR software has to be in place. With that, aligning productivity and performance levels is seamless. The system integrates the data at the backend itself.
So, reading the impact of the team and individual performance on the company's growth is easily accessible. 
In fact, employees prefer working in such firms where their performance levels are impactful and disruptive. They want to bring change and be valued for that. This behaviour directly impacts job satisfaction and engagement levels. 
Development of future-ready skills and talent:
As I explained above, employees need jobs where they create impact. The same happens when the HR management system prepares them for futuristic goals, skills, and talents. They need to remain employable as times are changing rapidly.
So, there is no better way to be pleasing to the company as an asset than relearning and upgrading your skills. Employees have this opportunity to continuously learn and get certified for the courses they enrol on. 
That is possible with the HRMS software solutions uKnowva provides. On this platform, reporting managers can upload courses they want their team members to learn. They can conduct or upload webinars and other learning materials. 
This way, managers must consistently encourage their staff to enrol on eLMS modules. They must get excited to learn new things every 3-6 months. After that, they must apply those skills to their projects or tasks.
It is a great way to welcome learning into execution. Employees would know where their latest learning and skills will be used and what impact it creates. 
Purpose-driven communication to extend business collaborations:
Another way modern HR software is consistently reformulating company culture is to drive home purposeful communication. Through the chat process on its social intranet platform, teams connect transparently, with motivation to succeed. 
Their tasks and targets are on time. They cast votes and participate in surveys or forums to bring a necessary change in the culture. This shows employees have a voice that is listened to and acted upon. 
So, each such conversation between employees and their seniors matters. They know if they communicate, it's to make the organisation thrive better and meet its goals on time. 
Later, teammates too connect to work on projects together. It's easier for them to collaborate on integrated platforms like Zulip without depending externally on Gmail or Hangout messengers. 
The conversation there is fast, seamless, interactive, and fun. Teams can create purpose-driven streams on the messengers. So, each team member knows what type of message is to type and send in which stream for clarity in communication. 
They can filter private chats and streams to look out for a particular conversation to close or take forward. HR systems make teams responsible to commit and communicate with these functionalities. 
Tech-enabled recruitment for smoothening talent acquisition processes:
Talent acquisition and recruitment processes are gaining momentum with the commencement of uKnowva HR software. Hiring managers and executives have tech-driven assistance there. 
The software can parse CVs and send offer letters to chosen applicants in bulk (or at once).
HR managers can track real-time status and statistics about their published job openings and their responses. Tracking applicants and their interactions is easy and flawless using an HR management system. 
Now recruitment engine tasks can be automated based on triggered actions and responses. It encourages senior HR managers to focus on talent development and management tasks. 
Later, the system also provides help in shortlisting qualified candidates for a job opening. The vacancies can be published onto multiple career portals if HR managers allow the system to integrate. 
Thus, it's a time-and cost-saving function. HR managers can access all recruitment and talent acquisition statistics and analysis in the live dashboards. All those figures are in one interface or screen. So, they don't have to go back and forth even on multiple tabs. 
It makes the experience smoother for senior human resource professionals or CHROs. They can verify and overview if their recruitment engine is effective and in tandem with their job opening sources/channels. 
If not, they can make necessary changes on the spot for removing/adding different job portals within a few clicks. 
Disruptive technological solutions for digitally transforming processes:
Businesses are driven to disrupt the market benchmarks as times and company culture are changing. Technology plays a significant part in it.
That's where HR software becomes useful too. Because people management is a skill and function, HR managers cannot afford to be non-disciplined.
So, the role of the modern human resource professional is changing in the organisation as the HR tech advances. A CHRO can now become a strategic partner to the CEO for driving new sales, revenue, reach and investment in the firm. 
These HRMS software solutions prove to digitally transform employee experience and engagement at every point or click. Each process from hire to retirement can be now automated to a certain extent. 
CHROs get to focus more on the outward approach of the business. In contrast, HR persons can flawlessly manage and develop their hired talent with complete transparency and purposeful communication. 
CEOs and CHROs overview instead of micromanaging their staff. They believe more in the workers.
This gives remote and hybrid workers confidence to break barriers and records. The loop of on-time reward and recognition also continues on the digitally disruptive and transforming technologies. 
It overall enhances employee experience to new levels as internal branding strengthens. 
Conclusion:
A company culture reforms consistently with modernised HR software. There is no doubt here, as you have seen in the blog post above. Through these explanations, it's clear how HR management brings positive and productive changes for the greater good.
For more information or a demo, connect with us here.