Go paperless with biometric attendance and save the total average of time or cost involved. The digital biometric system boosts productivity, overcomes theft or manipulation, and other downsides. 
Understand more about its functionality in terms of its main advantages below. Then you will have a better idea of how the biometric attendance system works and how your organisations can leverage it.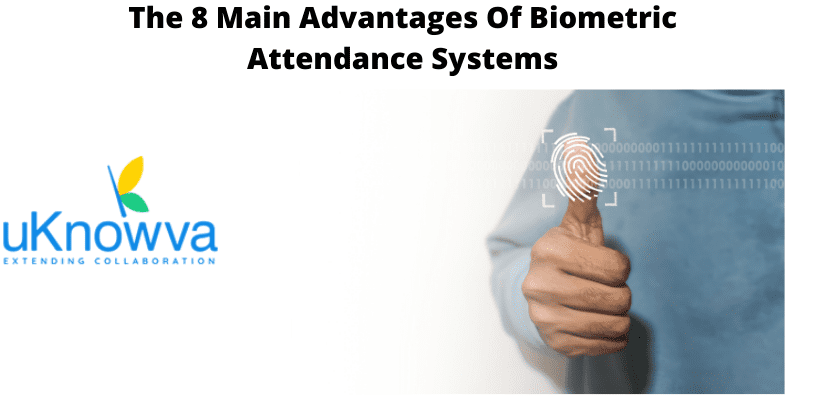 8 Main Advantages Or Perks Of A Biometric Attendance System In Your Firm:
Automatic employee data backup
Don't worry about the employee data storage and history while using the uKnowva virtual biometric attendance system. It automatically creates a backup on the predefined time. 
No one gets to mess up with the data sets or the history. It directly gets interlinked with the real-time punch ins/outs by active system users. 
Reporting managers can audit the reports whenever required if the backup is on time. So, that's a very good advantage to look forward to in the biometric attendance machine. 
A perfect tool for regularising attendances and leaves
uKnowva biometric attendance device offers integration with the attendance and leaves tool. HR persons can regularise each employee's leaves and attendance with this functionality. 
This feature is similar to an extra piece of evidence for the hours clocked in. And the data from the virtual biometric gets integrated with existing leaves and attendance management systems. 
If your company does not have it at present, uKnowva can provide that tool too to integrate with it. Overall, the user experience for HR persons is seamless. They can, at any point, check if there is any fault in the leaves and punch-ins/outs. 
Employees get it regularised from the system interface itself. Additionally, they can raise a ticket to the HR or admin person for synching the data from both systems. That is when they find there is still an error in their timesheets.
Ideal for accurate salary disbursements 
A virtual biometric attendance device is the best for flawless salary disbursements. That happens when it integrates with the existing payroll system on the backend. HR persons do not have to calculate salaries manually then. 
They can let the system do the work for necessary deductions and additions to the salary. HR persons or employees can overview their salary slips later on. Employees have the provision in the system to raise doubts or queries. 
This experience from every end is smooth, fast, and interactive. Mostly, with automated integration of biometric attendance with payroll, managing and disbursing salaries in bulk is easy and fast. 
Intelligence design with insightful reports
HR persons can use insightful reports generated from the biometric system installed. These reports predict employee wellness, happiness score, and attrition rate in the next few months.
Also, these reports project whether an employee is likely to depart from the firm. 
This way, HRs can plan their workforce allocation and management accordingly. For instance, if the attrition rate is projected to rise, CHROs can strategically plan a positive change in the firm.
This could be by training, engaging, and empowering outperforming employees before it's too late for convincing them to stay. 
Quick verification within seconds
Employees do not wait for hours while logging in or out. The virtual biometric attendance machine is simple to use.
uKnowva management makes sure of it.There is absolutely no lag when you enter your happiness metre and a short brief of the work to do for the day. 
The punch in and out happens within seconds. The system logs you to the network system automatically. So, you never worry about "how does biometric attendance system work?"
If you still have doubts about punching in and out, you can directly talk to your HR person. The credentials and the link must be given to you to log in within seconds. Save that link in your system and start punching in and out regularly. 
You don't have to log in intentionally with your Id and password every day. The system recognises your device once you log in with your original credentials. From the next time, you just have to click the link and get going with punching in/out. 
The entire process is that easy to execute. 
Enables live-geo tagging for remote workers
The system gives you the benefit of live-geo tagging. It's a wonderful feature enabled in the biometric attendance device. Using that, remote workers can connect to their systems from real locations. 
Team leaders will know and gauge the real location of the workplace for their remote employees. However, it does not mean that managers must micromanage their employees. 
This feature projects an opposite belief. It means employees grow self-reliant and self-serving. They grow responsible for logging in with real locations whenever needed. 
It's just an added advantage and not a compulsion. Managers and employees must treat it like that. With this practice, there is more clarity for managers about their teams they allocate to different projects across regions/cities. 
Can help discern employee wellness or happiness score
The modern biometric attendance system has a happiness card or metre. Employees can punch in their daily mood. The same when they punch out. 
Every hit on different moods creates a report at the backend. The system admins view these on their live dashboards. Admins can give permission to reporting managers too.
They can overview the average happiness score of their team members. From there, they get the hint if they are overburdening their employees. If that is so, they will have time to rectify that error in their manpower management and planning. 
Ultimately, such a biometric system genuinely helps TLs get to know their subordinates better. 
No restriction on employees verifying their attendances
You don't have to worry about the employees registering on the uKnowva biometric attendance machine. As it's available on the cloud, it has quite a large bandwidth.
And as your company reaches more milestones in terms of manpower, you can always upgrade your plans. 
There will be no hindrance for your employees in counting their daily punch-ins or -outs. Their experience will be smooth as the system doesn't restrict new entries of registered employees. 
The admins will get notified beforehand about the best time to expand their plans. So that front is sorted out and won't be a hindrance. 
Conclusion:
An interactive, immersive, and cool biometric attendance system is the need of the hour. Employees are bored and often do not prefer to physically use their eyes, fingerprints, or faces for punch ins/outs. 
That is their concern for safety and health purposes too. Plus, a virtual system assists your company in managing and recording remote workers' attendance on time. 
Those workers get all the same facilities as do the in-house employees. So, there is no bias even when recording daily hours. 
Contact us today for more such cool information.