Good employee management makes sure employees know their job while performing it as per predefined standards. It's a process anchored with other core HR activities: employee data management, recruitment engine, and performance management. 
3 Core Aspects That Determine Company's Employee Management:
Talent Acquisition:
It involves searching for talented hires for your company from effective hiring channels. 
Talent Engagement:
Make sure employees have better experience in the firm than they originally expected. Encourage them to participate in the HRMS software regularly. With that, they connect with their distant team members well. This boosts the retention rate in the long run. 
Talent Management:
Help employees achieve their goals but don't micromanage them. Give them the right tools like a trusted employee management system. With that software, employees can enter their work data for managers to decipher and analyse without intervening later on.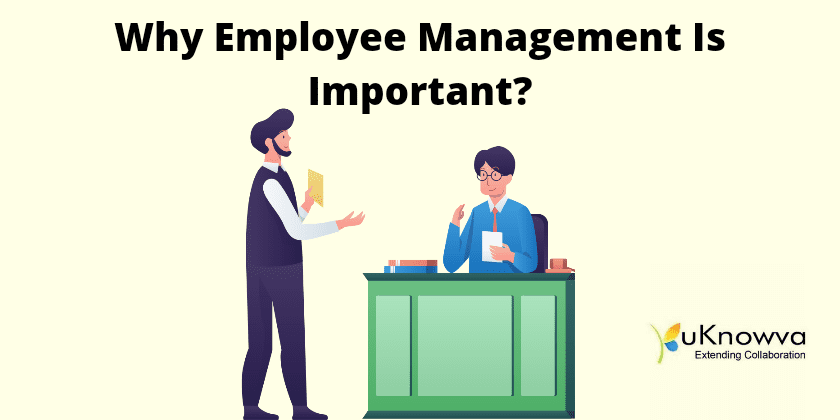 5 Things That Justify Why Employee Management Is Important:
1. Skyrocketing Employee Engagement:
Performance management systems and tools have functions like polls, surveys, forums, etc. 
Employees use them to put their voices forward in front of their seniors, managers, and C-suite executives. It is a platform where these staff members can urge the company to bring necessary changes. 
When managers or change-makers listen to and act upon those suggestions, feedback, or recommendations, employees feel that they are valuable to their firms. As a counter effect, employees wish to stay in the organisation longer. 
That's because now they realise that each of their votes, opinions, or comments/likes can create drastic changes in the company's culture. 
That degree of accountability and responsibility makes an employed person feel more connected to company policies and workplace culture. 
Basically, without an employee management system like uKnowva, inculcating a company's value in an employee is difficult. Because then they feel hesitant to engage in surveys or opinions. 
The reason for that is they are not sure if their voice will reach the point where change matters. 
However, with an HRMS system, they can see who all liked their comment, likes, polls, or surveys. They have instant feedback and reaction to their opinions from literally anyone in the organisation without a barrier.
2. Security of Registered Employee Data:
The importance of employee management portal becomes clearer when we talk about employee data security. 
In a growing company, that could be a major concern. Because without a cloud-based employee management system, handling data sets of 100-1000 employees is a feat. 
Without proper organisational and planning skills or ideas, information could be lost when written on paper. Anybody could steal, neglect, or forget the papers anywhere in the organisation of a growing, medium- or large-sized firm. 
But that's not the case when the uKnowva HRMS system is implemented. This cloud-based employee management tool has 4 levels of security. These levels ensure that the registered data is never lost, always has a backup on time, and is properly encrypted. 
3. Real-time Analytics to Measure & Monitor Employees' Growth:
Every employee must have a goal while working in a firm. They must visualise or anticipate their scope of improvement by using the company's resources as they continue accomplishing their KPIs. 
However, when a company grows and hires more people, managing them is difficult for HRs. So there arises the need for HRMS software. Using that, HRs and TLs check the intuitive dashboards and live reports. 
These insightful reports depict how well an employee performs – especially with their team members. Knowing their monthly or other periodical reports, team leaders can further form Talent Management strategies. 
They would know which employees need more nurturing and guidance than others. Accordingly, they can raise appraisals for a particular team or employee. Plus, they would allocate difficult tasks to employees who perform their deliverables on or before deadlines. 
Using the same reports, they know which employees are performing ineffectively.
They can then talk to them once. First, get to know their deal. Then, work together with those employees to help them set their targets straight and in line with the company's benchmarks. 
4. Strengthen the Harmony Between the Team Members:
Remote working employees feel disconnected or isolated from their team members without direct/transparent contact. However, with an employee management portal, that problem is addressed promptly. 
In other words, team leaders can boost smoother, more transparent, clear-cut communication between employees. This is even more necessary to accomplish complex tasks under a shared project. 
And when employees communicate their opinions, issues, or suggestions with mutual respect on a direct channel, they trust the organisational culture more. 
It equally affects their work-life balance, happiness and wellness score, and overall expectations of their growth in the company. 
That is why employee management is important. 
It opens up channels that can be monitored, measured, personally customised for employees to engage and communicate effectively. 
When employees come up with fresh ideas, solutions, or suggestions, the company's culture and productivity multiply. 
Plus, this practice conditions employees to think like strategic leaders in their teams. They get to experiment and sharpen their soft and hard skills when they communicate correctly in an organisation. 
Besides that, team members start mutually trusting, respecting, and welcoming each other. It could be for creating and collaborating on different projects delivered on various deadlines. 
Conclusively, people learn to work better together as they continue communicating with a purpose on an HRMS software. And team leaders have less burden to encourage the employee to open up. 
5. Maintenance of Accountability:
Employees must know their daily tasks to avoid confusion and unwanted delays in deliverables. This behaviour only makes them more efficient for the company and upgrades their work ethics in addition to their portfolio.
But without an effective employee management system maintaining such accountability could be hard. For example, managers would not know the accurate efficiency levels of their well-performing employees without a workflow tracking system.
Even employees would not know if they contribute rightly to attract more recognition and appraisal in the company. That is another reason why employee management is important. 
As with a management portal, there is transparency in workflow, accountability, and responsibilities. The organisation chart too describes employees', their seniors', and their teams' details. 
Conclusion:
Five things that clarify why employee management is important are explained above. Employees and hiring managers can get a clear idea while reading these pointers. But, in the end, it's quite evident that HRs need a system in place to bridge the talent gap. 
Otherwise, employees – especially newly hired – would be confused about their work, reporting managers, and engagement expectations.
But the importance of employee management is also relevant here so that Talent Acquisition, Engagement, and Management strengthens and emboldens in an organisation.