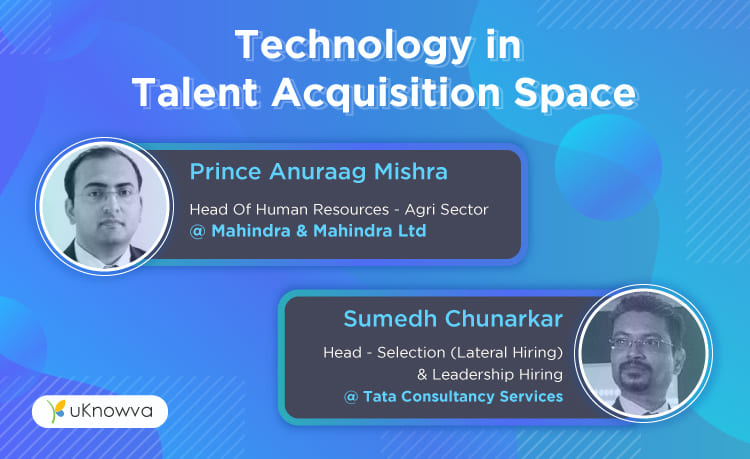 The technology scene for talent acquistion or recruitment is evolving in complexity. Now is the time for the employers to dive into the online ecosystem of virtual hiring that eliminates all physical contact.
So here we've sought to advise from the industry experts in this webinar on talent acquisition  to explore the new tech that is going to be the linchpin of recruitment in the post-pandemic world as well.
In our recent Webinar, we had Mr.Sumedh Chunarkar (Head - Selection (Lateral Hiring) & Leadership Hiring at Tata Consultancy Services) and Mr.Prince Anuraag Mishra (Head Of Human Resources - Agri Sector @ Mahindra & Mahindra Ltd) discuss the evolving trends that are being adopted in the talent acquisition space.
We've listed down some of the key takeaways from the webinar on Talent Acquisition Space.
Current scenario known from this webinar on talent acquisition and it's emerging trends
To elucidate on how the current scenario in talent acquisition space appears, Sumedh asserts that, being 'Atmanirbhar' (self-sufficient) today in any space requires building upon the foundation in the past.
What you experience today is based upon what you accomplished or did not accomplish yesterday. Keeping this context in mind, he conferred that TCS (TATA Consultancy Services Limited) an Indian MNC has been well prepared for the virtual shift imposed during this pandemic.
Following the dictum 'Default is digital', TCS has persisted to conform to the virtual solutions for talent acquisition for a very long time. Being said that, he cites that technology is all-pervasive and a true enabler for business continuity.
Considering the pandemic and its present-day consequences in recruitment processes, Prince also affirmed that there is an undeniable paradigm shift in the functioning which is heading towards adaption of more and more digital solutions across industries. The Agri Sector at Mahindra and Mahindra perceive this shift as an opportunity that is helping them scale-up and reap benefits which they wouldn't have otherwise.
Digital framework in talent acquisition
Sumedh elaborated that when it comes to adapting digital frameworks one must foremost weigh in the efficiency and effectiveness of the digital solutions. TCS has its inbuilt technological framework which extracts requirements from the integrated workforce planning tool.
When it comes to the sourcing of candidates the implementation of bots, screening tools help the HR professionals with the operational screening and selection. Finding the best fit amongst a dump of resumes is easily achieved using these AI tools.
TCS has a hiring strategy called the just-in-time hiring that helps them to optimise and align a policy which is closer to the demand and supply of the business all of which leveraged by intelligent tools.
Digitization across industries in response to COVID-19
As organisations are now commencing their journey towards virtual hiring, Sumedh affirms that even industries who have never accommodated digital solutions earlier are now actively investigating and embracing the innovative digital solutions for hiring.
Prince insinuated that digital transformation journey needs a staged approach with a clear roadmap that takes into account the end goals. The digital tools available in the market need to align with your organization's objectives and hence a clever judgment over choosing the same needs to be made.
End Note
Looking for virtual hiring solutions? Try uKnowva!
Discover how uknowva is driving virtual hiring with remote interviews, virtual onboarding, and beyond...click here
You can watch the full recording of the webinar here, and catch some more interesting questions coming from the participants.