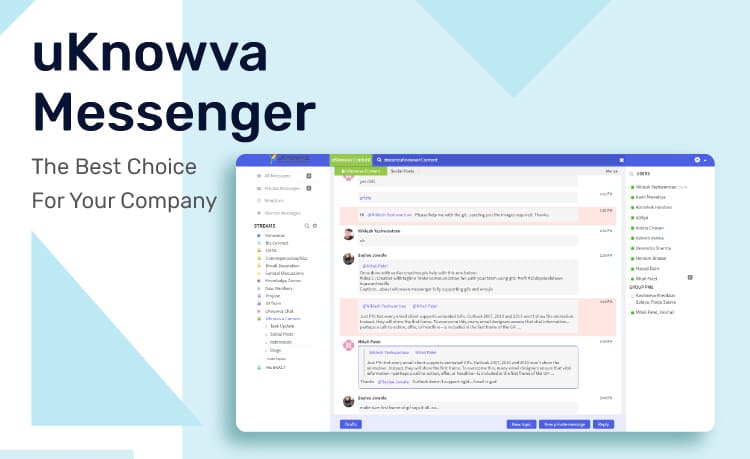 Working from home can be challenging, whether it's proposed due to an unforeseen situation like a global health crisis or it's just the nature of the job. Finding new ways to stay connected with your team whilst staying super productive is the main goal. That is when chat tools for small business come to rescue for smaller and remote working teams.
The good news is that you can achieve all of that with the uknowva instant messaging and group chat software. If you are rethinking communication platforms for your business then this is the best choice that can help you achieve 100% productivity.
It is a state of the art real-time chat platform that allows your employees to collaborate seamlessly. This messenger app is designed to enable users to communicate with the utmost eloquence but concise messaging format.
Assessing your current situation for chat tools for small business
Since business messaging apps have become the de-facto channel for in-office communication. Organisations must seriously examine how are they currently staying in touch with quarantined participants, who can not travel, who choose to avoid personal meetings, or who otherwise are distributed at certain remote location all across the globe.
Explore more about uKnowva Messenger
This guide will run you through primary features offered by uKnowva messengers for productive team collaborations :
Organised Communication:
It's taxing and time-consuming to manually scan through hundreds of messages a day to find some relevant content. Instead of a single inbox brimming with messages, on uknowva messenger, you can easily allocate the conversations into dedicated spaces called streams.
There is even topic-based threading making the catching up much faster compared to any email platform.
Effective and optimised Collaboration:
Collaboration is all about getting people together from diverse divisions, locations, and teams, then directing their efforts on a common goal. But to make that happen everyone needs to be on the same page. You can let these productive collaboration occur in these dedicated streams. Streams can be made private with limited members subscribed to them. This helps to broadcast or share related material only to the relevant crowd.
Create streams for everything associated with a project, topic, team or discussions and streamline your communication.
Easy Search:
Imagine you trying to search for a certain message and are left with all the results jumbled with million messages from all the public streams that you're not interested, it is a wasted effort.
By default, uKnowva messenger searches messages in your personal history only, that implies - the messages that you have received. It's then super easy to track conversations in an effortless searchable way.
Have fun:
Make communication fun with your team using gif and emojis. The best way to express yourself is by using emojis, have fun doing that here!
Drag and Drop:
Drag a pdf or an excel or any kind of file you wish to share and you would also be able to preview it before sharing it. Share files by simply dragging and dropping them can be easily achieved here. Can't get easier than this!
Inline Preview:
Be it a link or video, always get an auto inline preview before sending it on the uknowva messenger.
Bullet and Highlight:
Highlight messages and apply structured bullet formats. You can express your ideas clearly with bulleted lists. uKnowva's workplace chat apps messenger also allows you to edit the content of your messages within 10 minutes of when you send them. Your company administrators though can set a different time limit or remove it completely.
Secure:
It's a highly secure platform allowing you to maintain private streams or private messages with conversations visible only to the subscribers. Do know that uKnowva messenger is adopted by some of the most security-conscious businesses globally.
Video Calls:
Based on your organization's video chat provider, uknowva messenger can help you compose video chat links and share them with your teammates.
History:
Don't worry if you are recently added to a stream, you can never be out of loop cause uknowva messenger will make sure all the message history is seen/available by the new teammates.
And much more:
Customize look and feel, mute conversations, use on any device and so much more.
End Note:
What are you waiting for? Get started with the amazing chat tools for small business and onboard your employees on the uknowva messenger to foster meaningful engagement and teamwork. Get started by clicking here: https://uknowva.com/extensions/uknowva-messenger/126