Keeping remote and virtual workers is challenging for HR managers. They must be abreast with their emotions, demands, and work culture expectations. That's one way to create and launch practical team-building activities for remote employees and teams. 
To know more about these events and tasks, find plenty of them below. Then, see how you can bring newer culture changes to your in-office and remote workers using these strategies.
Many of them leverage the use of smarter uKnowva HRMS. That continuously delivers satisfied or overjoyed employee experiences across all divisions or work fronts.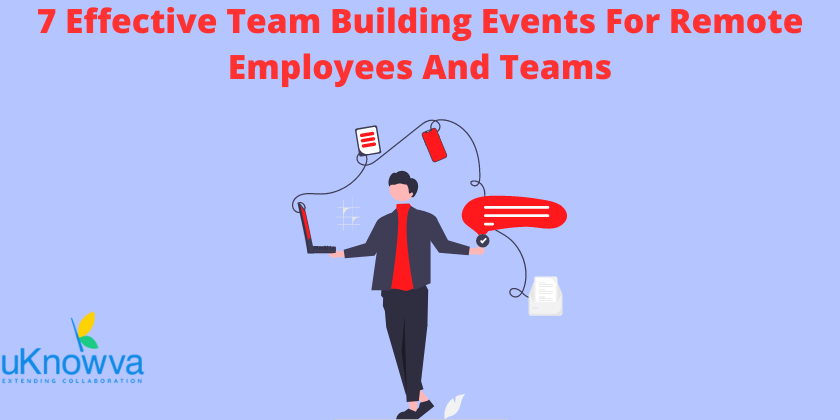 7 Effective Team-Building Activities For Remote Employees And Teams:
Virtual break room to unwind and get rid of mental stress on time.
Teams need breaks from hectic work schedules. These breaks help them unwind and connect deeper, even in formal settings or meetings. In addition, this type of virtual team-building activity garners more ideas in one place. 
Employees can talk to each other in virtual break rooms. This could be an ice-breaker to get to know new employees better than the existing ones. Or, this could be vice-versa. It helps teams connect without mental stress or pressure for impending work to deliver.
Virtual company events: webinars, seminars, motivational talks.
A smarter way to bring virtual and in-office employees together is to hold virtual events. This includes webinars, seminars, cultural events, motivational talks, etc. 
Such team-building events are really fruitful for remote employees and teams. These employees consume a lot of technical, digital, and other useful content there. In addition, they learn new skills, concepts, processes, and topics to discuss further. 
Motivational talks can help remote employees ease their mental burden over time. They can learn certain steps and tips to remain calm even when completing tougher deliverables.
Similarly, attending webinars or seminars is a thought-provoking episode of one's career lifecycle. Employees learn a lot of insights from industry experts by attending and participating in these webinars. 
They can participate as a presenter or speaker too. For that, they can request their HR or reporting manager using the uKnowva social intranet. Otherwise, to build strong remote teams, employers can conduct division-wise seminars. 
Virtual catch-up calls for in-office and remote workers.
One of the most effective team-building activities includes weekly or bi-weekly catch-up calls. This enables the entire organisation or team to connect, irrespective of their assigned locations or time zones. 
These activities bring teams together, even when they have different time slots to work on other days. This could be a refreshing activity for all remote employees and teams. 
The in-house employees get a chance to introduce themselves to remote workers (or vice-versa).
Virtual potluck event for bringing remote employees and teams together.
Virtual potluck using the video conferences on the uKnowva-enabled system or tools is a fantastic activity. It will definitely bring teams together. All employees employed in an organisation must join this activity. 
Eating together on a virtual video conferencing call was a rising norm in the pandemic. It rolled out a feeling that no one is alone despite the pandemic or lockdown circumstances. 
Holding luncheons online can be a disruptive step to building strong remote teams over time. 
WFO employees also familiarise themselves with remote workers. They connect while eating their favourite meals. So, these online potluck events offer less hesitation and more positivity. 
Virtual "show & learn" training and brainstorming sessions. 
There is never a better opportunity for employees to grow than by learning from each other. With smarter uKnowva HRMS solutions, including meeting rooms, teams achieve that. Employees, remote ones or otherwise, show their talent and skills during these events. 
They portray their talent most smartly and easily. Other employees become learners and students for that particular employee.
Everyone gets a chance to teach their team one thing or another. This is a voluntary process. So, employers must give a boost to their introverted employees, especially to come up with a skill and teach the same. 
These sessions are intuitive, interactive, engaging, fun, and give employees a lasting impact. Such team-building activities are much loved by dedicated and outperforming employees.
Later, employers upload these sessions on uKnowva eLMS for newcomers to learn whenever possible. 
Virtual teams for tougher and newer projects.
Another strategy to build stronger and robust online teams is to bring outperforming workers together. The HR analytics is a plus point here when you implement uKnowva HRMS.
It helps to diagnose the current team and individual performance. Then, it recommends the best team allocations possible for the firm's tougher, newer, and most challenging projects.
It runs the simulations at the backend to identify the best remote employees and teams. This exercise saves the company's clocked-in hours and the associated costs. As a result, each project delivery is faster, with more quality and quantity. 
Such activities and projects bring new and existing employees together. Their teams are based on their skills, delivery rate, and power-packed performances. So, each employee will have a skill set to share and gain more important insights from another. 
If such a process continues, HR can build and leverage powerful remote working teams. Their minds will be honestly purposeful and goal-oriented. In addition, the HR analytics and performance records highlight real-time analysis of each team's efficiency. 
Talent managers use these reports to assign value-adding projects to deserving team members. The process repeats to continuously build stronger remote teams. 
Virtual workout sessions for remote workers and teams.
A mindful team-building activity for remote employees and teams is working out together. This involves meditation, yoga sessions, Pilates, Zumba, Surya namaskar, etc., together from the comfort of their locations. 
Remote teams leverage the implementation of uKnowva's meeting rooms and HRMS to conduct workout sessions. These sessions must not hamper the daily working schedule. Even management participates in this session to bring everyone together as a business unit. 
There is a sense of harmony, peace, calm, and energised mindset during these sessions. Remote workers sincerely feel they are not alone. They have teams and senior management to depend on. 
Each person regales in other team members' passion and enthusiasm for workouts, even on video calls. This positiveness is contagious and pervasive. It will reflect its impact on the delivery and quality of the work completed thereon. 
Employees always look forward to attending team-building activities that help them calm their minds. It brings them inner peace and increases their focus at work. 
Conclusion:
Talent managers and nurturers can find multiple ways to engage, empower, and retain their top-performing employees. However, the process automates, assembling insights and running workable predictions using uKnowva HRMS solutions. 
The same must be clear to you after reading the post above.