Team collaboration is the backbone and cornerstone for any business to thrive. Collaborative teams make the workplace more interesting, challenging, outperforming, and engaging to show up at work. Online studies already prove that employees grow 5-6% more engaged when team collaboration is at par with their purpose of contribution. Together the engaged workforce helps to grow the business like a family unit and strive for common goals on time. 
For these many reasons and more, managers have to focus on team collaboration every day of their life at the workplace. Most often, teams fail to present a desired output because the collaboration and coordination are not on time. 
Want To Skip The Blog Content Ahead?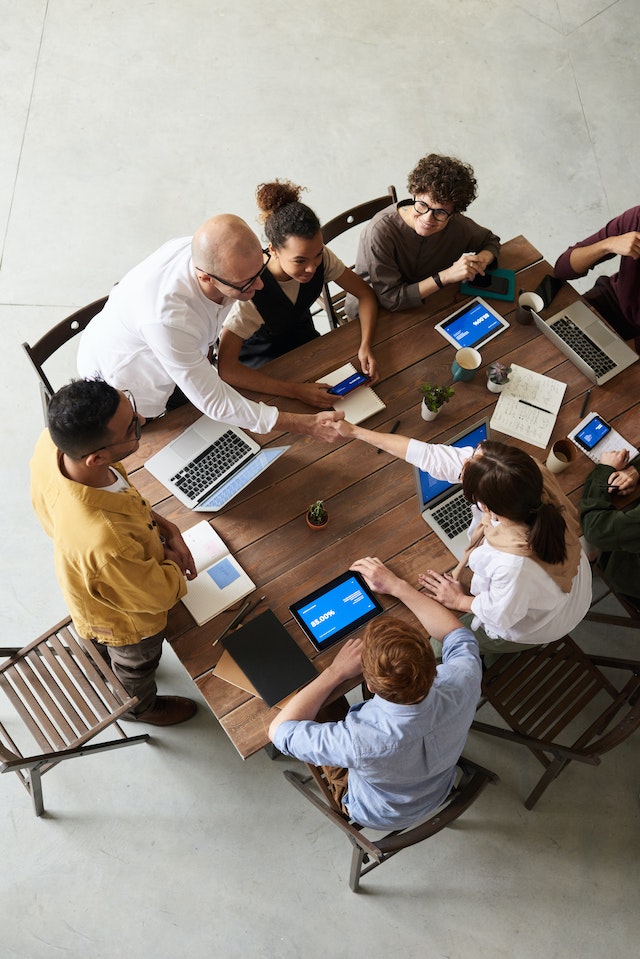 Running a highly productive is not easy for first-time managers. It is even more difficult for managers who have to run diverse and inclusive teams. Every day they are going to face new challenges like:
Resistance to change

Increase in absenteeism

Employees falling sick

Employees feel not up to the mark for some project

Conflicts of interest between two or more staff members
The list is never-ending. Managers have to make a concerted effort to bring teams together, despite their differences and challenges. It can only culminate when they are clear about the ethos and values of the firm. 
Thus, we are listing some team collaboration strategies below. You and your team leaders can refer to these strategies. uKnowva makes following and implementing these strategies to connect teams at the right time easy. Read the blog post below and see how uKnowva HRMS is the best solution to digitally transform team collaboration even on the move. 
14 Top Team Collaboration And Coordination Strategies To Pay Attention To
Set the purpose right for coordinating better
The first thing you do right is to make sure that the purpose is right when you collaborate with your teams. Without the right purpose, nothing is ever achieved on time or effectively. Your teams need to accept the purpose and work towards the common goal. Then only you can focus on more strategic ventures and let your team players take care of the daily tasks.
Organise goals and KPIs on time with transparency in teams
To improve team collaboration and coordination, you need to set KPIs and goals for each one of them. They must not ask or depend on someone else. Make your teammates self-reliant. By setting their goals in advance in the performance management system, you are letting them control their journey ahead. uKnowva HRMS has PMS integration for ease of use on the go. It is available on mobile and other smart devices to use and set goals for everyone on the team. The approval and configuration system is also fast and secure for team leaders or managers to manage their team goals. 
Bring everyone on the same page
Another strategy is to bring everyone on the same page. It is a must-have. You cannot let this approach go. When team members are not on the same page, they will detour. They will start doing things they must not do or are irrelevant. 
So you need to connect with them regularly to mentor and coach them. Using a social intranet helps you do that without breaking into a sweat. You can coach your team and bring the intrinsic value and perception of the brand every day to them. 
Discuss brand value, vision, and mission statements with them. 

Include them in decision-making events. 

Let them take the lead. 
Those are some strategies to make sure that everyone is on the same page. Plus, smart team collaboration approaches also teach you to be excellent in change and conflict management. Without sharpening those skills, it will be difficult for you to scale up team progress and bring in more players. 
Learn how to play each team member's strengths
A self-serving portal or HRMS like uKnowva helps employees jot down their skills, hobbies, and other components. Companies can tweak those components if they like to improve the insights from employee data. HR and reporting managers leverage this data to know what more their staff can do in a given time. They can build their team member's capabilities once they know what they are capable of. Another way to play with their strengths is to give the tasks they are excellent or pros at. Otherwise, assign them tasks they can do 3-5 times faster and more accurately than others. 
Identify team leaders within your team to spearhead projects
Become the master of delegation to make the most of the team collaboration approaches and strategies. Once you know who is the one hungry for leading projects in your team, give them the power to lead and coordinate. Observe their performance from afar. Do not indulge in micromanagement if you know that the person can coordinate with others pretty well. 
Note their performance levels and deliverables from the self serving portal. Take feedback from their subordinates and peers using the future-proof PMS. After you gather enough proof, you know you have got yourself another team lead to ease your burden while managing an increasing number of workforces. 
Be clear about the job roles of your team members
Team collaboration and coordination improve when there is no confusion about who's to do what, when, and how. Make sure that you orient and educate the person well in your team about the culture and the norm. The roles and responsibilities must be super clear between team members. The hierarchical chart must also be clear so that everyone knows who is to report to whom. uKnowva has an inbuilt organisational chart in everyone's profile. So managers and employees visit each other's profiles and the rundown of their roles in the team or the organisation. They know:
The projects one is working on.

The reporting manager one is reporting to. 

The business head (if any) for the team or the business unit. 

The skills possessed by the profile, user, or employee.

The projects are led by the same person.

Their designation, joining date, hobbies, and much more. 
All that is available in a single window for the viewer to take note of without asking the third or the next person for help.
Bring consistency, autonomy, and automation to the workplace
Building consistency, autonomy, and automation is important to improve business results. Team collaboration will have room to breathe, develop, and mature when employees do not run after hygiene tasks. When everyone knows their KPIs, deliverables, or equity well in the firm, they do not have time to waste. 
Rather, each conversation with the other person will be target and growth-oriented in the team or in the firm. That is the power of true autonomy of tasks. Plus, uKnowva helps bring it all together with its core HR tasks and automation engine to set up workflows and automate the mundane steps in the same. 
Break larger goals into smaller tasks
To make the most of team collaboration, the manager must learn to break bigger goals into smaller ones for their teams. When people are new to the team or the firm, they feel overwhelmed all of a sudden by running after targets. That happens when one is not experienced enough to meet targets and has a warrior mindset. 
In time, the smart tech tools like uKnowva HRMS help them take over their job roles with complete honesty, dedication, and grit. That also happens because the tool allows you to automate your daily or redundant tasks like timely checks in and check outs. It can also help you schedule meetings, reminders, follow up emails, etc. 
Have regular check-ins with your teams
Improve team collaboration with regular check-ins with your team members. Do not let them feel isolated or unheard. Know what they are up to without micromanaging them for their daily work. 
When you catch up with them with the intention of solving their queries and concerns, you earn their respect and trust. Make use of the social intranet platform we offer to catch up with your teams whenever you wish to. They will be just a few clicks or a "Hi" away. 
Identify the most crucial hours of the day for essential tasks
Team collaboration and coordination improve when managers help them identify the most crucial hours of the day. They all can complete critical tasks in those hours with laser-sharp focus. So, the rest of the day can be for follow-ups and other coordination work. 
Use a unified platform for all team coordination purposes
Using a unified platform or interface like uKnowva helps team coordination to improve and become more purposeful. The communication is more direct, with increased visibility and transparency. Employees share their concerns on time using uKnowva social intranet and HRMS. Managers get alerts instantly for all the requests and chats where the team tags them. 
Lead your team with examples
Another important strategy to supercharge your team collaboration from day one is to lead by example. Be a true leader through thick and thin. Know your job very well and identify the roadblocks from the smarter human resources management software in advance. 
Empower your team players to own their deliverables
You need to empower your team members to feel that they own their deliverables. For that, you can continuously appraise them and review their performances. Teams can increase their output from 2x to 5x effectively when they know their contributions matter. They want respect, value, and employee benefits at the workplace. If they receive those on time, they will definitely draw in better results and break their own milestones. This happens without micromanagement or continuous coaching if the appraisal and appreciation are on time. 
Give them a space to connect and voice their concerns
 Give your teams a platform they trust to voice their concerns. uKnowva has a dedicated ticketing system. Team members can raise a ticket there to resolve their queries. Otherwise, they can use the chat messenger integration if the company allows it. There, they can raise concerns directly to the manager after tagging them. Managers get instant notifications, even if they are logged into the network from their smartphones. It shows that the system is pretty compatible with all the new and latest smart devices. So work and team collaboration gets done no matter what when you do uKnowva. 
The Bottom Line
The conclusion is that team collaboration and coordination are easy to improve when using smart tech tools. uKnowva is one of the best options here. It helps you implement and strategise all the 14 tasks above to streamline your team efforts from hire to retire. 
Also see