Disengaged employees are vital concerns for employers and HR. They know that with time, teams feel lethargic, and used to the company culture. That's when employee motivation becomes crucial to implement. 
It has to be in the loop for employees to stay active and alert. As a result, they begin achieving more tasks in hand and drive good business results. In addition, employers are at ease with automated, on-cloud, and future-fit solutions like uKnowva. 
They trust the tool for nurturing their teams' intrinsic and external motivational drivers. How that is possible without wasting manual working hours is what you learn in the post ahead. 
If you feel the same issue as an HR and want to get over it at once, continue to read.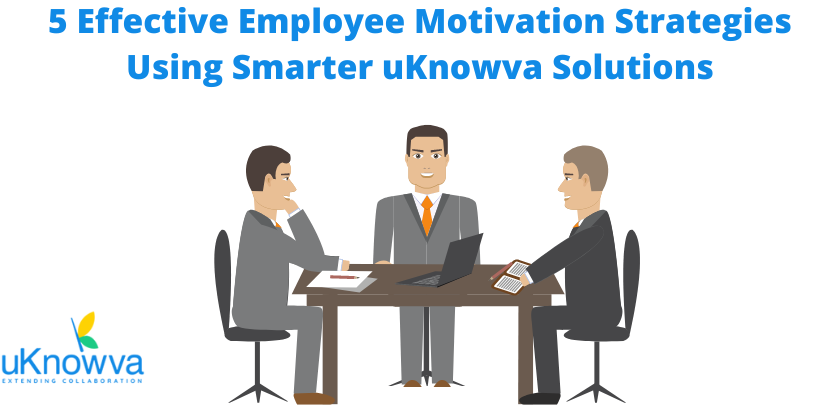 5 Effective Employee Motivation Strategies and Tips to Follow Using uKnowva Smarter Tools:
Crisp, constructive, and coherent feedback.
Workers need recognition in the social revolution era we all live in. That is possible when companies enable a smarter feedback system in the culture. The uKnowva HRMS has a dedicated project and timesheet management tool. 
Reviewers, approvers, and other team members put honest reviews and feedback there. It helps the appraiser and reporting manager to recognise their top talent proactively. 
That's one smart way to increase employee motivation as an ongoing process. The projects will keep coming in. People will continue to work on a different task. What matters here is that they get constructive and concise feedback. 
There will be no bias either. That's because the project progress report is visible to clients, team members, reporting managers, and top management. 
Employees, too, would love to receive this feedback on time. Then, they will know what areas to work on and which tasks they perform exceptionally well. That's one way to build and launch an outperforming team. 
Communicate purposefully over the intranet.
uKnowva provides a social intranet for resolving queries proactively. It enables team managers to groom employees with a shared purpose and goal in mind. 
Employees learn to share their thoughts, ideas, and even grievances free from hassle or hesitation. They have dedicated helpdesks and grievance management systems over the intranet and its instance. 
Otherwise, they can directly approach anyone, irrespective of their level in the managerial hierarchy. That removes the limitation to resolve conflicts or confusion.
Employee productivity also shoots up beyond previously set benchmarks when they communicate regularly. That is with a constructive and value-adding purpose in mind.
When workers trust this process to communicate openly over streams, polls, surveys, or forums, their stress decreases. They worry less. Rather, they have a focused mindset to complete tasks on time. 
The overall employee motivation improves automatically using the intranet to connect. This is for any employee, irrespective of their current or permanent workstation. Workers communicate their ideas in the best way possible with each other on the intranet. 
The interface and user experience are responsive on the uKnowva social intranet. It has a faster loading time. So, even employees with visual impairment and special needs work hassle-free to communicate purposefully there. 
The super admins and DevOps team help these employees settle more easily. 
They can tweak the interface as much as the top management demands. That happens without disrupting the workflow for other teams. 
Create a culture of mutual respect and honour.
Employers increase employee motivation with sincerity using uKnowva HRMS, the favourable digital platform for automating daily activities. This system builds a culture of mutual respect and honour. 
This tool includes dedicated helpdesks, social intranet, surveys, polls, HR analytics, grievance management, etc. Hired people in your firm receive enough motivation to excel in their job with these features. 
They do not feel depressed, stressed, or unheard of. When teams have the provision for connecting on time, there's no room for procrastinating. Rather, the automation features in uKnowva help employees clear their pending daily tasks effortlessly. 
That's another reason for employees to have time to connect more purposefully. When they do so over the intranet and HRMS, there is mutual respect to feel. Employees understand each other's differences: strengths and weaknesses better. 
The system ensures that teams collaborate and complete projects on time. So, it leaves them no time to indulge in gossip or waste time. The timesheet and project management sheet disciplines assigned teams. 
So, they have to connect and coordinate. Reporting managers then supervise their mutual efforts. These only come across as productive when there is mutual honour and respect. 
For that, reporting managers can encourage employees to participate in team-bonding activities. That helps team members complete projects before assigned deadlines without further stressing the environment. 
Such virtual practices on the digitally transforming uKnowva systems improve employee motivation continuously. 
Timely incentives like paid leaves and comp offs. 
Employees thrive more in the given organisation where they see their value. So to provide for them, employers must install a system of non cash incentives. That includes giving paid leaves or time off, or comp offs. 
That would enable employees to meet their daily life commitments simultaneously. Such a system helps them become better human beings despite being a good worker. The uKnowva HRMS has the provision of leaves and an attendance management system.
It integrates automatically with the payroll, projects, and timely punch-ins/outs. So, the backend generates the right compensation due for an employee. It saves everyone's time.
Employee productivity improves when workers receive due reimbursements on time after applying for those. In addition, such add-ons keep employees engaged and motivated to do well in the long term.
Make employees add value to the firm.
After the pandemic, there's been a radical transformation in workers' expectations from the prevailing working conditions. They no longer prefer organisations just to work like a paid worker. 
They want something more and grandeur out of their employment. Something that makes them stay and helps them grow their career. That's the value they are searching for. 
Smarter and digitally transforming uKnowva solutions offer that value to dedicated employees. For example, employers can successfully satisfy new-gen workers by allowing them to:
Work on their pace,

Work from anywhere,

Having full autonomy,

Using workflow tools to automate tasks daily, 

Invent and disclose new ideas, suggestions, and actions to improve company culture.
uKnowva helps you leverage these metrics to nurture the workforce for a purposeful working environment. 
Conclusion:
Improving employee motivation is not a task for a day or an hour. Instead, you do it regularly as a reporting manager or a mentor. Implementing uKnowva HRMS makes this task to develop, manage, and empower your team seamless. 
There are automated features to leverage and deliver delightful working experience touchpoints to your subordinates. 
Make use of it if that's what you want for your employees at every point and stage of their career.
Connect with us today for a demo.