People analytics is becoming highly useful and more beneficial in managing the workforce daily. Its emergence in the HR processes is not new. 
But the speed at which new advancements and trends are coming to the surface is undeniably fast. Your firm's employee engagement can prosper to newer levels if you understand it properly. 
For the same purpose, let's understand how people, HR, or talent analytics is becoming more relevant today. 
In this blog, there will be pointers that connect data analytics with HR process maturity. From there, you will know where you stand regarding people management maturity, given the trends.  
Later, you can use an employee engagement system like uKnowva to bridge the gap between analytics and talent acquisition/management.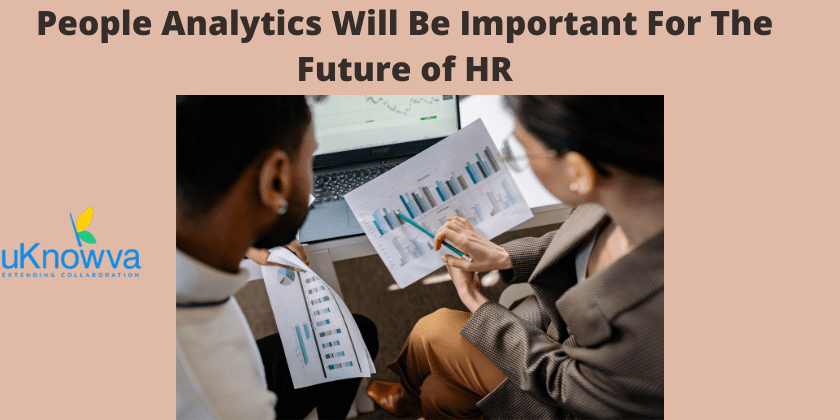 Aspects To Justify How People Analytics Is Becoming Relevant For The Future Of HR:
Task automation
With HR tech tools, HR persons now deliberately and diligently automate their daily tasks. They no longer struggle to complete their KPIs, which demanded manual hours equal to weeks earlier.
For example,
They roll out necessary offer letters in bulk without tweaking each recipient's name. 
They also help employees onboard using Aadhaar Card to generate their employee ID automatically. It saves at least multiple minutes daily when massive hiring and onboarding occurs.
There are automated reminders to registered staff on attending meetings, filling up their timesheets, and meeting the deadlines of their projects. 
They also get notified of the unread messages on the chat messengers when they are away from keywords to connect appropriately on time.
All these examples and scenarios improve employee engagement levels. 
They feel more dedicated to their job roles without losing touch. Such notifications and automation are necessary for remote workers. However, these benefits on uKnowva HRMS are for every registered ID or user. 
Data-driven reports
Collaboration software allows your staff to enter their details every day. They use it to complete their tasks. At the same time, each data point they enter is recorded. That's at the backend of the tool. 
It generates reports based on those sets. Admins, HR executives, or relationship managers usually access these reports. From these insights, they know more about their teams. 
They know data like how punctual, disciplined, satisfied, and engaged their employees are. That is for any schedule or roster. They can tweak the timeframe for comparing each individual's performance or engagement between two periods. 
Employers consider these reports because these are free from bias or human errors. They generate at the backend automatically. However, their representation can be customised to make them more comprehensible. 
Improve employee satisfaction and involvement
An employee engagement system supports HR teams in improving their staff's engagement scores. Employees of today are no longer just working from the office. They are literally acquired from any location. Their skill, talent, and experience matter the most. 
In such a scattered workforce, overviewing communication or engagement is a hurdle. But with the uKnowva collaboration software, it's not. Employees can communicate with goals and purposes to acquire and accomplish here. 
Whenever they feel out of space or not energised enough to work, connecting with teammates helps. They can talk about major issues emerging in the company culture there.
Besides that, employees have the freedom to put up new suggestions and ideas for management to work on. They can even watch live team and organisation announcements. With this feature, they are never late to know the current happenings in their MNCs or startups. 
Employers can also invite their teams to collaborate, connect, and congratulate each other on the intranet. All these features help employees feel a little less lonely in the world. When teams work on similar goals together, the friction on the job reduces. 
Staff members then feel more connected, involved, or consistently invested in their KPIs. They start to desire the change to make the company culture more suitable for them. Such a belief is a must-have to shoot up employee retention rates in a given time. 
That's why the people analytics tools are pretty helpful to every registered and active employee there.
Make unbiased decisions flawlessly
Human resource professionals or executives now make better decisions related to their staff. There is no chance for any bias to surface. That is because every decision is mostly backed by data-driven insights or reports. 
Even senior management or CHROs would know how TL or RMs make the decision. This is an opportunity for executives to break their performance records. It will benefit them to get the raise and incentives they deserve. 
So, there will be no entry or acceptance of corporate politics or favouritism. Instead, with the employee management system, staff feels more respected.
They do their assigned tasks with complete sincerity as they know every single contribution is making the workplace better. 
They feel a sense of appreciation– especially when they get rewards, appreciation, and thank you letters from C-level persons. 
Recruit effectively
HR executives and teams acquire talent more diligently than even after implementing the uKnowva recruitment engine. They track applicant status within a few points and clicks. There is no need to sit in front of the system for long hours to get a response. 
They set triggered actions and responses based on keywords and the applicant's activities. 
For example,
Applicants will get timed reminders of filling/completing their job applications. After completion, both the hiring manager and applicant receive an email for an update. Hiring managers can initiate the process further for smooth onboarding without wasting time. 
Hence, their overall HR process maturity reaches a new level where the dependency on paperwork or call is lesser than ever. Newly hired employees upload their necessary documents on the network without another person's assistance, per se. 
The system shows them the list of the documents to upload to complete their profile. Hence, this activity increases employee engagement with the system without human resources persons guiding them to do the same.
Similarly, HR managers know how many applicants efficiently stay more in the firm from specific resources. This way, HR teams fine-tune their hiring process and recruit from the most effective channels next time. 
They can also list their job openings on various platforms directly from the system. That is possible when the uKnowva HRMS integrates with third-party apps and sites. 
So, there is no need to switch between multiple tabs and keep uploading the same job opening on each site. It saves 100s of hours every quarter for HR teams.
Conclusion:
HR analytics has drastically changed employee engagement activities for modern and next-gen firms. uKnowva HRMS is one of the most reliable tools to boost engagement between your teams, despite their assigned stations.
There is a lot more which HR analytics will continue to offer for redesigning and reshaping the future of work. 
Connect with us here to know more.