Workforce analytics optimises human resource professionals' decisions by tracking and measuring employee data on the HRMS. It begins from the talent to the point of smoother exit management. 
HR professionals use employee data generated on HR technology to improve their strategic decisions. These are impactful because of their direct relationship with business growth. 
For this reason, you must understand how workforce analytics comes into the picture. From this blog, you will know key points and subsets of workforce analytics that aid HR managers in improving overall business results.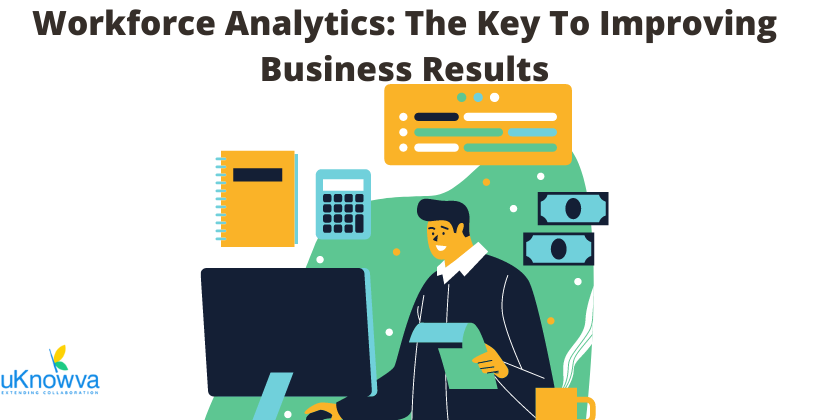 Workforce Analytics Key Points To Note For Improving Business Growth & Results:
A holistic picture of historical trends and employee behaviour:
The workforce analytics tool shows historical trends based on facts and system interactions. It stores employees' data from their first working day to the last. 
These trends and historical charts later help HR teams to refine their talent hiring, recruiting, sourcing, and nurturing tactics. This type of HR technology can revamp and revitalise how employees work at a firm. 
It's up to HRs to step up to their role as strategic partners to CEOs. When they take their roles and responsibilities seriously, workforce analytical data becomes easier to manage and execute. 
The historical data is also necessary for a firm to keep looking back. But it should not be frequent. Rather, this is the age of looking forward to predicting the upcoming behaviour or setbacks. 
However, without knowing the history blended with current knowledge, it's impossible to even for the HR tech solutions to prognosis and predict right. 
Predictive modelling of the entire current employee data:
The previous point swiftly takes us to this one to know how workforce analytics redevelops a company culture based on predictive modelling. The system reads the historical data and blends it with the incumbent prognosis. 
These models clear and explore the massive chunk of employee data. Then, the algorithms at the backend predict almost as accurately. 
From there, HR, hiring/recruiting managers strategically remap their decisions regarding human resources and allocating their key roles. When the workforce analytics reports are right, HRs and CEOs get a head start on what to expect from their employees. 
There is a seasonal shift in employees' moods, motivational sequences, and project graph charts. There could be a lot of reasons for that. Humans are already very dynamic, and their behaviours change subconsciously every quarter or so. 
Amidst this massive shift of mood and motivation, employers need a roadmap to understand their talent hires better. That's when HR tech solutions like uKnowva HRMS become more apparent. 
Using the HR analytics reports on this tool's dashboard, HR managers can allocate projects better before unwanted delays. They will know when to hire rigorously because of the upcoming rise in the attrition rate. 
With these precautionary measures, businesses save a lot which otherwise is almost unbearable when adversaries occur without warning.
Identification of areas that need better human resource assignments:
Another key area for workforce analytics to help HRs is in identifying deficits in jobs and manpower. It alerts teams in advance to start hiring and replacing human resources for tougher projects. Otherwise, it's for those tasks which are difficult to complete on time.
The usefulness of HR technology helps reporting managers to allocate better projects to their most deserving employees. They get opportunities to improve their skill, craft, knowledge, and experience. 
Where on the other hand, managers free their time which otherwise they spend worrying. They found it hard to allocate humans according to their skills and experiences. With smart HRMS India software, it's easy and transparent. 
The analytical features embedded in it help managers know the right number of skills employees endorse for each other. Then, they know which employee will do the best to timely complete a project. 
When projects and performances are on time, business success is certain. 
Lists possible factors impacting employee performance:
The workforce analytics software lists all possible factors impacting your employee performances. These statistics are necessary to know the real picture behind the behavioural changes in your employees. 
These reports in the HR tech tool enable HR managers to make the best talent-hiring to nurturing decisions. They know how their employees get treated or ought to feel in the long run. 
Such an insightful picture helps in being clear about the existing company culture as well. HR managers and executives need this factual report to better understand their company's policies.
With time, they recognise how their employees are job- and culture-fit. If not, they work on nurturing and developing the talent accordingly.
Next, they improve their talent hunt cycle to hire better humans working for their companies without messing up their inherited values. 
These statistics help managers work with more value creators in the long run. Businesses grow exponentially when employees are the real changemakers and believe in breaking their previously set records.
Recognise traits needed for the next best hire:
HR technology enables reporting managers to know the best traits of their workforce. This is essential information every hiring manager must go back to hire the best talent available in the next cycle. 
The workforce analytics shows traits of your top-performing employees. These can be their punctuality, communication, project completion and delivery rate. These differ and depend from case to case. 
When hiring managers use these reports on what's the best trait, looking for the job and culture fit candidate becomes easier. They can even automate the CV parsing and shortlisting steps using the uKnowva recruitment engine.
This would be possible because hiring managers will know what traits to look for in the CVs they receive. It frees their earlier invested time to work on better business opportunities instead. 
Either way, hiring managers become more productive as far as dealing with employees is concerned. When they hire effectively, business decisions and plans are on time to make every project more successful, multiplying revenues. 
Study mental well-being of actively registered employees:
Workforce analytics becomes more strategic in attracting business growth by enabling managers to study their employees' mental health. It helps managers know if employees are always feeling good, happy, or tired. 
Employees with a tiresome mood can never deliver their projects on time. However, a satisfied employee would always know how to achieve goals repeatedly.
The HR technology can alert the admins and reporting managers when employees are unhappy and unsatisfied. 
They can investigate the case and ensure that it doesn't happen again. However, this is one of the constant processes to follow. Because humans are prone to negative options and behaviour faster than positive ones. 
That's why people analytics software in India is the best to keep fine-tuning employees' attitudes and behaviour. 
Conclusion:
Implementation of the workforce analytics tool or software attracts more business growth. However, managers and admins must know how to make the best use of such advanced tools with greater accessibility, security, and flexibility. 
The points above are the tip of the iceberg regarding the features of an HR tech tool. The uKnowva HRMS is smarter to help you execute all the key functions above. 
And it goes way beyond that by catching up on HR trends because of the flawless IT and vendor support. 
Contact us here for more information.