The HR management system allows HRs to focus on where their requirement is urgent. In addition, teams can work together from any corner of the world using a dedicated HRMS like uKnowva. That's just amongst a few ways technology increases HR management efficiency. 
However, read about them more below to better understand how HR technology can reimagine work culture.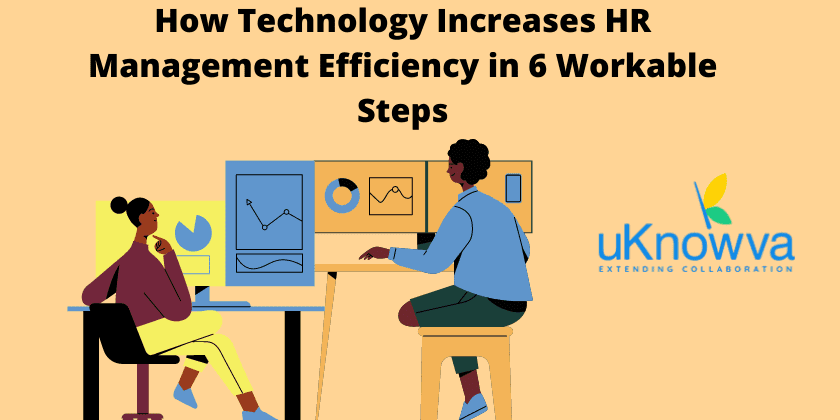 6 Modern Ways in Which Technology Increases HR Management Efficiency:
1. Automation of mundane tasks.
HRs have to carry out multiple tasks daily, mundane, repetitive, and time-consuming. It could be checking their candidates' application status, setting reminders for scheduled interviews, or sending out offer letters in bulk. 
With an HRMS in the organisation, HRs get to automate such tedious or mundane tasks. Moreover, they focus on better tasks like talent management and development. 
HRs can then focus on which hiring and recruiting channel is efficient or which is not. This study or research improves their recruitment processes too. 
A uKnowva HRMS can help decipher efficiency reports on HRs' behalf to save their time. This happens with the integration of the data registered in the software. 
2. Help employees co-create and collaborate.
With an HR technology system in place, HRs can encourage their employees to co-create and collaborate. That is despite their working locations. For example, employees could work together on the cloud software that saves collaboration and follow-up time and cost. 
High achievers can brainstorm promptly using HR management systems. That's one of the ways an HR technology increases HR management efficiency. Because when employees work in tandem for completing projects, their mutual trust, respect, and care develop over time. 
A work culture needs those emotions between employees to maintain harmony and foster more opportunities for greater collaboration.
3. Dedicated payroll software for reliant and easy salary management.
Another way an HR technology increases HR management efficiency is through dedicated, on-cloud, and mobile-enabled payroll software. These features are already available in uKnowva HRMS at present. 
With payroll software, calculating employees' salaries is easy and less time-consuming. The employees' basic pay data integrates with the salary slip generation module at the back end. 
This way, HRs don't invest long hours in calculating how much the company is liable to pay each employee. It is quite an effective system for companies working with 50 to 500+ employees at a stretch. Because manually calculating the salaries of these many employees is time-consuming. HRs won't be working on other important employee management and talent acquisition tasks that way. 
4. Conduct online training sessions.
HR technology increases HR management efficiency by saving time and helping employees upgrade their knowledge. 
HRs can train themselves and their staff online through a trusted HRMS. It obviously optimises time invested because online collaboration is easier. Training sessions could be held at one place and consumed by all employees working at various locations. 
There is no requirement for each employee to step up to the office for training sessions. Plus, HRs can share important news, updates, and more shareable content online in an HRMS or Social Intranet platform.
This behaviour improves internal knowledge and bonding too. HRs don't need to manually send a single learning material to each employee. Rather, they can upload the training schedule and module online on the software for different teams and staff to consume and learn. 
Additionally, these training modules and webinars can be saved online. Once posted, the link will remain there permanently. Employees can access those certified learning modules, courses, and webinars at any time to reinforce their technical knowledge. 
This way, HRs don't need to impart technical and soft skills to their new and existing employees. Instead, they can share the link with every new person who joins in consuming it whenever they have time. 
There is now less dependency on HRs for employees to learn, get oriented with the work culture, and upgrade their skill set. 
5. Easy job applications.
Every step in the recruitment engine and talent acquisition can be online for more modern companies today. The entire HR task for hiring, onboarding, scheduling interviews, and reconfirming the follow-ups can be streamlined. 
This also involves the easy job application procedure. HRs can easily use ATS (applicant tracking systems) to scan important keywords for preliminary screening. Even CV parsing and scheduling of interviews can be automated based on triggered actions from any end. 
So, an HR technology helps HRs move the recruitment cycle faster and smoother, with more trust and accuracy. 
Hiring managers can later write feedback on each candidate in the recruitment engine. This will provide a hiring ground for the next cycle of talent acquisition and onboarding processes.
6. Insightful reports on employee performances.
Employee performance reports are necessary for gauging the right salary hike and promotional rewards to be bestowed on the selected employee. However, when a company is large or working with 50-500+ employees, managing these reports is a hassle for HRs. 
Hiring managers cannot continuously depend on paperback or excel workbooks. Data fed there could be manipulated, miscalculated, and deleted by mistake/in negligence. 
However, HR technology increases HR management efficiency and overcomes these issues as soon as possible. For example, when hiring managers use a PMS portal, they no longer depend on paperback or messy excel workbooks. 
They can access any employee performance data on demand. So the insightful reports on employee performances will be real, updated, and regularised. That is also because employees themselves punch in and punch out of the system. 
A PMS can make employees self-reliant. They don't seek HRs to enter their project details regularly for filling their timesheets. So, hiring managers and reporting managers can validate their staff's progress whenever required. 
These reports can be shared with the management or other project heads for a 360-degree approval of appraisal. Later, these reports can be accessed anytime as long as the server hosts the system for the company. 
Conclusion:
An HR technology improves HR management efficiency in more than 6 steps usually. But it depends on the company and the vision/work culture they follow. 
However, the 6 steps mentioned above give an HR person a fair idea about the growing importance of technology in the HR world.