HR function continues to be the most effective and key asset for a company irrespective of the external adversities. 
The majority of its credit goes to an automated HRMS. It extends a helpful arm to the HR leaders for disseminating information across multiple channels to serve each registered employee. 
Because of this leveraging factor and other components of the changing business environment, it's necessary that we understand the rise of technology in HR. 
Also, how it makes acquiring, developing, engaging, and managing all hired candidates less of compulsion and more of an easy-to-execute task.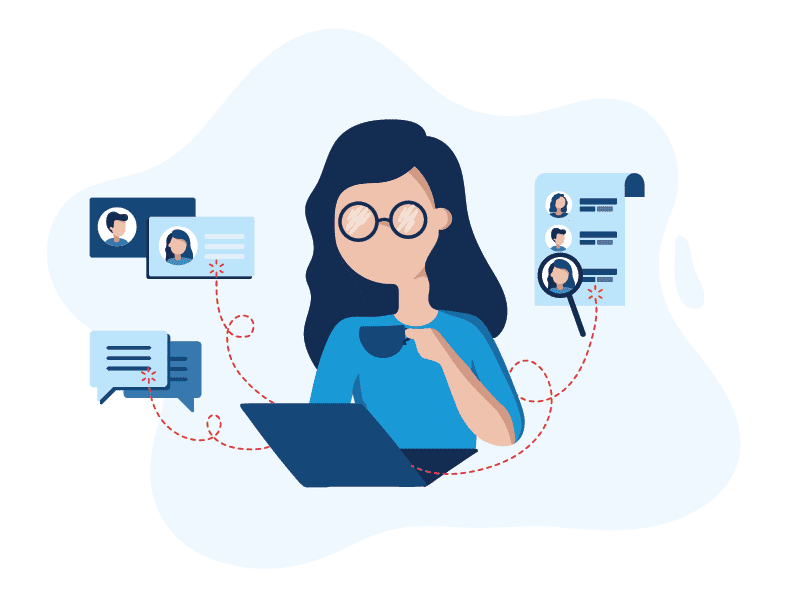 How can we define HR technology?
HR Technology encompasses multiple business functions: payroll system, recruitment engine, workflow management, project & performance appraisal, time and attendance, and the like.
With the emergence of AI to suit the growing nurturing needs of the tomorrow-ready generation, HR software has to level up. 
It has to develop regular learning tools, features, and utilities. Without that, it's hard for today's HR personnel to capture employees' growing and continuous attention, satisfaction, and engagement. 
Given the bigger picture, HR tech gives a sense of purpose anchored with strategic roles to HRs and their employees. 
Learn In 5 Ways The Rise Of Technology in HR or HRMS Is A Doorstep Innovation For Employees Across The Organisation
1. Cloud-based HR is the new normal.
Employees prefer working as per their comfort that extends up to their working hours, location, and mobility. 
That has given the rise of cloud-based HR systems and suites. Because when it's operational, workflow is smooth irrespective of chosen shifts or vocational locations by the hired people. 
Companies also prefer the remote-first model to establish automated KPIs in place. Plus, they can work with talented and top-performers without location, gender pay, mobility, or working hours interrupting workflow management.  
uKnowva HRMS is one such cloud-based HRMS suite that provides 360-solution to employees. The Zulip and other third-party app integrations in this tool help increase engagement, productivity, and transparency between teams. 
2. Recruitment strategies and technology are getting upgraded.
The rise of technology in HR has given prominent importance to shifting how HRs recruit new hires. That involves using automated recruitment engines. With those, HR leaders and executives can easily screen candidates that fit the current openings in the firm.
They can add bulk employee or candidate (applicant) data within a few clicks in the recruitment engine. In addition, there's an option to leave a note regarding each applicant to alert HR in the next episode of the screening or onboarding process. 
HRs can also shift the applicant's interview process from the offer letter stage to onboarding or multiple other options. But, again, they can tweak these options if the admin approves – each company might have different recruitment stages.
Besides that, HR personnel would know which candidate should be left out if they automate the screening and CV parsing tasks. uKnowva provides that automation to HR teams. 
With automated tasks, further interviewing – online or offline- is easier. At least, they wouldn't make human errors in selecting the right candidate from the recruitment engine. 
3. Enabled open communication between teams and employees for improving processes.
Open communication through Social Intranet channels is one highlighted HRMS trend. It's helpful for companies to reimagine their talent management, engagement, and development processes throughout employees' tenures.
With Social Intranet, employees can engage well and appropriately with their team members, TLs, and super seniors. They can put out their suggestions through newsfeed posts, polls, discussion forums, and pulse surveys. 
Their contribution level also increases and gets highlighted in their employee profile. It helps HRs know how culturally fit the employee is for their company as the tenure moves ahead. 
HR teams also get a chance to understand their successful hires better by browsing their employees' profiles. From there, they can check their most endorsed skills, contribution level, certifications, achievements, and more. 
Further, team leaders can put their vote rightly at the time of performance appraisal when they understand the capabilities of the chosen employee.
4. Technological boundaries pushed with reformed HR roles.
Companies are now embracing HR software and its use innovatively. For that, HR roles push their boundaries from supportive to an enabler for core business operations. 
Virtual Biometrics, real-time analytics and insightful reports, workflow management like features are their tools. 
Modern HR tech is turning HR executives into strategic thinkers and executioners. They no longer depend on repeated tasks or ambiguity about employees' wellness or mood metrics. 
They have access to employee profiles, leave and attendance updates, and happiness mood analytics in uKnowva HRMS. They can churn data and reports from these dashboards without manually working for hours behind them. 
From these reports, HR leaders and recruiters can know if their employees are satisfied, engaged, punctual, filling their timesheets well or not. This brings transparency between HRs and their hires. 
They can further help their candidates or new hires know what the company expects from them to execute every task well. 
5. Let there be continuous learning and upskilling. 
Companies have to think one step ahead to retain employees for an extended tenure. It begins with helping employees upgrade their professional bandwidth. Which also means employees should continue to relearn and unlearn as the trend emerges with new skill set demands. 
Moreover, good employees would not leave the company if it's providing them a justified reason to stay. 
This is closely related to how well they can plan their work-life in the current company. If they find no scope to grow, it's harder and a compulsion to persuade them to stay. 
However, as the rise of technology in HR is so vast and rapid, uKnowva HRMS has the right solution for that too. Employees can learn new courses, modules, and skills from this cloud-based HR suite. 
Plus, they can add new skills in their profiles for others to endorse as proof. This cycle of learning helps employees get internal promotions in the long run. 
Conclusion:
The rise of technology in HR is seen in the 5 technology- and employee-friendly ways above. Companies can take note of these points to know the workings and leveraging outputs of agile and transformational HRMS software like uKnowva. 
Request a demo. Take a product tour today!