Every firm needs platforms, tools, and systems to assist and manage the operations of its HR department. Companies utilise HRMS, HRIS, and HCM systems to manage recruiting and human resources procedures, as well as any other form of people-related activity.
HRMS, HRIS, and HCM are all really valuable. But what exactly do they imply? When and how should they be used? Is there a distinction between them?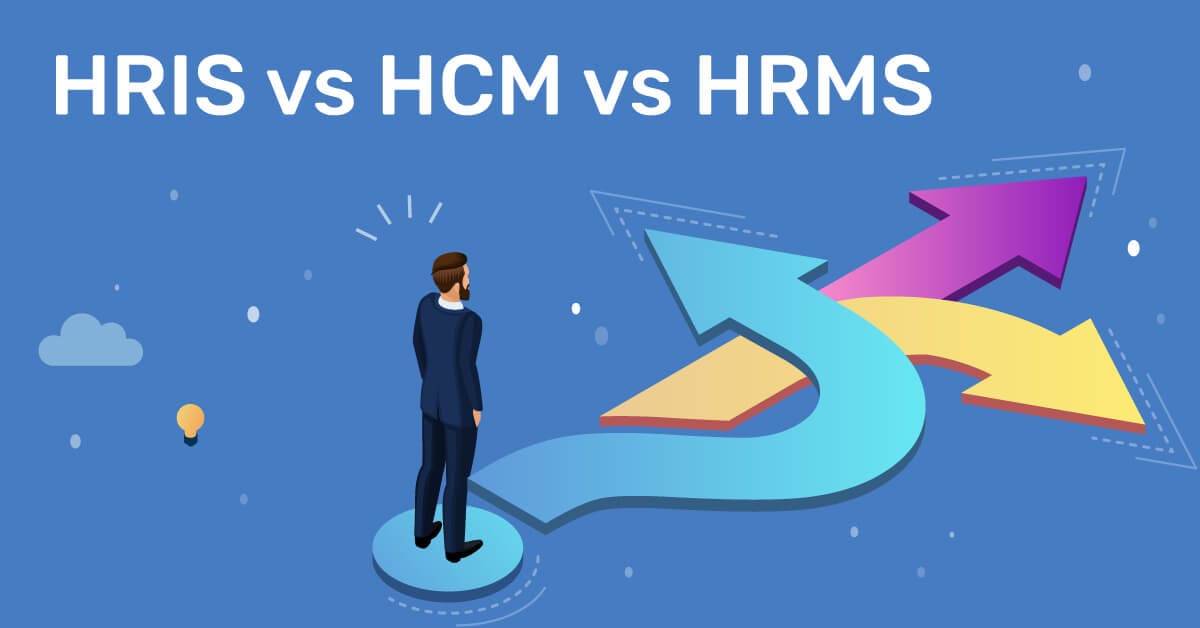 Learn more about HRMS, HRIS, and HCM and their differentiating factors below:
HRIS (Human Resource Information System)
A human resource information system (HRIS) is software or an online platform that aids in the management of a company's human resources activities, focusing on people, processes, and policies.
An HRIS is a data-driven system that stores master personnel data and offers the business with easily consumable information and insights. At the heart of human resource information systems is a personnel database that may be accessed through functional tools.
HRIS is primarily used for people monitoring and recruitment, but it also measures employee working hours and analyses processes to aid in the growth of companies.
The following are the primary characteristics of a human resource information system:
Database administration (employee work permit information and tax data)

Management of time and labour

Management of absences

Administration and management benefits

 Self-service portals and ability to update personal information

Workflows

Interaction with employees

Recruiting and retaining talent

Development and training

Options for applicant tracking

Routine HR tasks can be automated (holiday requests, review scheduling, feedback collecting, training tracking, performance, and development)
HCM (Human Capital Management) 
The management of employees in a company is referred to as human capital management (HCM). This sort of system suite combines all of the benefits of HRIS with talent management capabilities.
A human capital management system often includes tools for talent acquisition, talent management, and talent organisation, allowing HR tasks like onboarding, performance monitoring, remuneration, and offboarding to be effectively managed.
It brings together many features and tools, such as payroll records, timesheets, and productivity statistics, to make it easier for businesses to manage and track all employee-related information. 
Overall, HCM may be adjusted to each organisation's activities and actions to assist them. Human capital management may also be seen as a strategic move that encompasses all of the activities, policies, and procedures.
The following are the most important tools in an HCM system:
Recruiting employees

Employee supervision

Optimisation of talent
HRMS (Human Resource Management System)
The Human Resource Management Systems (HRMS) usually incorporate all of the elements of an HRIS as well as HCM capabilities. 
You may expect to have access to everything featured in an HRIS and HCM, as well as a payroll system and some features for more effective labour management, when you invest in an HRMS system.
The following features are included in an HRMS:
HRIS and HCM systems' most prevalent features and capabilities

Payroll processing and wage computations are automated.

Time Organisation.

Workforce Management 
Organisations may boost their productivity and efficiency by using a well-designed time and labour management approach. As a result, HRMS softwares like uKnowva HRMS are  the most complicated and All-In-One programmes of all HR tools.
HRMS, HRIS, and HCM: What's the Difference?
In essence, HRMS, HRIS, and HCM systems are extremely similar. 
The most important distinction is that they all deal with the human resource department, the workforce, or employees, and all related issues and concerns such as employment, recruitment, orientation, training and development, payroll and benefits, performance analysis, and other work-related services to employees.
HRIS and HRMS are the most comparable, since both are software with similar functions, however one has more advanced features than the other. 
HRMS is the most diversified of them, as it refers to a whole HR software suite.
The distinctions between HRIS, HRMS, and HCM systems are blurry, since many individuals use these terms interchangeably. 
So, before investing in software, it's critical to check over the features and benefits. The system you select is entirely dependent on the demands, size, and objectives of your firm. 
Each piece of software aids in increasing efficiency and productivity.
Furthermore, a human resource management system not only aids in the administration of HR-related activities, but also creates a great experience for your employees and potential new hires. 
Each programme provides a user-friendly platform that facilitates the onboarding process and personnel management digitally.
Endnote:
uKnowva HRMS provides a comprehensive platform for all your recruiting and human resources needs with timesheets and expenditure analysis, assignment administration, document management, and much more!