The era of a digitally transforming HR management system is here. Companies now look forward to using the best on-cloud and AI-backed software or solution.
These tools help HR and their teams resolve complexities to a greater level. That is why it's quite useful that we study the challenges, features, and advantages of an HRMS here. 
This knowledge will build an underpinning for what's ahead when you invest in an intelligent HRMS like uKnowva. It comes with a promise of digitally revamping and reimaging your people operations.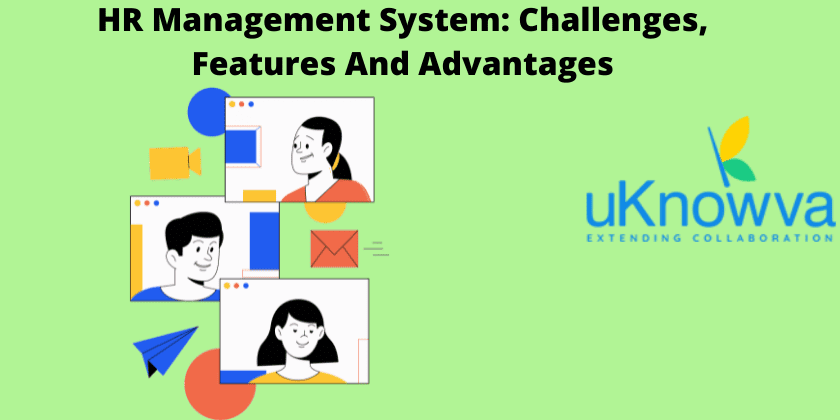 What Do We Mean By HRMS Systems?
HR managers today need intelligent, interactive, and intuitive Human Resource Management Software to automate everyday lengthy tasks.
Such systems assist modern HR teams in performing calculative tasks in seconds to save hundreds of work hours. Most companies today depend on a cloud-based uKnowva HR management system.
Such tools have enough capabilities to manage, acquire, empower, and engage your workforce at every organisational level. 
What Challenges Do HR Admins And Their Teams Face While Executing Daily Operations?
People management becomes a hassle for growing, medium, and mature companies. Every day there is a new onboarding to offboarding activity. It impacts paperwork dependency and makes auditing a feat. Even the tracking system doesn't seem to work with so many adjustments. 
An HR management system is a reliable solution for HR teams responsible for handling complex daily tasks in such firms. 
It helps tone down the errors and challenges mentioned below to an unexpected level. In return, the company's productivity and workforce efficiency improves like never before. 
These HR challenges are:
Payroll:
Managing the payroll of growing staff is a tedious task and complicated issue. There are hundreds of adjustments, multiple deductions, reimbursements, and conveyance expenses as the company grows. 
Without a software, the entire calculation takes weeks for the entire workforce. This way, the company lacks integrity and the competency to stand and sustain in a highly dynamic market. 
If manual payroll and finance management continues, there will be miscalculations, misclassifications, and misjudgements.
HRs might end up disappointing employees at various levels without using a digitally transforming HR management system.
Accessibility:
Accessibility or mobility is one of the most crucial challenges HR teams face even today. Now, HR teams and their workforce are working from anywhere. The credit goes to the introduction of hybrid work culture and remote working facilities. 
But accessibility and mobility issues surface. Because now, teams need a tool accessible from any device and any location. It should not hamper daily HR activities related to people management and operations. 
Therefore, HRs need an HR management system to depend on. Otherwise, workflow automation is not possible. There can be a delay in project delivery and meeting of monthly targets. 
Performance:
Without using HRMS systems, tracking the performance of a highly diversified workforce is nearly impossible.
Employees can commit mistakes. HRs might face fatigue and end up miscalculating. And reporting managers might omit or neglect any data point. 
Such human errors are possible while reviewing and tracking project performance delivered by the staff. However, with a Performance Management System, such errors have less chance of occurring. 
Employees can set their goals, clock in and -out transparently in the system, and vendors can write notes for teams to see for projects. Those are only a few instances to simplify the performance journey and experience.
Lest, there could be errors in calculating incentives, deductions, and bonuses attuned to a particular employee account. 
This error further reflects in financial statements and the payroll system. Employees might end up getting underpaid or overpaid.
It will severely ruin internal trust, branding, and employee retention if such errors occur even once. 
Other challenges could be, not limited to:
Not having analytical reports on time.

Not being able to audit employee data on time.

Vendor management and communication are mismatched and delayed.

The recruitment cycle is not optimized.
What Are The Features To Look Out for In Your Next HR Management System?
Enterprises trust HRMS like uKnowva for several reasons. One of them is that the user experience here is exemplary with 24/7 tech and IT support. In addition, the everyday HR tasks here are easy to perform and monitor. 
That is possible with the assistance of the features in the system like:
An amazing self-serving portal.

Simplified and unified payroll & expense management. 

Automated recruitment engine.

Top-class performance management system.

Intranet to extend collaborations at every touchpoint. 

Flawlessly tracking of projects and timesheets.
There could be more solutions and features embedded in the system as per the company's needs. For that, companies or their HR teams must connect with the vendors or the tech experts.
Then, they will clearly understand your requirements and issues. Then, they can create, code and script, and launch the HRMS as ideated from your end. 
Moreover, the uKnowva HR management system is on the cloud and highly accessible. HR teams and managers only need the credentials to log in from anywhere. Plus, it has an extension store to increase the functionality and user experience as rapidly as possible. 
Apart from that, HRMS available at uKnowva is highly configurable and customisable, as explained above. As a result, it improves a company's internal branding and communication at every point and click. 
How Is An HRMS Advantageous For Small And Medium Firms?
Transparent communication
:
HRMS systems benefit your HR teams with Intranet features for transparent and quicker communication.
Employees connect there for important updates, resolve queries in one interface, and share important info without going back and forth between different apps.
Extremely paperless:
Going paperless is one of the core benefits of the modern HR management system.
There is no more heavy dependency on excel workbooks or papered documents. It indirectly saves the climate and our environment, too, as we consume less paper.
Guaranteed back-ups:
The on-cloud HRMS backs up your employee data regularly. So there is less threat to loss of data here. 
Assured Server uptime:
uKnowva HRMS has 4 levels of data processing security and protection. Plus, it guarantees 99.99% of server uptime. Therefore, employees would literally never face the system lag or shutdown.
Deep Analysis:
There are live dashboards generated in the systems. These represent deeply analysed data integrated with other apps like PMS, VB, and Payroll. 
Conclusion:
I hope your understanding of an HR management system's workings, challenges, features, and advantages is pretty concrete now. This blog post was curated for that purpose only. 
To know more about the information on the HRMS features, advantages, and trends, browse the uKnowva blog section. You will find new content every day!