With advancements in technology, uKnowva offers exemplary employee experience opportunities. Leading HR executives and teams use uKnowva HRMS for various purposes.
Its employee experience frontier is one example of nurturing talent in 2023. 
There are core aspects of an experience to remember for years ahead. Deliver those swiftly to your employees using uKnowva Intranet. 
Read about these aspects below and start initiating processes in your firm as soon as possible. This will help your HR teams optimise employees' synergised capabilities on the go.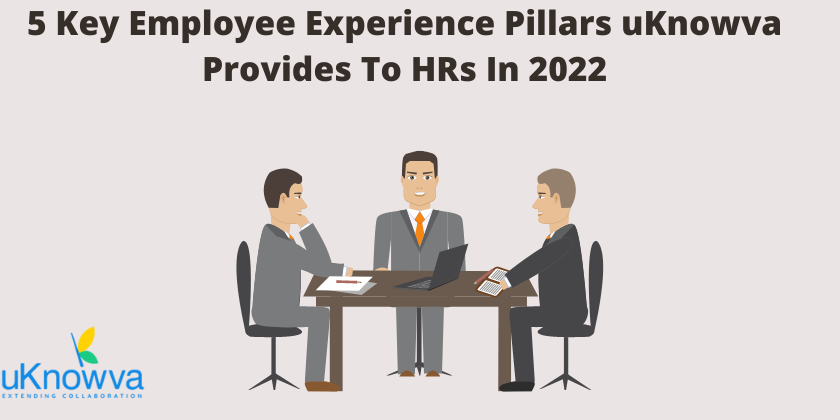 5 Keys Pillars Of Employee Experience uKnowva HRMS Meets In 2023:
Keep a check on your employees' existing mental health
uKnowva smart solutions boost employee mental health at every step of the people management process. The system enables HR leaders to check up on their employees' current happiness and fatigue status. 
This provision is enabled in the virtual biometric system wherein employees punch in/out. It's a paperless initiative to mark daily attendance. The system asks employees to note their happiness scores at the same time. 
Every such mark gets recorded in the backend. There is a report based on these punch-ins and -outs. Team leaders analyse these real-time happiness metre/score reports. There they recognise if their workers are happy with their assigned job roles.
If not, they implement effective corrective measures. Such an employee experience solution helps HRs nurture talented people from hire to retirement.
Ensure employees receive a qualitative experience at work
HR leaders must ensure that their employees do not experience burnout at work. Because with burnout episodes, employees start disconnecting from their targets and KPIs. That attitude leads to losses and a pile-up of work. 
Instead, with the uKnowva workflow management, it's easy for employees to track their progress. They can switch on an automated reminder for meetings and other important (time-bound) commitments. 
The entire employee experience is seamless for the staff when work delivery is on time. These staff members can also write to-do notes in their uKnowva instances. Later, employees can assign their tasks to other team members for a shared sense of responsibility. 
That happens in case of emergency and unavailability. The uKnowva workflow management system also helps identify the effectiveness of the employee journey. It shows whether employees are adding value to their job roles or not. 
HR leaders use this data to chisel their workforce management process. They learn and implement new strategies to simplify work processes for teams. This will ease the burden for them during business hours. 
Employees feel better and connect actively to their responsibilities at work, despite their locations. With higher transparency and connection to job roles, solving daily business complexities is no longer a feat. 
Promise and deliver growth opportunities to your teams
Your employees need growth opportunities for a sophisticated work experience in 2023 and beyond. Learning and development programs are available at uKnowva HRMS through eLMS. 
Talent managers use this functionality to improve employee succession planning and scope. When employees discern that they can reach a higher point and designation, they stick around more. 
When managers promise and deliver opportunities to teams, employees trust and respect them more. They get a fair chance to prove their worth and add value consistently to their job roles. 
The virtual learning management systems help employees sharpen their brains and mindsets. They learn to be self-reliant and responsible for their duties.
The uKnowva eLMS does not let employees depend on managers for their growth after some time. 
Employees can get alerts and notices about the latest courses to apply for. Admins could tweak this for employees to see all courses that will enhance their current job portfolio. 
These certifications enable employees to work on tougher projects and earn extra rewards. The employee experience surely improves and gradually evolves to an unmatchable level when they get opportunities to outperform.
Reward and recognise team efforts on time
By rewarding and recognising team efforts on time, HRs deliver record-breaking work experiences. The uKnowva performance management system works in tandem with HR's predefined rewarding strategies. 
Managers can list out the benchmarks that will unlock certain rewards and recognitions. Employees look forward to achieving the same with a healthy mindset. 
The system also keeps a check on their timely punch-ins/-outs. That is a necessary step for managers to verify that no employee feels overburdened to complete tasks for unlock rewards and incentives. 
Timely recognising and rewarding employees for collective efforts give a healthy ego boost to everyone involved.
There is a sense of achievement and purpose amongst all. They feel like achieving more and better for greater rewards next time. 
Such practices multiply the positive impact of the predefined employee experience. Employees also grow a goal-oriented attitude at the workplace and witness their seniors recognising their efforts with complete generosity. 
Develop a valuable corporate environment with an inclusion and diversity ethos
Developing an inclusive and diverse ethos is essential for delivering expected employee experience solutions. 
With the uKnowva social intranet as an employee engagement tool, that culture is easy and effective to achieve. It provides enough space and interactive instances for teams to connect and collaborate. 
Employees participate in active polls and surveys. They are encouraged to cast their opinions and votes.
There is no bias toward it. Employees themselves can create polls and surveys, irrespective of their working background, region, religion, caste, or orientation. 
Employee engagement tools give top talented people an opportunity to open thought-provoking dialogues. This practice enables them to:
Spread awareness, 

Tackle internal and external community-based issues, and 

Evolve mindset as an individual. 
This cultural norm boosts internal branding for the organisation. Employees also start trusting the firm where they do not fear to voice their honest views and opinions. 
Such culture also develops a unique selling point that draws more attention from outsiders.
Managers build value-adding rapport with employees when sincere ethos is developed in the firm.
Conclusion:
Meeting 5 pillars of employee experience using smarter uKnowva solutions adds value to each employee contribution. HRs take note of it and boost positive mental health and progressive career graph at the firm.