Every organisation needs an HR department to manage, empower, develop, and engage its employees. But HRs overall have a huge set of responsibilities they have to fulfil and accomplish. That's why it's imperative to understand how HR chatbots transform your employee experience today and tomorrow. 
Because with the introduction of chatbots, HRs deal with new candidates, clients, and employees a lot swiftly and more seamlessly. 
If you're an HR person, understand the advancement in the HR department and employee experience with HR chatbots. For that, refer to this blog post below.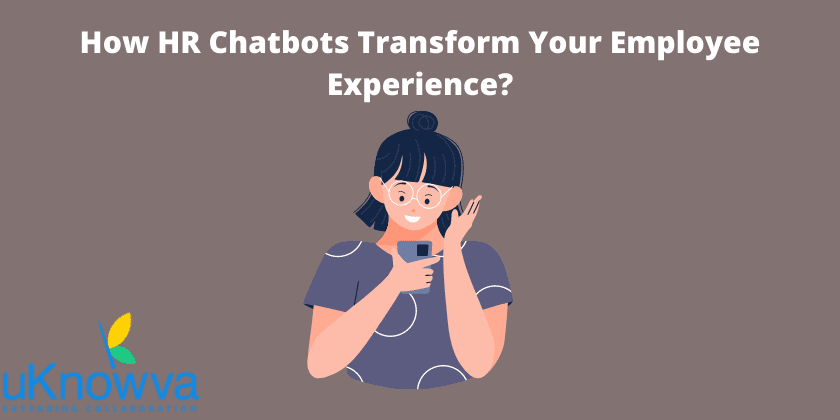 7 Ways In Which HR Chatbots Transform Your Employee Experience Are:
1. Reduction in recruitment processing time and cost. 
HR chatbots have a direct link with the backend knowledge base. These can give information to every candidate on the recruitment engine or portal. Then the hiring and onboarding costs will be optimized. 
HR chatbots can transform each applicant's experience with the company. These can conduct video interviews, parse CVs and screen candidates on the basis of triggered responses. 
So HRs do not require to intervene. Therefore, the recruitment processing time improves, and so does the cost to hire. 
2. Improvement in HR efficiency to newer levels.
Developers and HR admins can feed triggered actions to the chatbots. This empowers chatbots to hire candidates as per the requirements. They do not negotiate salaries or skills unless there is a provision for a flexible hire. 
So each HR chatbot hiring activity would only improve HR efficiency in the long run. That's majorly because HR chatbots help HR professionals on becoming the first point of contact with the applicant. 
These chatbots know what to offer to which type of candidate for the job openings in the firm. This behaviour has no room for miscalculations or manipulations. So each lead forwarded to the HR professional would be qualitatively efficient to hire. 
3. Solving employee queries as soon as possible.
HR chatbots transform our employee experience at every pain point. This includes solving these queries on the spot. For this, developers have to feed the chatbots with usual, general, and specific questions and their keywords.
When dealing with chatbots, employees must not feel awkward or confused. In addition, the chatbots should sound as humane as possible. That is where NLP knowledge comes into place when developers configure the firm's chatbots. 
However, while using an HRMS by uKnowva, HR chatbots transform your employee experience pretty smartly. That's because such chatbots are easily configurable, customisable, and dependable. 
4. Ensuring that onboarding is seamless.
HR chatbots can help send company policies to newly hired employees. Such employees can connect with chatbots to know their way around the HRMS tool used in the firm. So workers would be less dependent on HR. 
Otherwise, they can ask the HR chatbot to connect with the HR admin on the same interface. Then employees won't need to depend on emails or other chat messengers to get their onboarding queries resolved on the first day. 
Employees can also ask chatbots to set up their entire portfolio or profile on the network system. This way, the first few days of each newly hired staff will be seamless and flawless to join with the rest of the team. 
It's then justified to say that HR chatbots transform your employee experience even when it's their first day in the firm.
5. Build a better employer reputation in front of the employee.
HR chatbots communicating with employees add more stars to the internal reputation. It shows the company uses advanced technology and systems to communicate 24/7 with their employees about any issue, opinion, or query. 
As explained briefly earlier, developers can feed HR chatbots with knowledge banks. This can involve common FAQs related to the HRMS tool, salaries, KPIs, PMS, holidays/leaves, job openings, etc. 
This practice puts out a positive message. Employees feel that they can reach out to the company's admin any time to get their issue resolved. This could be at any hour for employees, especially if they are working alone, remote, or in another country. 
6. Quicker and easier rollout of feedback.
HR chatbots transform your employee experience by genuinely asking for ratings, reviews, and quick feedback. That generally happens after every interaction. These information bites help developers and HR admins. 
From there, they understand how the HR chatbot helps the user with the inquiry. And if there was no resolution, why was it so? They get all the required answers merely from this quick feedback. 
Later, the HR management system generates reports based on this feedback and ratings. 
HR admins and developers acknowledge these reports to improve the efficiency of the chatbot for future communications. These could be with internal stakeholders: employers, employees, consultants, vendors, or external users: clients or candidates. 
7. Improves career site click-through rates.
There will be a constant inflow of job inquiries when job openings publish. At that moment, your company has to have assistance for new candidates to resolve their common job-related queries. 
These could be about working hours, salaries, compensation, incentives, job roles, workplace, and required experience. Other technical interviews could be conducted whenever candidates approach the chatbot. 
Therefore, HR chatbots transform your employee experience from hire to retire. These chatbots help improve the click-through rate on your website or job portals. Candidates can effortlessly talk to the chatbot for an extended hour till queries are met/resolved. 
Once resolved, the chances of them moving forward with the application are more. That also means your company would be getting better applications. Chatbots definitely entertain those candidates who are highly qualified or absolutely fit for the job opening. 
If there is enough flexibility, your developers can configure chatbots to negotiate with the candidates meeting all job prerequisites.
Conclusion:
HR chatbots transform your employee experience if you are using advanced HRMS. This one can be provided to your HR teams and companies by uKnowva to scale and monitor every touchpoint in the candidate/employee work life cycle. 
You can optimize the utility and usability of advanced HR chatbots as you like. However, they must be highly accessible, configurable, and branded logos depicting the image of your company.
Chatbots can become your company's branded image and first point of contact with outsiders. So the language used in the chatbots must be empathetic, natural, easily understandable, clear and respectful.