HRs must learn to choose and use cloud HRMS in 2023. It will brush up on their HR skills and automate their regular activities. However, an HRMS software can provide multiple functionalities. 
Learning about them is essential. It will help you – an HR – make a concrete decision. You will acknowledge better why you must use a cloud-based HRMS for your company. 
Read the blog ahead and be familiar with the important usage and benefits of an HRMS.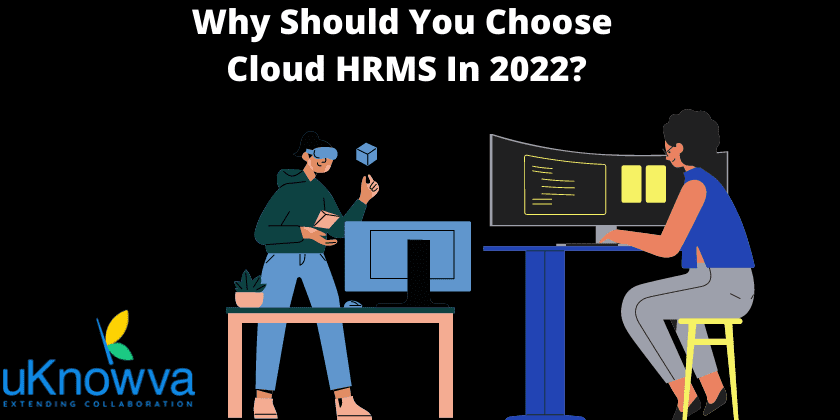 You Must Choose Cloud HRMS In 2023 For 7 Reasons Stated Below:
1. The flawless onboarding.
Posting a job, finding the right candidate, and tracking their application (ATS) could be challenging and tedious. That's more evident in the case of bulk hiring. HRs have multiple other key performance indicators to catch up to. 
But the onboarding process takes a lot of time when the hiring has to be potential and efficient. After all, the company's cost is involved. Therefore, using a cloud-based uKnowva human resource management system is a much better option here. 
HRs can set automated actions using this system. They have to check the triggered actions for streamlining their mundane activities. Then tracking candidates and their application is easy. Floating offer letters across in bulk is rather faster. 
2. Easy app integrations.
Growing modern companies have to work with multiple applications like Zoom or Google Meet, Chat boxes, Microsoft Office, G-suite, etc. Jumping from one app to another can take time to complete certain tasks.
That's why a cloud HRMS in 2023 gives you the benefit of third-party app integrations. Using integrations, you save time manifolds. There is no need to log in and log out repeatedly from multiple apps when integrated with the HRMS. 
It's very helpful for HRs to post jobs, track employee progress, and communicate externally and internally. 
3. Configure the instance as you like.
Configurations are necessary for companies when using a cloud HRMS in 2023. Every company operates differently because of their policies and branding. An HRMS must reflect the same. It will boost internal communication and branding. 
For that, companies and HRs must have provision to configure the uKnowva HRMS portal. Then, they can tweak the triggered actions, automated tasks, and live dashboards on their own. 
Additionally, they can colour-code the instance and use the branded logos and illustrations as they like. With a larger font, HRs can improve readability even for visually impaired employees from anywhere. 
However, these are just one of the many examples – validating the reason to choose a cloud HRMS in 2023. Your company might be different and require a completely new set of configurations in the system. 
uKnowva allows that from the first click to the last. That's where HRs work-life is smoother and smarter using this type of human resource management system in India. 
4. Encourage more employee engagement
.
HRs can boost and encourage team and employee engagement levels in an HRMS. However, it has to integrate with the group and team chats first. With a cloud version, it is most certainly available and accessible. 
Teams are less dependent on HR with online team chat, polls, surveys, and discussion forums. They can resolve their internal queries as fast as possible. In addition, employees can directly contact their team leaders and senior management on an Adhoc basis. 
So HRs intervention in team chats is less. This gives employees a proper opportunity to bond with one another. They get to know what their team members prefer, like, and suggest using the polls, surveys, and forums. 
With regular internal communication, harmony improves between teams. Next time, they work in tandem with more motivation and a zealous attitude on another project. It would lead to less conflict or friction between employees. 
Instead, employees have more chances to have a problem-solving attitude when working in teams together with transparent communication. 
5. Work with teams from anywhere
.
Choosing cloud HRMS in 2023 is useful to employees working remotely or from different locations across the country. However, they can still manage to accomplish challenging tasks and projects together as teams using the HRMS.
That means HRs can boost DEIB-oriented company culture and hybrid work styles. These two pillars are needed more in a growing company after the pandemic. Employees, after all, now love working at their leisure and being self-reliant. 
They don't wish to depend on HRs for every other activity and project. Rather, they become more productive with the right tech tools to collaborate with teams virtually. 
Therefore, this is a great opportunity to use an HRMS for small and medium-sized companies. The maintenance fee of the cloud-based human resource management tool will be substantially economical as well.
6. Access insightful reports any time on demand.
Reports are important for HRs and reporting managers. These help manage and monitor every kind of workforce enrolled in the firm. For example, without analytical and live performance reports, it could be difficult to gauge the right performance track of a particular employee. 
However, HRMS software allows HRs and reporting managers to use those reports on demand. 
They can access these reports literally from any corner of the world. Of course, they must have login credentials and a stable internet connection to download or access these insightful reports. 
Many reports portray data integrated with leaves, attendance, projects completed, and clocked-in hours. These are also downloadable in multiple formats like doc, PDF, and CSV format. 
It would be helpful for HRs to access these reports in any format they like – supported by their devices. 
That means the user experience on such an HRMS is excellent and seamless. There is no limitation to how HRs and reporting managers process, interpret and access these reports for periodic audits and appraisals. 
7. Set smarter goals for your teams and employees.
A cloud HRMS in 2022 assists team leaders and employees with smarter goals. The same is the case for multiple teams existing in a growing firm. Setting up smarter goals makes employees and teams more intellectual, agile, and ready for change. 
They can then take on new challenges, projects, and tasks effortlessly. As a result, their teams and professional careers will have an exponentially growing graph. In the end, it will benefit the company's market reach too. 
And when employees get to set smarter goals in an HRMS, they feel more empowered. This shows that their work matters and has the capacity to bring drastic changes in the company's reach and revenue. 
Ultimately, team members would be motivated to outperform. There could be a healthy competition between teams and their members by setting up smarter goals that are interesting to achieve. 
Conclusion:
A cloud HRMS in 2023 has a list of essential reasons proving its excellence. Many are stated above for your knowledge. If you're a new HR in your firm, these points will definitely help you understand the workings of an HRMS.