Employee burnout is an occupational hazard that impacts the mental health and job involvement of the employee. The staff members start to feel disinterested in work and the job roles. They go through multiple levels of exhaustion and mental stress when they face burnout at workplace. This exhaustion can also be physical and emotional, if not mental. However, we have a smart solution to tackle it regularly as and when there are symptoms of employee burnout in the organisation. Today, we are explaining how smart HRMS software in India helps to deal with burnout. 
Your organisation in India can easily deal with it without adding to the heavy costs of talent acquisition and development. So, read the blog below to know uKnowva, the best HRMS software in India, helps tackle employee burnout from day one.
Want To Skip The Employee Burnout Content Pasted Below?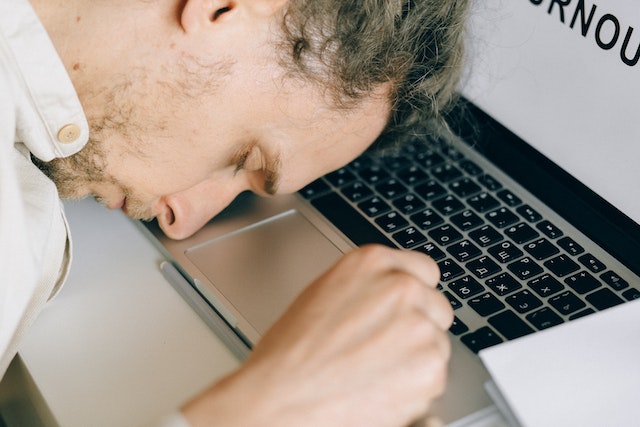 8 Steps For HRMS To Tackle Burnout At Workplace Digitally
Predict employee happiness trend
Burnout at workplace depicts that your employees are not happy with the culture. The process is not what they expected it to be. So you have to pay attention to their happiness trend. From there, get a hint of their daily mood while checking in and checking out of the system. uKnowva, our smart HRMS in the world, provides that facility with the happiness metre, integrated with its virtual biometric system. 
Predict employee attrition rate
You need to predict the common scenarios that arise in the workplace that lead to employee attrition. It could be not showing up to work on time or not logging in daily on time. It could also be in terms of the leaves an employee is taking over a period without notice. There can be multiple other factors to gauge and set a prediction model in the workplace. When HR managers predict employee attrition using smart HRMS software, it is easy for them to control that scenario. They can work on better workplace strategies to curate a progressive culture going forward. 
Check working hours for your staff
Burnout at workplace happens mostly when staff works extra hours without incentives or pay. You need a strong and reliable system to keep track of the working hours of your employee, despite their current working location. When employees are long hours, staying online the whole day, it is not productive at all. You need to give them a hard stop and be serious about their mental and physical well-being. Otherwise, if employees are not serious about ending the day on time, their work performance will eventually dip. They will have a lot of pending work in their to do, which is not a good sign of an effective employee. 
Have a heart-to-heart conversation with your teams
Working in remote locations with flexible working hours requires a lot of self motivation and self control. Employees need to build a strong relationship with their time. If they fail to do so, they end up being unproductive and of no use to the firm if we put it into direct words. However, most of these disinterested feelings from the employee's end go away if they have a heartfelt and warm conversation with their seniors or peers. 
uKnowva provides a collaborative platform, a social intranet, to let it all out on time. Employees put up their status, photos, videos, and other content media there. Employers can view it without delays. Everyone can like, comment, and view each other's worries and concerns to sort them out on time. In contrast, it is a progressive medium to share life's milestones and happier moments. 
HR managers must also use it to converse with their team members when required the most. They must be good listeners and empathetic toward their staff and subordinates. At times, team players might ask dumb and unambiguous questions. They might not have clarity on certain tasks and goals assigned to them. Managers need to clear all their doubts without delays, so the individual, team, and business performance does not hamper. 
When such conversations are on time, employees feel happier. They trust the process and the rapport they create with their seniors and peers. It makes them feel light and less burdened about the targets to achieve, which seem overwhelming in the initial phase. 
Do regular check-ins with your team members
This point is also closely related to the previous one. Managers need to check in with their team members regularly. If they do not do this, they lose touch with their individual team members. The rapport gets hampered, and it gets difficult to bridge the gap after months or weeks. It is the most common scenario when teams are working remotely. 
So, uKnowva, the best HRMS software in India, makes teams connect, co-create, collaborate, and communicate effectively and regularly. They can send daily catch-up messages to each other and know who is working on which task for the day. It bridges the gap of conversation with one another in the presence of the super senior. 
If teams connect on the group chat when even the senior is online, transparency between different or cross functional departments builds to a greater extent. 
Believe in course correction whenever required for your staff
Burnout at workplace is most common because of confusion about the tasks to perform. When there is no feedback, visibility, and equity in the firm, employees start to feel disloyal to the firm. They do not care about their monthly targets and goals. Eventually, they end up leaving when least expected. 
To avoid this scenario, managers have to indulge in course correction whenever possible. They must make a note to give regular feedback to their team members. Otherwise, the staff does not know if they are working on the right path to achieving common goals or not. 
Plan team building activities online for all
Online team building activities help the team to foster a trustworthy relationship with one another and with the senior. Without these activities like catch-up calls, potluck, brainstorming sessions, puzzles, quizzes, and more, teams end up working in silos. They are not sure whom to reach out to in times of grave stress. However, when they are in regular touch and connect with one another, they know each player on the team from the inside out. They know how to play with each member's strength and get the target sorted in place. 
Give appreciation and appraisal to employees who deserve it the most
HR managers and reporting managers have a common duty. That is to give deserving feedback to their employees. They need to keep track of who is performing well and who is giving outstanding results in the organisation. After collecting enough data, they must regularly appraise, appreciate, and reward an employee for all the hard work they put in. These rewards and appreciation activities keep the employees grounded and emotionally connected to the team's performance and growth. When they are emotionally invested, they will not feel isolated or left out. So the chances of them going through burnout at workplace automatically reduces. Additionally, regular appreciation and bonuses motivate employees who strive to break their personal and professional records. 
The Bottom Line
Our smart HRMS program or software in India helps to strategise employee engagement from day one. HR managers can execute all the 8 steps mentioned above using uKnowva. In the end, the employee experience and engagement will shoot up beyond expectations. Employees would want to connect more online, even when on the move. They build a mindset to grow and resolve conflicts and queries promptly. Then, there will be no delays in gauging the current status of the team performances and individual moods during business hours.
FAQs
What are the main reasons for burnout at workplace?
Employees go through burnout at their workplaces when there is a lot of pressure of the workload. They feel no one understands them, and there is no medium of communication to resolve their increasing pressure. They do not get appreciated or incentivised on time for their continuous effort. That is when they start becoming disinterested in their growth at workplace. 
What can employees do to tackle burnout at workplace?
Employees need to make a checklist of the symptoms and causes of burnout. They must talk to their senior or manager at the workplace. They must be open and honest about what they feel during office or business hours. They can use uKnowva HRMS software to keep track of their attendance, happiness score, holidays, performances, bonuses, etc. Then, they can share their concerns regarding each employee lifecycle pillar with HR immediately with proof. 
Can employees leave a job because of burnout at workplace?
Yes, they can. Burnout at workplace makes them feel demeaned and disrespected. At times, employees feel left out and not cared for. They end up feeling emotionally, physically, and mentally exhausted even after raising the concern with their peers and seniors. When there is no immediate solution to handle employee burnout, they have no other alternative than to leave and switch. 
See Also