With emerging everyday trends in a company, employees feel burdened to compete and accomplish expected tasks. At times, they fall back on their deadlines. Other times, disconnection and demotivation replace poor time management. This opens a need for ways to minimise workplace negativity for HR professionals with constructive research and experiential knoweldge.
Otherwise, these reporting managers and human resource professionals have to stand answerable to the management. They have to know why negative and unproductive behaviour is occurring in the workplace. Because negative emotions lead to underachieving or destructive habits.
Instead, employees with a negative perspective of their work tend to leave the job early, show up to work late, do not finish their KPIs, and create an unfavourable work environment. 
In the purview of all setbacks, HRs must acknowledge different ways to minimise workplace negativity. Only then there could be a positive change with growing opportunities for employees to excel and promote.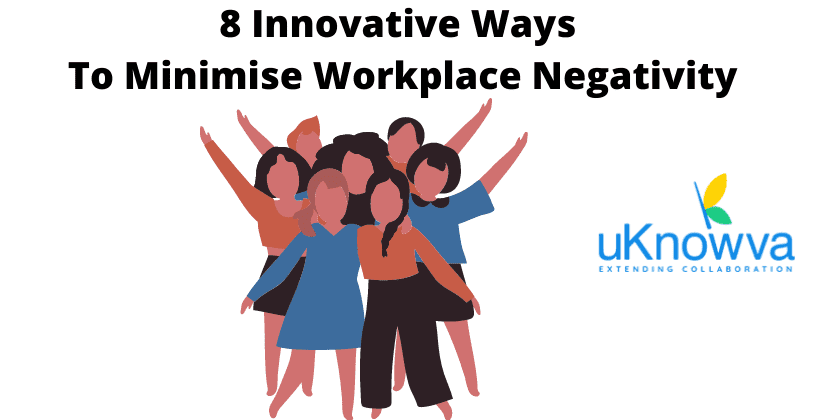 8 Innovative Ways To Minimise Workplace Negativity
1. Actively listen to growing employees' concerns.
The most favourable solution over workplace negativity is to listen to employees and their concerns. That's one of the benefits of having an HR and grievance redressal system in the organisation.
Employees spend 8+ hours approximately every day at their workplace. That is 1/3rd of their day. They meet multiple people from various other notions and perspectives during that period. 
Some employees' behaviour might trigger a chain reaction of negative habits and thoughts. However, HRs must actively take part in weekly counselling for such people. If need be, there could be a daily session too. That's only for emergency or urgent cases. 
HRs have to monitor the impact of these sessions on their workers. 
When employees know they are being listened to with great value and respect, their unsatisfied attitude toward the workplace mellows down. 
2. Allow employees to participate in reshaping projects and their deliverables.
HRs and reporting managers are responsible for training their employees into having an entrepreneurial mindset. After all, today's generation's needs for excelling in their particular jobs and key responsibilities demanded from a position. 
There is no time and culture for micromanagement anymore today. But some employees find it hard to understand. They always need a guiding hand till they mature enough. Therefore, inviting employees, good performers or otherwise, is always a good practice. 
Because when employees actively participate in projects and reshape their deliverables, they use their creative minds. They come up with fresh ideas. Later, they develop the skill to evaluate what is feasible compared to the ideas which are not. 
With repeated decision-making episodes in the firm, employees grow a mindset for creating new ideas. Their intellectual mind develops and shifts to more positive habits than negative ones. 
That's why it's one of the most prominent tips to reduce workplace negativity in this listicle. 
3. Boost the trust factor between employees and employers.
Another way to minimise workplace negativity is to boost the trust factor between teams and employers. Ultimately, employees are working with a senior or super senior. Those themselves are answerable to C-level executives and management of the company. 
So, the teams should use platforms like uKnowva HMRS and social intranet to build trust. For example, using the SI on uKnowva, any employee can directly contact the concerned person – keeping their RMs or TLs in the loop. 
So, the scope of bias or manipulation already reduces. In case of ambiguity in project deliverables, management can directly reach out to the concerned employee at once. 
It puts pressure on the mid-level management too. Majorly because there is now no barrier of communication between different levels present in the organisational chart. 
This way, each employee learns to take their job role more seriously and indulge in more trustable communication. If that happens, eventually, the trust and credibility factor improves between teams and employers. 
4. Promote a company culture that favours growth and development.
Employees return to workplaces that are more productive and growth-oriented. They know they have a scope of excelling their talents in such a company culture.
To support your top-performing and high achieving employees' growth in your company, you can help them learn or relearn new skills. Afterwards, you can assign them newer projects based on those skills.
This way, they would not have time to indulge in negative workplace habits or emotions. Employees will pay more attention to what new they can achieve and learn in the company and grow their professional portfolio. 
5. Acknowledge the timely efforts of your reliable and outperforming employees.
Recognition is the key to bringing more positivity to your existing company culture. So, when learning how to minimise workplace negativity, pay close attention to this point. 
When the company fails to acknowledge outperforming employees' efforts, they feel disconnected. They would want to know why is that happening to them despite their best efforts and contribution.
And if this neglected behaviour from the management's end repeats, an outperforming and talented workforce would start isolating. They might look elsewhere to work or stop giving their necessary input to the organisation. 
However, when companies reward for efforts on time, employees' morale boost and multiplies. They feel proud to stay connected to the organisation as its full-time, remote, or contractual employee. 
6. Make sure there is no room for favouritism in the company.
Company culture can never sustain for long depending on favouritism. It will only create negative internal and external branding for itself. Because favouritism will give an open invitation to politics, informal grapevine misuse, and miscommunication between teams. 
If that happens, it's difficult to find a way to minimise workplace negativity. As there is never one source, you can track to know where the politics stems from. And it will soon enough corrupt the organisational structure and values along its way. 
That is why it's better never to encourage any favouritism in the organisation. Instead, employees must get their timely hikes, promotions, recognitions, and other compensations on merit. 
With an automated performance appraisal system by uKnowva, companies can start focusing on how to develop their talent. 
There will be no more focus on favouring one employee over others. Because in this system, teams can see their progress. There will be transparency. That means it leaves no scope for favouritism, nepotism, or miscommunication. 
Every TL or RM can view their employees' career and success graphs using this system. There is even a 360-degree feedback feature. Because of that, every employee's review from every peer they interact with gets verified. 
7. Embrace and encourage open communication.
Open communication means employees will share their concerns as soon as possible with their team leaders. That means there is no time gap or lag. And whenever employees feel burnout, burdened, or lack motivation, they can approach their TLs.
One smart way to minimise workplace negativity is using Social Intranet by uKnowva. There, teams and the entire organisation can create group chats, forums, polls, and conduct surveys. 
So, whenever an employee is in distress, they should have the right tech tools to express their grievance. By promoting this open communication in company culture, employees will have more trust in the system. 
They would not feel neglected, misheard, or misunderstood. Instead, they can clear the misunderstanding and ask for clarity promptly in team group chats. 
8. Plan and execute team-building exercises to promote positivity and confidence. 
Another solution over workplace negativity is to invite more team-building exercises in the firm. This way, teams will have more courage, confidence, and trust in each other. They will deliver projects and milestones together. 
This brings home a sense of belonging and inclusion while coming from different walks of life simultaneously.
Also, when employees participate in regular team-building exercises, they get to know their peers well. As a result, they recognise their strengths and weaknesses in a very informal setting.
This improves their social quotient, interpersonal relationships, and influence on their teams. 
Conclusion:
It's very tough to stop negativity from circulating in the company culture after it starts. It spreads like a chasm in the firm. However, finding a way to minimise workplace negativity is not impossible.
I have already stated 8 very affordable, exercisable, and dependable points above for small, medium, and growing companies. Read these steps carefully and make a checklist of what works for your firm's culture at present. 
You can keep coming back to these pointers to refresh your knowledge.