Case studies and research published on Entrepreneur already favour health-driven work culture. The conclusions drawn relate to increased performances by happy and engaged workers. 
Happier and more satisfied employees do not fall sick often. They are active at work and know how to complete their deliverables on time. Smarter uKnowva HRMS plays a helping hand here. 
With automation techniques, employees focus on their much-needed breaks. There is less toll on mental health. The overall work culture is productive and cohesive. Employers put ample focus on burnouts, attrition rate and symptoms, and behaviours of top performers.
The consistent monitoring, evaluation, and supervision without intervening in workers' workflow refine the health-driven work culture. Companies valuing employee well-being witness the value-adding change at least 20% more. 
Know the exact impact of this culture to start implementing uKnowva at the earliest.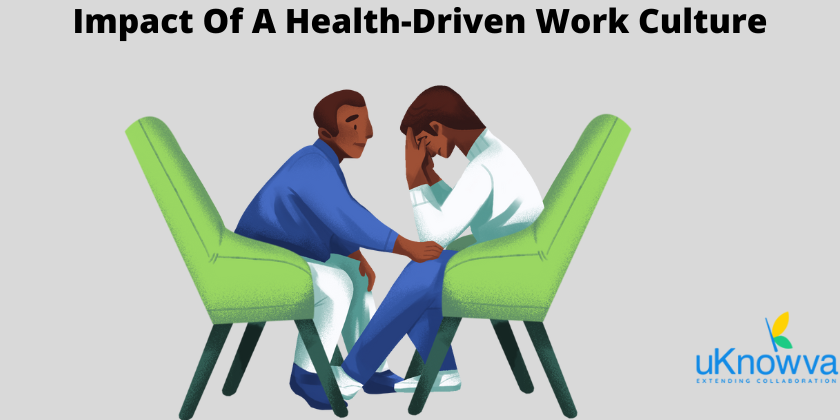 Impact Of A Health-Driven Work Culture:
Increased productivity
Employees know where they belong in a work culture driven by healthy connections and collaborations. There is clarity in the business processes. Workers are free to connect whenever they want another team member to take the lead on a task. 
The simplicity of such a work culture boosts a productive mindset. Employees need not worry about hiding information from others. Instead, there is mutual respect and trust. uKnowva social intranet features ensure that additionally. 
Employees' mental health improves drastically
Employees take the lead of their professional and personal life. That means they take the necessary breaks whenever the burden is too much to handle. They share their concerns proactively with a uKnowva HRMS, an on-cloud workflow management tool. 
Employers get live alerts or notifications of important messages. That way, the communication has no gap. Everyone communicates about their mental health sincerely. 
Employers help employees take the right time off work whenever there are signs of burnout. The uKnowva HR analytics tools detect such symptoms beforehand. 
Employers have enough time to rectify and refine the work culture. This leads to improvement in the impression left on employees, especially the new ones. 
Employees who take breaks to improve their mental health increase their respect for the firm. They return to work with fresh ideas, suggestions, and strategies to explore. 
Attract more business growth
Health-driven work culture ensures employees work effectively at each given or clocked hour. Business growth is common when each activity is fruitful and impactful. It will occur more rapidly when employees have a cool and calm mind.
Working in a panic mood is not good for anyone. With uKnowva HRMS, employees can automate their daily tasks rightfully. Then, workers explore more opportunities to become strategic partners to their C-level management. 
Their role and value in the firm increase as workers bring in more business. That only happens when employees work without unhealthy stress. They must have clarity on their job roles, expectations set by their seniors, and a schedule to utilise.
That way, bringing more business growth and opportunities to the firm is a viable option. 
Increased employee satisfaction and engagement
Employees in 2022 and beyond want a work culture driven by health. They want equal attention to their burnout episodes, mental well-being, and work-life balance. Over-exhausting oneself with work is never the option to consider today. 
But the deliverables mustn't be reduced. To find the balance between deliverable and manual work, employees now trust the uKnowva workforce management tool. It boosts automation at various levels, from onboarding to offboarding. 
When employees access automated tools, their engagement increases. They have more time to connect with other humans at work with a shared purpose. This connection and collaboration process invites more "human" factors in companies. 
Modern firms need this innovation to work productively and keep mental well-being intact. Employees feel their aspirations are met on time with the right tech tools and communication channels. 
When communication is clear, the workflow becomes smooth. Additionally, uKnowva HRMS is a feature-rich tool, enabling error-free workflow every day. Workers get more satisfaction at workplaces then, despite their dissimilar life and work experiences. 
With a satisfied and engaged workforce, firms can expect better decisions, more business results, and multiplied market value. 
Reduction in absenteeism and presenteeism
Health-driven work culture leads to a reduction in overall absenteeism and presenteeism. 
Workers need not stay online unnecessarily for long hours to show they are hard-working (presenteeism). And they don't feel like taking unexpected leaves from work because they don't feel like working (absenteeism). 
The work culture with the intervention of uKnowva HR software is in harmony. Time management is top-class there. Employees do not wish to work less or more unnecessarily. On the contrary, they value their skills, contributions, and experiences just as they should. 
This is a productive habit as HR analytics shows the clocked-in hours of every worker. That way, management also knows the number and names of workers/employees who value their time.
The timesheet and leaves management system integrate fully with project and payroll. So, employees become more serious about doing quality work when they are logged in. This mindset evolves the quality of life at work or outside office hours.
A happy and mentally stable workforce needs to develop that understanding. uKnowva HRMS features and functions teach these corporate values to teams every day. So, the turnover triggered by unhappy, tired, or uninterested employees will be lesser.
Nor will the employees feel stressed out or burnt out because of staying online for too long. Rather, their focus will be laser-sharp. That's what the modern work culture needs to stabilise mental health simultaneously. 
Conclusion:
Health-driven work culture would always create a positive impact. Employees favour the firm where their mental capabilities are challenged but not forced. They become more employable and valuable when working in a culture driven by health and quality of life. 
Understand uKnowva HRMS better by rereading the blog post if you want to implement it in your firm.