Advanced HR analytics uses systemic HR data and applies data science algorithms for solving complex problems daily. The scientific approach of HR technology infused with analytics helps HR leaders extract better business outcomes. 
These leaders make more educated and informed HR-related decisions with advanced HR tech software. The most problematic areas in the workforce get a solution quickly after implementing analytics right. 
This blog lists common ways in which HR analytics enhances modernised and digitised HR operations. Read each case carefully to understand the operation critically.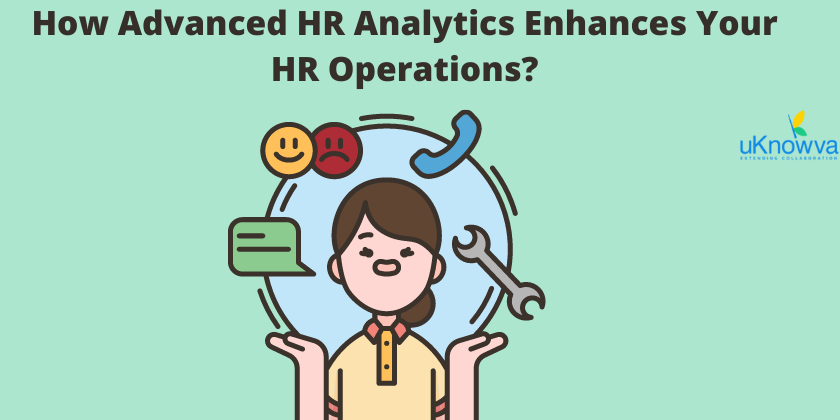 6 Ways Advanced HR Analytics Enhances HR Operations:
Talent acquisition for the best performers
Hiring right is one of the biggest advantages for companies when talking about advanced HR tech functionalities. HR persons now discover a better pool of talented candidates with automated CV parsing and screening. 
These functionalities are available in the HR analytics embedded in the uKnowva HRMS. The tool makes acquiring top performers more possible for new-gen HR leaders. 
It suggests the best candidates based on their performances, previous interaction with the system, and completed application. 
The tool also reads the key phrases entered in the backend by the developers' team. This practice improves talent acquiring and staffing from the first contact to the last. 
Improve staff and employee retention
Using the mix of historical, internal, and operation data help gather a fair idea of the existing company culture. It shows if HR leaders are managing the right workforce or not. 
If the scores are unfavourable, HR leaders can work on better plans to improve retention rates actively. However, when performance rates shoot up, it indicates the overall active engagement of each employee with the system. 
More engagements with the system and tools attract improved retention rates. Besides that, advanced HR analytics helps managers discern impactful activities. They will know which activity is making employees show up more on time. 
Example:
The virtual biometric system helps record each employee's happiness score at every punch in/out. This score is vital as it assembles a backend report, showing which employees are happier than others. 
Happier and more charged-up employees completed projects on time. They do not delay in showing up or completing their deliverables. With that continued practice, employees get retained more often. 
Identify employee skill gaps in advance
The future of HR revamps and readjusts as and when employees reskill. They must work on their calibre every quarter to tackle complex business scenarios daily. The business dynamic changes rapidly in the VUCA world. 
That's when HR leaders tackle emerging HR trends while identifying the skill gaps in their most talented personnel. They indulge in team-building and -bonding activities to ensure they bridge this gap on time. 
With reskilling and upgrading of current expertise, employees empower more. They get better at completing tougher projects on time. Its impact on delivery rate shows up in the insightful report gleaned on the uKnowva HRMS. 
Improvement in employee performance
Employee performances improve exponentially with the emergence of HR analytics. HR leaders predict and diagnose their employees' reports on time. The system is highly flexible and mobile. 
It doesn't stop the HR or reporting managers from overviewing performance whenever required. This accessibility helps HR leaders to create better rapport with their subordinates. 
In doing so, reporting managers diagnose the strengths and weaknesses of their staff before they end up losing essential projects. An HR tech tool like uKnowva has features which managers use to evaluate completed projects single-handedly.
Employees leave comments for their team members after each project. They do not wait until a year ends to leave a review or remark. These suggestions and feedback practice helps the team to improve their project delivery rate.
Plus, there is increased transparency between teams related to the work done. They can recommend better suggestions to one another for creating more value overall as a single unit. 
Setting up customised training programmes
Instead of setting the same learning and training programmes for everyone, HR leaders create more personalised modules. This is helpful to develop and nurture teams separately to improve their expertise. 
HR analytics comes into the picture when it highlights the impact of these learning and training sessions. HR professionals discern whether they are on track to develop and nurture the chosen employee or team right. 
This practice makes way for more adaptive HR technology driven by employee data at every touchpoint. Managers can check each employee's learning pace, contributions, and the value they create after completing courses. 
They can set up surveys for every learner to complete after every module or training. This will be a small test to verify the retention power of each employee. Otherwise, reinforcements ensure that each module is practical and implementable. 
Analyse attrition rate and reasons in advance
The future of HR greatly depends on how you treat your workers on their journey to remain employable for an expected period.
They will retain more if they love the experience you provide, including all compensations, incentives, learning opportunities, and challenges.
On the other hand, some workers or employees are chronic switchers. They are always looking out for better opportunities and firms to work at.
Advanced HR analytics software like uKnowva helps diagnose the traits of chronic switchers. 
It alerts HRs about the upcoming attrition rate and possible causes. Accordingly, then HRs plan to refine their culture and employee engagement plans. 
Example:
There is a famous case study on Bank of America. You can find it online to read in detail. The call centers of Bank of America in the USA used customer data to analyse the real reason behind the turnover.
They further optimised their business policies and allowed their employees to take necessary breaks in between. That is while exercising customer relationship modules and creating a robust rapport.
After weeks of this exercise, Bank of America witnessed a 24 per cent increase in the speed of handling each client call. Eventually, they saved about $15 million that year as the employee turnover decreased drastically.
Conclusion:
HR analytics can become the backbone of bringing dedicated changes to the HR operations, establishing HR maturity levels on the go. The software backed with AI and ML algorithms is the one to trust with greater accessibility, flexibility, and scalability. 
The uKnowva performance management functions embedded in the HRMS help HR discern the efficiency of their teams. They assess emerging HR trends beforehand while auditing these records for reimagining their HR operations. 
Contact us today for a callback and install your first uKnowva instance.