A modern expense management system is there to automate everyday calculations. Your staff easily assembles total disbursements, add-ons, and deductions from salaries. Their manual work hours are saved because of automated calculations in these systems. 
Human errors like misclassifications have fewer chances to occur when uKnowva expense management systems calculate salaries on time. Your staff focuses better on demanding tasks. They no longer burden their mind with salaries and other regular expenses. 
Though, they have to audit the files once before rolling them out in bulk. And there are more advantages attached to modernised expense management software for an HR person to explore. 
Read them below before investing in one for your company.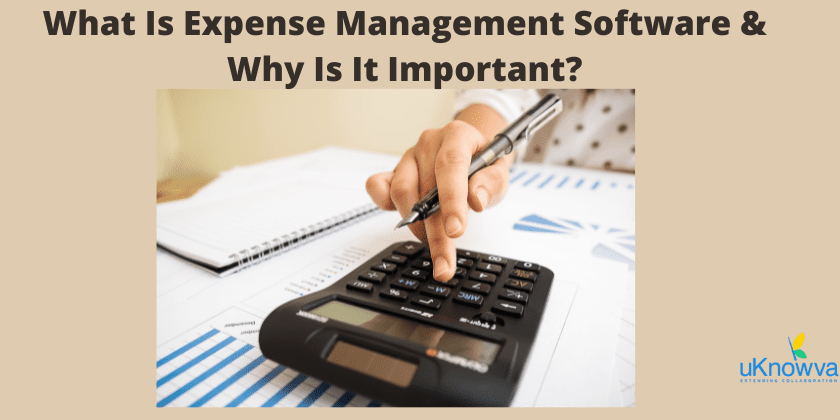 Importance Of Expense Management System or Software:
It is a simpler process.
Managing company expenses is much easier and flawless with an expense management system. The software doesn't lag. Its interface is user-friendly. Even most people who are not that tech-savvy don't take long to understand the bookkeeping in the system. 
Manual hours are used less when the process is simple and easy to adopt. Human resource workers can better utilize their important hours on other talent management/development tasks.
Disbursements are faster.
Growing companies will disburse salaries, incentives, and other current liabilities in bulk. This could be a day-to-day affair for the management. Without expense management software, tracking, tracing, and recording expenses are difficult. 
Disbursing large sums of money to various accounts, even across the border, is difficult to manage. It happens more when there is no management system like uKnowva.
In contrast, companies can roll out bigger payments at once with a robust expense management tool. Admins can view these dashboards depicting expense sheets too at once. 
They have easier accessibility while on the move to use the system. 
Fewer errors or miscalculations. 
The uKnowva automated expense management tool calculates a large sum of monies at the backend. The system is free from bias, favouritism, and other similar issues. It does not tire or go through negligence or fatigue. 
So, there is no possibility of human errors while managing your company's daily expenses. It can be a reliable bookkeeping software. It can be incorporated with updated tax and salaries law in the state and country. 
Besides that, this expense management system reads the employees' data regarding their assigned salaries. It also calculates the overtime dues to be paid or deductions to be reduced from the salary. 
This way, the software has a high utility for young HR professionals. They save multiple working hours every week and month. Additionally, they save themselves from underpaying or overpaying anyone who doesn't deserve it. 
The system has easier steps to regularise the salaries as well. Auditors or admins can review the reports once before disbursing the predefined salaries. These could be linked to the projects, punctuality, and performances. 
So, there is hardly any chance left for any miscalculation to take place. 
The system works best when it integrates with the uKnowva HRMS network for comprehensive knowledge of each expense raised. This is a preferable way to manage expenses to avoid miscalculations, omittances, or similar mishaps. 
Operational efficiency for HR personnel increases.
HR professionals readily calculate more expenses within a limited time. Their efficiency is increased and multiplied when they use expense management software. 
They have enough time to execute the core tasks at hand. The system helps them clear their expenses at once or in bulk. So, the tasks which demanded hundreds of hours from HRs now are completed within seconds. 
Thus, the overall operational efficiency does improve for each HR team member. Their work schedule is more manageable. They can form better employee nurturing and development strategies with the time saved using the uKnowva HRMS.
Enforce expense management policy in the system.
Every state or country has different laws related to salaries and other current liabilities met by companies. Keeping a count of those while calculating and paying off your company expenses is almost impossible without errors. 
However, that complication is covered with the uKnowva expense management system. Admins can integrate the system with the updated government policies. It can track and incorporate the changes in its calculator at the backend. 
HR professionals won't have to spend manual hours calculating and making adjustments. 
Admins can integrate the HRMS to the official government links. That is possible with more advancements in coding and technologies. It helps to stay ahead of time to incorporate the latest tax slab changes in the expenses.
By doing this, calculations like salaries, incentives, or bonuses will be on time. That is while adhering to each state or country's latest taxation rules or policies. 
Use the dashboard to know the status of expenses at any time.
HR professionals must know the status of their expenses. Without that status, managing and forming their strategic alliance with CHROs and CEOs is difficult. For that, the system is perfect. 
It doesn't lag and easily recognises your regular device when you log in from that. Next time, you won't have to enter all your credentials again. Click the network link, save the password/ID, and begin working on using the dashboard. 
The dashboard will report all the necessary expenses you have to overview. You can download live reports from the dashboard. Otherwise, you can share it with the concerned person over the network interface.
So, you won't be switching back and forth between apps. 
Less dependency on manual tasks and more productivity. 
You do not depend on manual tasks anymore. Your teammates go paperless literally. Many expense management tasks on the system are flawlessly achieved to increase the overall team's productivity. 
There is no more dependency on extensive or exhaustive excel workbooks either. However, you can download reports from the dashboard in CSV or other formats if you want. 
Otherwise, dashboard reports are pretty lively and interactive. You can easily swipe through multiple updates and highlights on the dashboard within a few clicks. 
That's more difficult when you're calculating expenses on paper or in excel. 
We can say that accessing and processing expenses are more transparent, promising an immersive experience on the system. 
Conclusion:
An expense management system is a useful tool for growing firms today. Their daily and monthly tasks like calculating salaries and incentives are on time. HR teams no longer sit in front of the calculator for hours to regularise and audit every penny. 
Multiple hours are thankfully saved using the automated expense management software. 
Contact us, the uKnowva team, here today for your instance.