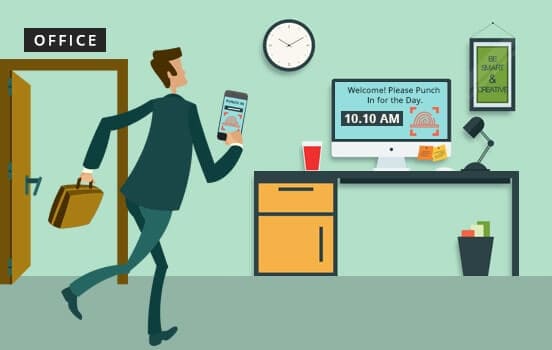 uKnowva HRMS has launched a new feature this week—the Virtual Biometric System. You must be wondering how biometrics have become virtual. That's what this blog is for; to explain what this system does, how it works and how it could help your organization. Itis the next revolution in tracking employee attendance and hours worked in a day.
The Virtual Biometric System works on a simple principal. Whenever a user logs in to the system to start his day, his location is captured and he has to punch in his attendance along with his plan for the day. He can then proceed with his day as usual.
Once the day's work is completed, the user will punch out. While punching out, he has to enter his completed tasks for the day when he does so. The system also show him how many hours he has worked that day and the plan he has entered when punching in. 
Having this system in place has multiple advantages.  

The exact number of hours the user has worked in a day is captured 

His exact in and out times are captured and stored 

You know when he is working from home or from office 

You, as his superior can approve/reject his attendance punches 
This system is a great help to the managers to know the productivity of their team and for the HR at the end of the month for calculating all employees' attendance for salary disbursement. It is completely transparent and users can view their daily attendance on their attendance calendars. In case of any discrepancy in attendance, regularization can be handled though the calendar itself. 
The configuration for this system is also an extremely easy affair with the admin only having to select the correct settings to set it up. 
Team this system with the Late Attendance Marker and you will have taken a step further to making your organization more productive. 
Check out the plugin now on the uKnowva Extension Store: Virtual Biometric System.