Every recruiter has to actively participate in the recruitment life cycle stages for successful and effective hiring. Recruiters prepare for these stages and participate there consistently. 
It is not just a task to be carried out only once. Their analytical recruitment decisions improve workforce quality and culture. The modern full cycle of recruiting has six core steps discussed later in this blog post. 
Read about them clearly to also understand the importance of each stage.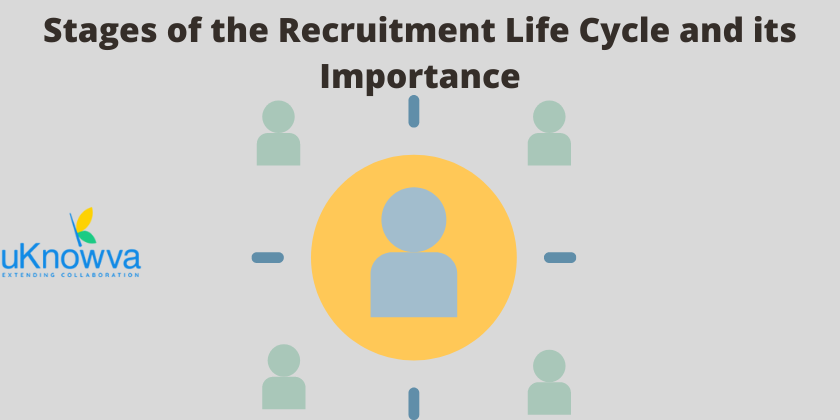 6 Stages Of Recruitment Life Cycle And Their Importance:
1. Preparing
Recruiters gather talent gap information from the hiring manager at this stage of the recruitment process. As soon as the vacancies get approval, recruiters have to start posting about these on the effective and trusted job portals and search engines. 
However, first recruiters and hiring managers will discuss the job roles and responsibilities. They will search for recent similar job profiles online to see what their competitors offer. 
They will also agree on the terms to be offered and limits to be negotiated with the right candidate once selected. Then, they discuss the acquisition cost to be paid to the job portals at once during the start of the first stage of the recruitment life cycle.
After these steps, recruiters can write the right information or ads when they post online. 
They can use the uKnowva recruitment engine to edit their job postings for the same post and save their templates. This will free their hours when similar job offers are posted regularly. 
This platform also allows recruiters to integrate their usual job portals with the system to avoid switching tabs for a single post.
2. Sourcing
The next recruitment process step is sourcing. Sourcing for a highly specialised candidate is easy. You can pick particular job portals then. With limited portals, expenditure on the postings will be more meaningful and purposeful. 
Candidates will apply faster when you post a specialised job on a genre-centric portal. There, you will get highly-specialised candidates. The talent pool there will be brimmed with more skills and competencies required for the current vacancy in your firm. 
Recruiters like you can maintain a talent pool in the uKnowva recruitment engine. This will be better to approach the same candidates next time whenever there's a new job posting. You won't be paying for a new job portal next time. 
Instead, the recruitment engine's history can tell you which potential employees you interviewed and who among them can be reapproached. 
The system can automate CV parsing to save hundreds of hours every month or quarter.
3. Screening
Screening has multiple stages differing in every organisation and its hiring policies. Most organisations today have CV screening, interview/phone screening, and pre-selection process. 
The uKnowva HRMS is a platform that helps recruits in this stage of the recruitment life cycle. It can automate the screening of the latest pool of resumes you receive against the job opening.
CV/resume filtering and screening are part of the applicant tracking system. The same is modern, much automated when using the uKnowva recruitment engine. 
This step of the recruitment process is effective and purpose-driven. If you screen the right candidates, you will interview and shortlist them for their future in your current organisation. 
Screening the wrong candidates can be an expensive mistake because you will hire unfit employees. They can be unproductive, nonchalant, and mess with the current company culture. 
That's why there are often multiple rounds in the screening process. Chatbots or virtual assistants can help recruiters shortlist candidates from video conferences and chat messengers. 
People often ask transparent questions from chatbots. That's their advantage. These virtual assistants can reply as per the triggered NLP-based communication and sentences. They will free recruiters to focus on better tasks in the entire recruitment life cycle process. 
Similarly, pre-selection can be automated by providing case studies and application-based tests for potential candidates to attempt. Later, the system will forward recruiters to those lists which have scored substantial marks on these tests. 
4. Selecting
This step in the full cycle of recruitment includes sending out an assignment, more tests, and scheduling one-on-one interviews. These interviews could be offline or online.
While conducting online interviews, recruiters have to maintain an active relationship with the manager. They also send feedback to the candidates about their performances during the selection process. 
A major part of the selection step in this recruitment process is scheduling. When the firm is hiring in bulk, they have to schedule interviews in bulk. Recruiters often do not have time to email everyone and follow up. 
Automated follow-up messages and emails can be sent based on the applicant status from the uKnowva system. It saves total selecting and recruiting time for recruiters and hiring managers. 
These interviews created a structured process to select the most potential candidates. The experience has to be seamless for everyone in this process so that new candidates favour the firm and its culture more. 
5. Hiring
The hiring step includes background, experience, and educational background checks. That is done for the selected candidates after the detailed conversations and interviews. 
Reference checks will confirm if the selected candidate is aware of the responsibilities. From such assessments, recruiters assess the competencies of their networks. From background checks, the respectful nature and credibility of their address and ID proofs can be justified. 
From experience and educational checks, recruiters know if the candidate has given accurate details on their CVs. Companies can also run a validation check from the candidate's ex-employer for more concrete proof. 
The uKnowva recruitment system helps recruiters send automated emails to different parties. Recruiters can know the statistics of each candidate's recruitment life cycle process from the system within a few clicks. 
Honestly, both the recruiter and hiring manager have to actively take charge to finalise potential candidates from the outcomes of this step. 
Further, offer letters have to be presented to the selected candidate. Again, this could be a time- and talent-consuming task for recruiters. But with modern HRMS and recruitment engines, that issue is sorted and automated. 
Recruiters save multiple offer letter templates in the system. They use such designs to send various offer letters to extend the collaboration within minutes. 
The system allows them to store distinctive offer letters by categorising the same. That way, letters would be easy to find and send. 
6. Onboarding
Recruiters wait for the applicant's response to the offer. There might be further discussion to sign the contract on the revised offer letter at this recruitment life cycle stage. 
The onboarding also involves pre-boarding, which includes the time gap between sending the letter and accepting the same. 
Frequent follow-up messages might be necessary to send to know if the candidate is still interested in the offer. Recruiters use the automated system to send multiple follow-up messages over a period to close the communication. 
With the positive response at the end-stage of the recruitment process, they take communication and collaboration further. This can involve formal and informal meetings of the new employees with the staff and team they will be working with. 
If the employee is online or working remotely, using uKnowva HRMS is justifiable. Their onboarding is smooth and transparent there. Employees can put up a short introduction in the stream visible to everyone in the organisation. 
This way, new employees begin their journey by being celebrated at the first contact. Other employees congratulate them with emojis, reactions, and heartfelt welcome. 
This could be one of the positive and lasting impressions about the acceptable culture when they first onboard. Such a system is also an ice-breaker for new employees feeling overwhelmed to connect with new team members from across the world.
Conclusion:
The recruitment life cycle is crucial as it orients new employees in the organisation from one point to another. Their entire employee journey depends on these six steps talked about above. 
If these steps are unclear, either the employee will be unfit, or the company has to bear losses to replace the same. That is why recruiters must plan and analyse the outcome of each step to avoid such mishaps next time. 
Contact us here for your next recruitment engine instance.