Team uKnowva is super elated to announce that Repute - the next-gen, full stack, and superfast Background Verification app is now on uKnowva's extension store. HR professionals can use Repute, which is building India's 1st blockchain-backed market network to digitally transform the Talent Management ecosystem as the Talent 3.0 revolution takes place. 
Repute is changing the way we deploy the right talent in our organisations with a swifter and seamless background verification process. Its integration with the uKnowva HRMS portal combines the benefit of two powerful tools to make the entire employee onboarding process and experience worthy to recall and easier to deliver.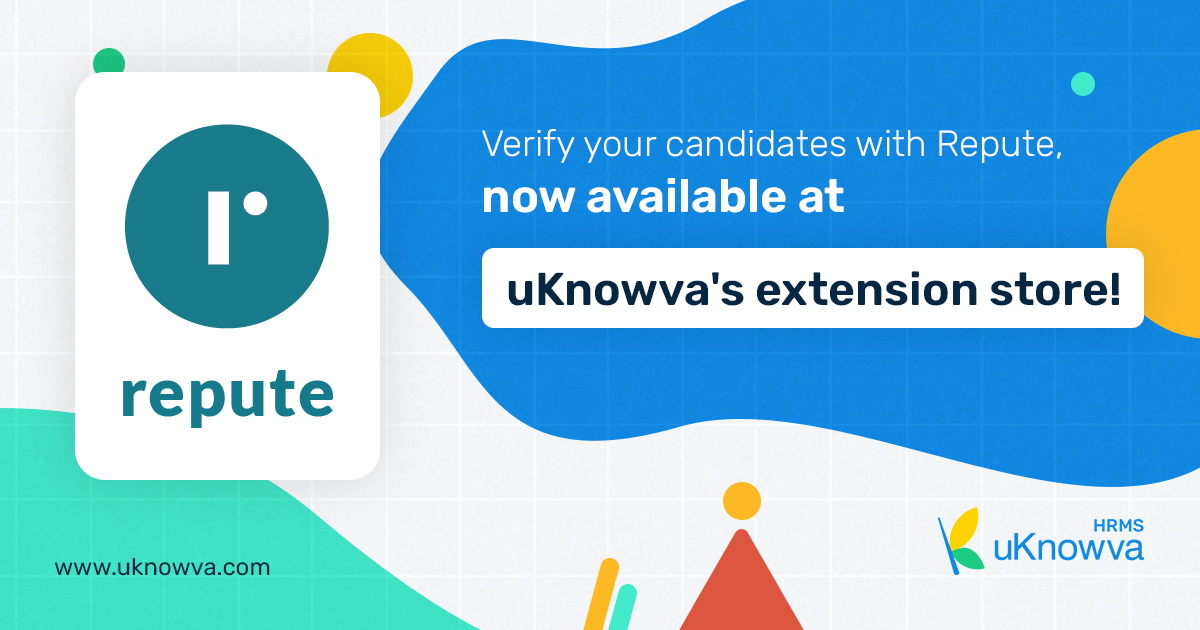 Unique features of Repute you can leverage if you're a uKnowva user:
One-click background verification:
Employers or recruiters do not need to spend hours in calls to references to validate the data of the new candidate. Repute ensures that the background verification (BGV) process happens at the click of a button, especially when integrated with uKnowva, for all its users. It saves time to invest in other crucial recruitment and onboarding activities for HR. 
Automate candidate onboarding:
With the integration of Repute with uKnowva HRMS, it's easier and faster to onboard verified candidates. There is less time spent on double-checking whether the candidate is eligible to be shortlisted for a permanent job or not. The plugin helps to remove this bottleneck and improve the transition of the candidate into a full-time employee within minutes. 
Employee wellness:
HR productivity will only shoot up with the use of the Repute app from the uKnowva extension store. Users can easily focus on multiple apps and features related to employee well-being using Repute on their uKnowva instance or network. 
Easy lending and loan disbursements:
With Repute's listing on uKnowva, Jupiter's users can have the added advantage of getting their salaries on time. The salary generation on uKnowva is quicker, and the same is felt for Jupiter users using Repute when they switch to uKnowva effectively. The loan disbursement is faster with Repute. The verification process for the quick approval of loans is fast, secure, and encrypted at the source of truth. So, uKnowva users can leverage the Repute app or its integration for faster loan approvals. That happens without the intervention of HR at any length. 
A unified platform for all verifications and smoothening of onboarding:
The background verification process is seamless on Repute when integrated into uKnowva. It makes the onboarding of new candidates seamless and faster in comparison to traditional onboarding procedures. uKnowva is a unified platform, and so is Repute, being listed on uKnowva's extension store. So, again, there is no back-and-forth of the tabs to use. Repute is easily available to all uKnowva users if they add the plugin to make the onboarding and background verification process secure, effective, and impactful. This is also applicable to all vendors across all platforms who have been using Repute earlier. 
Selfie match:
It allows you to verify the identity of employees or contractors using facial recognition technology. That's a pretty quick way to ensure that the person you're working with is who they say they are.
Court record checks:
This feature on Repute allows you to quickly and easily check the criminal history of potential employees or contractors. This can help you make informed decisions about who you hire and can help protect your business from potential liability.
Salary insights:
Know about the real-time benchmarking of the salary bars and categories based on the data collected from the real surveys in the market. So, with this data, you can give the right salary or other compensation to the new hire when you're trying to attract and retain new talent in your team or firm.
What's New On Repute?
Repute is constantly bringing out new features to make the user experience more friendly and relatable. Some of the upcoming features on Repute to look out for are:
Earned Wage Access 

Insurance 

Performance Management 

Learning and Development
Conclusion:
Overall, Repute is a valuable and pocket-friendly app for one-click Background Verification checks of your potential new hires and candidates. When integrated with uKnowva, it helps streamline and automate various HR processes pertaining to recruitment at a click. Whether you're looking for a simple communication and collaboration tool or a more comprehensive HR solution like uKnowva HRMS, your organisation can have it all. 
We are thrilled to offer this integration with Repute to our users, and we hope you will give it a try and see how it can benefit your team. So, don't wait any longer; add Repute to your uKnowva account today and see the difference it can make!