A recruitment manager can maximise the recruitment potential of their company website. With the right tips and tricks, the website can generate potential leads integrated with a recruiting tool. 
If you're enthusiastic about acquiring exemplary talent from your website, this blog post is for you. 
There are nine ways in which your business site becomes a purposeful recruiting tool for employers. Then, you consistently get applications on the job posted across platforms from diversified talent your company demands/requires.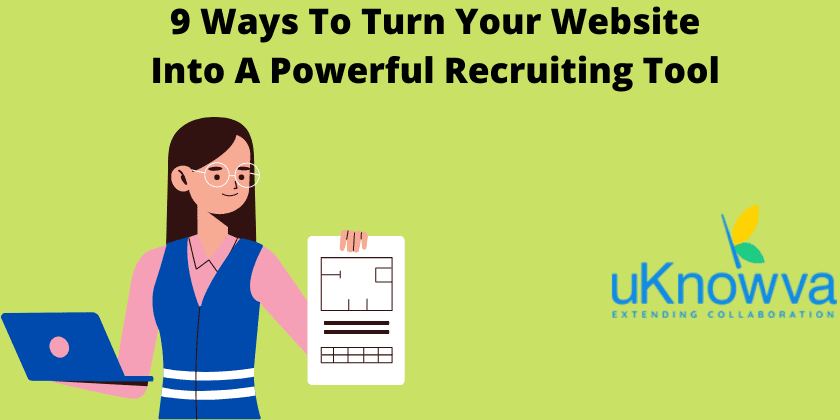 9 Ways To Turn Your Business or Company Site Into A Powerful Recruiting Tool:
Ensure that your page is mobile-friendly:
For a website to be a powerful recruiting tool today, it should be mobile-friendly. Run various A/B testing processes while establishing your business or networking site. Ensure it is responsive and is visible clearly to every modern mobile/tablet device. 
It will increase user engagement on your site. More engagements mean more interest. That includes better chances of word-of-mouth to do wonders for attracting better talent with each post.
Have a careers page:
Set up a careers page on your site. Whoever is interested to work for you will look out for that. That's one of the rules of setting up and launching tools for recruitment. Even when it's through your business site right now.
With a careers page live on your site, you can publish numerous job postings without paying any external service provider. 
Potential employees reach your careers page to verify if the job posting is still open. They can also send their direct details through your website's career page for ease of applying.
Show them a reel of your company culture:
Potential candidates want to see and observe your company culture. Without such a showreel, it's a bit challenging for them to trust your brand, especially if it's new/growing. 
Thus make your site the perfect recruiting tool with as many pictures as possible depicting the company culture. These candidates can see what events you celebrate, how happy are your employees, and how you maintain your office environment. 
These aspects matter a lot to new candidates when they directly approach your site.
Invite candidates to attach cover letters:
Employers often take cover letters lightly to save time. But you can just create a forum on your website that asks for contact details, CVs, and cover letters. When candidates put up a cover letter, it shows they did their research. 
You get to know a lot about potential candidates and how they prepare a cover letter for a job at your site. You can later use recruitment automation tools for reading and screening those cover letters fast. 
Keep an applicant tracking system installed on your network:
Your website can generate leads, but it won't let you track your candidates' application process. 
For that, use the uKnowva recruitment engine. It's the perfect recruiting tool for startups with 10-20 employees. Many other multinational companies use uKnowva solutions to solve complex issues almost every day. 
Anyways, getting back to the point, with such recruiting tools for employers, you track the real-time status of your applicants. You will know stats like:
How many of them completed the entire application process, and within how much period?

How many of them have taken any assessment tests you have posted along with the job post?

How many have passed the tests with a cut off you entered in the system?

How many of them opened their emails regularly to check for updates?
The analysis can keep going on. What matters is recruiters can have a better experience using the ATS. They know if their job postings are successful, helping the company with CTRs, and garnering interest amongst outsiders or not. 
Send an automated "Thank You" email after they apply:
Give your applicants a nice experience to return. That's possible with "Thank You" emails they receive after submitting their contact and portfolio details. Ensure to embed all your website and tool links on this Thank You note. 
It could flash on the website and be sent to the emails they entered. It leaves them with an impression that your company is careful to nurture new leads on the site. 
High performing candidates might consider your organisation over others just for thanking them for applying. 
Automated CV parsing and screening:
With recruitment automation tools, you help your website and hiring managers shortlist potential candidates rapidly. A system like uKnowva doesn't depend on the website or the HR. It can work on the triggered actions, keywords, profiles, experiences, etc. 
After implementing this recruiting tool in your talent acquisition processes, you will get better job applications. Hiring in bulk for growing employees becomes more effective and trustable with these automated features. 
Provide the right details on your site about each job posting:
Ensure there is no error while posting new job openings on your site. Explain each JD carefully with brief company details. List out all the possible OKR and KPIs expected from the potential candidate. 
When you use tools for recruitment aligned with your site, you can bookmark different job templates there. It's useful if you're publishing similar jobs regularly on your site. So, your hiring managers don't have to write all the details repeatedly.
Proofread them once, use tags whenever necessary, let the recruiting tool do its work and publish it on your site on your behalf.
Acquire talent from famous social media platforms

:
Don't shy away from using social media platforms for hiring outperformers at this stage. A basic FB profile lists all the previous works and achievements. Unemployed people continue to use LinkedIn to gain support from a wide community of recruiters.
In fact, direct messengers chatbots and platforms are more effective now for hiring talented personnel from any region. These platforms boost inclusion and diversity as you don't think twice about their location before hiring a perfect candidate there. 
Now hiring has become more purposeful and goal-oriented. Thanks to the hybrid working culture and norms. Recruiting tools for employers make these processes easier, effective, and error-free every day for senior HR executives.
Conclusion:
Hiring managers exercise maximised potential using modern business sites incorporated with the uKnowva recruiting tool. You can take its advantage too to hire the best possible candidate without spending hours searching for them manually. 
Contact us here today for your free uKnowva recruitment engine instance!