Human resource professionals face employee grievances almost every day. Their main task is to work with the humans they employ. This isn't an easy one to tackle, though. 
Human resource persons have multiple other things to look after. They also need to resolve queries fast and be active listeners. 
For them to cater to their employee issues is not always possible at the first call-to-action. 
With a proper employee grievance handling policy and system, that issue can be resolved. If you're an HR person, you must note these points further on in this blog post. 
You will learn the right execution steps to handle workplace grievances effectively.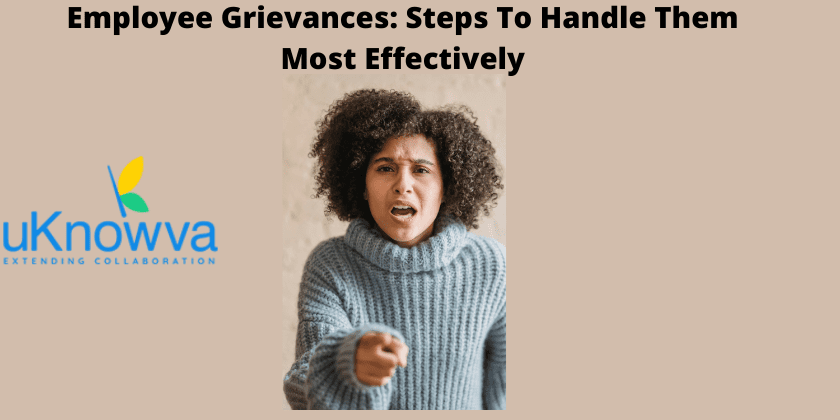 Right Steps For Handling Employee Grievances Effectively:
Create and invest in a system.
There has to be an employee grievances redressal system as the primary step to tackle it. Any staff can complain with valid proof of distress, dissatisfaction, demoralising episodes, and the like. 
Human resource professionals must assign a team to handle the different emotions of distressed employees in this system. This could be online as well for nurturing and listening to employee's grievance across borders. 
You can incorporate a grievance box or a separate helpdesk in the uKnowva HRMS. It will centralise all the problematic tickets. The team can manage queries centrally without changing tabs. 
Give your employee the provision to anonymously raise tickets with proof. That could be an advantage to bringing positive change without bias in the firm.
Acknowledge the grievance.
You have to act fast and listen attentively. Without that, employees won't feel that your employee grievance handling team cares. For that, you can open a chatbox on the social intranet or HRMS.
Let employees talk openly to the team without bias. Show them that their grievances are being handled with the process status. They can check the ticket number of their grievance in the system to see if their grievance is resolved on time. 
Otherwise, let employees talk their hearts out if they come up to you personally (offline). Give them genuinely workable solutions to solve those grievances before things turn bad. 
Also, let them know your solutions to close those grievances with complete sincerity and integrity. Prove it as you start executing the steps.
Investigate the matter.
While learning and studying how to reduce employee grievances, the investigation is an important step. Employees will often come to you with their issues. That's if you're their reporting manager or an HR person.
At times, they will have proof of their distress. Other times, they might not. You cannot bluntly ask them to show the proof if they have been hassled brutally and verbally. Asking them can increase their mental pressure and trauma. 
Instead, you need to set up an internal investigation team. This could be an anonymous team, non-known to employees. That's necessary because otherwise, the investigation around the company culture and its grapevine wouldn't be complete. 
You should delegate the investigation tasks with deadlines to your anonymous team. Simultaneously, assure the victimised employee to be patient and wait for things to resolve. 
Give them regular and frequent updates on the status of their investigation if need be. This helps build trust between subordinates and superiors even in very tough times. 
Call out a formal meeting.
You must call both the grievant and the suspect to the meeting. Your team has already given you evidence that is why you're holding this meeting. By this time, you will have a fair idea of what went wrong with whom, how, and why. 
You let both parties speak for a few minutes separately to put their last point of view forward. Then, show them the pieces of information and evidence gathered. If need be, there might be other board of members or C-level executives involved in this meeting. 
The verdict of the meeting has to be completely objective and purposeful. Both parties must learn a lesson on how to handle these employee grievances. 
At times, both parties might have clashes due to their opposite perspective. You have to teach them to be respectful and compassionate despite sharing different takes on life at work.
Take the decision as objectively as possible.
Once everything is on the table and discussed between parties straightforwardly, it's time to decide. Board members can take up a few minutes in private with team leaders or reporting managers. 
Either way, the verdict of such an employee grievance might be in favour of one or none. Employees too have to understand it. They grasp the knowledge in the initial discussion only mostly. 
However, you have to declare the decision to the grievant and suspected party. Keep your tone light or monotonous. It should not be in favour of anyone intentionally. Make sure there is a moderator of the meeting writing down the minutes for evidence as well. 
Ultimately, employees have to accept the verdict and decide how they want to react to it. That counter-reaction can go in multiple directions. But at least, with a concrete verdict, employees take back home a justified learning for life at work.
The appeal process.
As explained above, employees might reject your decision. They have the right to appeal for a new solution. It should be under your company policy when learning how to reduce employee grievances. 
Dissatisfied employees must write a letter of appeal. They wait for reconsideration from higher management. The appeal acceptance/rejection must be from another supervisor who was not in the meeting for an objective response. 
If rejected again, the complaint could be raised to the employment tribunal. 
Review and rate the situation.
As an HR manager or team leader, you have to review the situation. See if the grievant is happy or not. Check what solutions you could offer more to the person for a better working environment for everyone. 
Verify other methods for dissatisfied employees to reappeal or get compensation for the distress. Ensure that there is no rumour or gossip around this episode in the company. Lest, it could hamper both employees working conditions in the organisation. 
If that happens, their productivity will reduce, and so will their appraisals. 
Conclusion:
Employee grievances are not easy to handle. These can be distressful for an entire organisation's environment. It could be raised and solved online using HRMS systems for hybrid employees. But there should be a proper system in place.
From the steps discussed above, form the base of the grievance handling structure in your firm. Work closely with CHROs, policymakers, lawmakers, and other concerned persons while setting up a grievance handling committee and policies. 
Ensure that the solutions each verdict provides are long-lasting for the benefit of all. 
Need more inputs on online employee grievance handling systems?