A company culture adds new colour and personality to your organisation. Each new person you hire and onboard contributes to it by adding their point of view and beliefs. However, that's where team leaders have to smarten up. 
They must keep observing company changes brought forward implicitly by new hires. Some of these changes can be explicit too.
Their impact matters on the generally accepted norms and radically changing workforce perceptions. Without team leaders' or policymakers' involvement, strong company culture might fall apart unexpectedly.
For this reason, read strategies that fine-tune your corporate culture. It's a necessary read despite the onboarding of new hires or the departure of existing ones.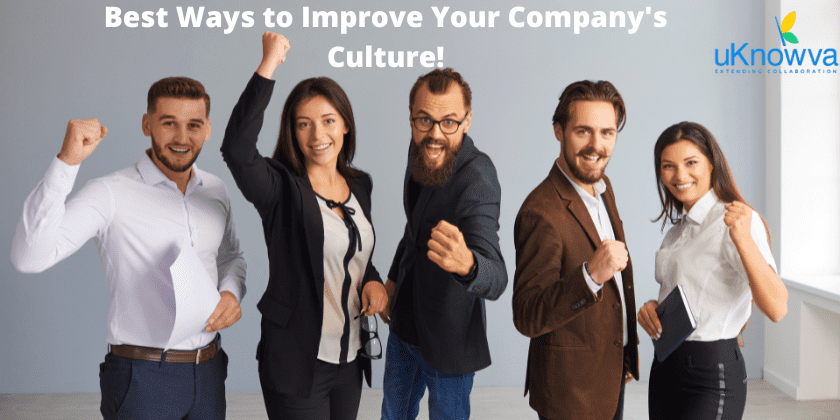 7 Best Executable Strategies To Improve Your Company Culture:
Honour transparency between teams. 
How will you expect strong company culture to surface without transparency between your teams? That's nearly impossible because if your teammates have no trust; they can't deliver their performances well. 
That's more in the case of performances linked together. When employees grow more responsible for their job roles, shared performances and relational analytics become the norm. 
They cannot avoid talking to each other to get the necessary work done attached to their individual JDs. 
As a team leader, you encourage employee engagement that delivers the message across flawlessly. You can use uKnowva communication systems and tools for that. The interface of the Intranet we offer is fully customisable and configurable.
Set its tone and colouring as per your internal branding and goodwill. It also helps your employees become more educated about your branded logos, information, etc. 
In any case, transparent communications with teams and seniors in the system are always fruitful. It helps reform and nurture relationships in the firm for achieving tougher and more complex goals together. 
Let employees connect with a shared goal.
Become an example for your employees, especially the new ones. They look up to you to know what's acceptable and not. Address the importance of communicating and extending collaborations with a purpose. 
Give them the uKnowva Social Intranet tool for equal opportunities to nurture their official interpersonal relationships. Allow them some time to know each other and work on projects together. 
Overview their performances. See how two or more employees or subordinates are working. Review that progress weekly as they communicate to and fro. Appreciate their conversations that improve conversions of expected deals or project deliveries. 
Focus equally on mental well-being. 
Employees' mental well-being plays a key role in reforming and fine-tuning organisational culture. Mentally disturbed employees won't be agile and flexible enough to adopt changing work norms and expectations. 
They will be prone to more mistakes, human errors, and mood swings. This leads to hampering their overall productivity. Watching or observing behaviour continue, other team members get mentally distressed too. 
Team leaders must equally focus on their staff's job engagement and involvement to avoid a domino effect. They must enrol and participate in weekly catch up or monthly meets up. That is applicable even for remote workers to feel included and respected. 
These activities bring more harmony between teams even when they work in various shifts across geographies. 
uKnowva virtual biometric system has a happiness meter. Employees use it to punch in/out their current mood along with their to-do list. This is for every actively registered user working in your team. 
The system generates a data analysis based on these data sets or points. From there, managers can gauge if their employees are working exhaustively. 
They change staff's roster timings if that is the case. It will improve their mental health and protect them from occasional burnout.
Issue company culture norms in advance. 
Calibrate your standard company culture norms initially for better orientation of new employees. This helps human resource managers to hire potential talent appropriately.
Every employee must know what behavioural attitudes or patterns are acceptable there. But communicating them and reinforcing the same can be time-consuming. So, you can use the uKnowva HRMS network system's panel to upload your company policy there. 
Employees will have access to download and read it whenever they like. HRs can remind new and existing employees to re-read the norms whenever there's a new change or improvement. 
In fact, you can shape and reimagine your organisational culture by asking your employees their suggestions or opinions. Give them well-researched questions to answer or vote in polls or pulse surveys. 
Check the result and issue the findings in your company culture if that matches the management's vision too.
Be open to suggestions with investigations. 
Another point and strategy to improve strong company culture is this one.
Employees make up your culture. That is a point you will find a hard time denying or defusing. Accept it and make alterations whenever possible. Because unsatisfied employees will eventually leave. That impacts your retention rate and internal branding. 
To welcome that practice of listening to your employees on time:
Put up a suggestion box.

After a defined period, collect all necessary suggestions.

Verify the feasibility of each point put forward with trial or error and critical/analytical investigations. 
Let your employees know the welcoming change as and when it's improved. The changes suggested by the majority of your staff must be prioritised. This will keep your staff more engaged and satisfied with the culture and the management. 
Track employee progress on time. 
Boost a progressive and goal-oriented company culture. For that, keep tracking your employees' progress. That is now rather easier with an on-cloud and highly accessible performance management system by uKnowva. 
Use it whenever or wherever you are. You need credentials to log in. System admins will provide you with that. Check how well your team is doing. Keep motivating and ensuring them to be on the right track.
With that mindset, no one would have time to indulge in gossip, negativity, and workplace politics. Rather, your teams will be encouraged and powerful enough to work on their personal and professional goals. 
Organisations with such a workforce often stand the test of time and external factors like the pandemic and the Great Resignation. In fact, your reputation and mutual respect increase when employees focus on everyday learning and development.
Celebrate your team's achievements. 
Reward your teams on time to inspire them to work hard. That's a strong company culture you should aspire to sustain in a rapidly changing, hyper-digitised world. When employees get timely rewards and appreciation, they prefer that firm over others. 
They recommend it to others if such practices continue to develop and nurture sincere and dedicated talent. Your company's goodwill will organically spread across regions if you develop a culture of next-generation favours.
Conclusion:
Robust company culture is the backbone of an organisation to sustain modern-world HR challenges.
Develop it with reliable HRMS systems and strategies mentioned above. Be consistent in practice to readjust the norms with new hires replacing existing ones as they depart. 
Contact us here now to refine your corporate culture smartly.