HRs and the human resource sector take the payment of salaries for granted most of the time. Unfortunately, that's one of the significant payroll horrors to get rid of when working in a firm. 
It can happen when proper salary or payroll system is not in the firm. So salaries become difficult to calculate with multiple revisions and provisions. 
Each employee has a different salary bar with various incentives aligned with their job roles, conforming to the company policy. However, it takes many manual hours to verify salary roll-out tasks at the end of each month. 
But when HRs delay salaries, employees get upset. They start to lose trust. Eventually, they will look out for another company if this ignorance or negligence continues. 
An HR has to face many other payroll horrors and learn disaster management at work. 
So this blog teaches you about the top 6 payroll horror stories and examples. Reading those, as an HR, you can understand why it's essential to roll out an automated payroll system as soon as possible.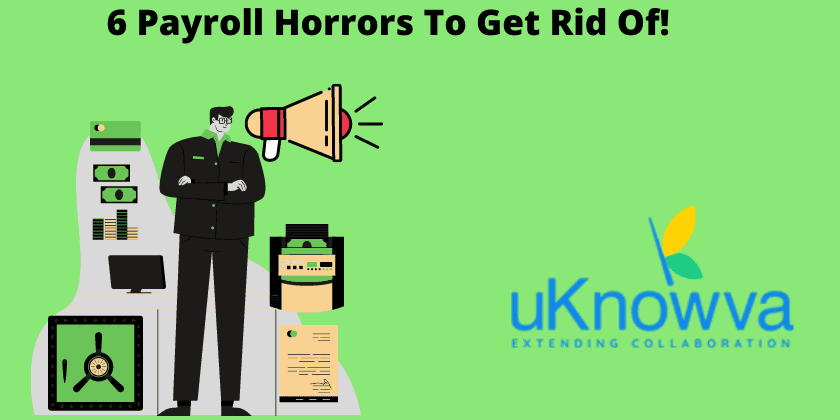 List Of 6 Payroll Horrors To Get Rid Of From Your Modern Company Are:
1. Using wrong classification or categories for employees.
Human errors like misclassification of employees can occur anytime while calculating monthly salary manually. This way, you either underpay or overpay the concerned employee. 
This will distort the internal branding of your modern and growing firm's payroll management system. 
It is something you want to stay away from at any cost – be it a big or a small firm. 
When employees see that you don't classify them correctly, they might start misusing that disadvantage. This could happen more in the case of contractual labour workers who get paid higher mistakenly. 
Additionally, internal management conflicts can arise if you are underpaying an employee because of misclassification of their role or job title.
2. Miscalculating your employees' salary.
Without the enablement of payroll software in a growing company, this could be a significant issue. Miscalculating the salary of an employee (s) could be troublesome and loss-bearing for the firm. 
If not addressed or rectified on time, the company would start becoming unable to pay the right salaries to their deserving employees. In addition, it leads to massive conflict between employees and the management. 
The HR personnels are put on the standpoint to justify the miscalculation mistake. Such people can lose their job if the error is too high or in bulk. 
All in all, this case helps no one. On the contrary, it only leads to frustration because, eventually, the company has to carry out the calculations again. This process will be time-consuming and require man-hours. 
Employees will start growing disconnected and dissatisfied with this company culture. And we all know what happens when employees don't trust the company: they start looking elsewhere. 
That's why it's one of the dreaded payroll horrors to get rid of. However, that is possible with a stable, reliable, and dependable uKnowva payroll management system. 
Calculations are easy and automated. Therefore, there is less scope for human bias or manipulation using this tool in growing and modern Indian firms. 
3. Not having a mobile attendance and timesheet management system.
Another one of the payroll horrors to talk about is the absence of leaves and an attendance management system. 
HRs might not have a factual idea about the leaves allotted, applied for, and rejected concerning their employees. That occurs when there is no system to track the live attendance and work hours invested. 
In that case, calculation of salary is nearly impossible. Because without knowing the leaves and hours an employee worked for, how can a company roll out their salaries? If they do so, there will be a huge salary pay gap. As a result, some employees might receive over and underpay.
Then HRs will be responsible along with the management. But, again, it will be a disrespectful experience for employees. They won't want to work in such a company. 
Their only solution or alternative is to look for other jobs. This increases the attrition rate and creates a negative image for the company in the market. 
4. Delaying in paying your hard-working employees.
Payroll or salary generation and roll-outs have to be on time. This is the first expectation from the employees out of the company when they join the firm. When payroll is delayed, employees feel betrayed and confused. 
They are not sure what is taking the company so long to give employees their salaries for the hard work of that month. If this negligence continues, even employees would take a backseat and not perform well. 
Gradually, they will want to switch to a company with a better policy for such episodes of disaster management at work. However, if there is any delay because of a technical error, employees must be notified in advance. 
But this error must not occur every month. Otherwise, it shows that salaries are delayed deliberately. This ignorance and unprofessionalism will put off employees, which leads to them leaving the company sooner than expected. 
5. Failing to pay incentives to workers with overtime hours. 
Employees are clocking in for long hours because they either find profit or purpose in the assigned task. No one likes to work extra hours. They all have a personal life to maintain. 
But if the company is not paying them for overtime, there is again a great level of disappointment amongst employees. This becomes one of the most talked-about payroll horrors, which are difficult to rectify if the branding is impacted. 
So companies must have a uKnowva payroll management system. This tool helps automate incentives and overtime hours. 
That is possible the payroll system is integrated with the hours clocked in. And employees are working extra hours, they will be paid for the extra time as well. 
6. Mistakes in calculating the taxes to be deducted.
Every hired employee or contractual labour has taxation liabilities if they are earning regular income above the given exempted tax slab. The company has to help them deduct taxed amounts from their salaries and directly file the same to the government. 
But without modern payroll software, there might be miscalculations. If that happens, it's again one of the most unprofessional payroll horrors. The final obligation to sort out the taxation would be on the employee. 
Their CIBIL score could get hampered if the taxation amount is not filed or deducted properly. 
Eventually, employers too have to participate in regularising their employees' taxation amount. Because negligence and ignorance of calculating the right taxable salary won't lead to negative internal branding.
Conclusion:
Payroll horrors are not easy to solve. However, they must be addressed and talked about on time – even in small and growing companies. Because if HRs are unaware of these mistakes, their employees will suffer. 
If employees suffer and receive a terrible workplace experience, they won't act productive or remain loyalists to the brand. 
Thus, it's best to have an automated payroll system in advance in the company. This helps remove all possible human errors, including bias, fatigue, miscalculations, and misclassifications.