The covid-19 pandemic had been tough on every worker. Some had to step up, and others preferred to lean out. Here managers had to reform their performance evaluation systems without penalising anyone who wasn't capable. 
It's also now more understandable that compensation to workers alone is not enough. For reimaging the performance appraisal and evaluation system, the process has to be redefined. 
So, hiring managers can now seek out better performance evaluation process tools in this new normal. 
Here remote workers, flexible working hours, contractors, consultants, and freelancers are becoming the norm. That is more in the case of a knowledge-based or data-driven industry. 
In the blog post list below, you will understand how to set up a performance review and evaluation system. That is considering the new workplace norms and expectations from diverse employees.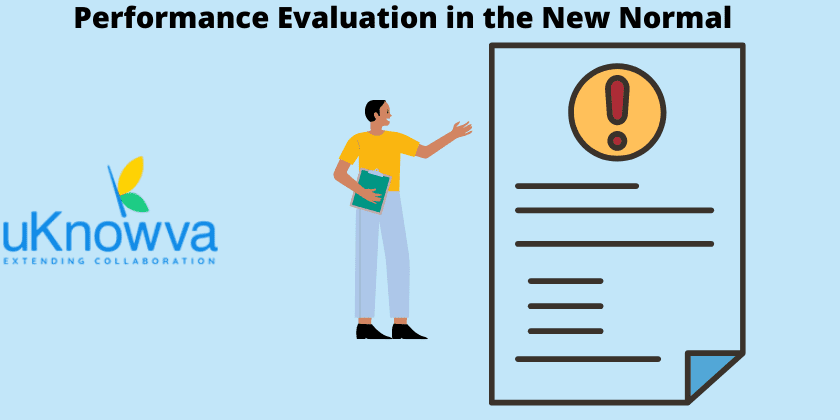 Performance Evaluation in the New Normal:
Define roles clearly before assigning the autonomy to decide and execute:
At this moment, with a uKnowva performance evaluation tool, you can set up clear roles for your employees. They might work from numerous locations at multiple hours during the day. That shall not ever impact their duties towards their job roles and responsibilities. 
Therefore, you must know and define the importance of each task and activity assigned to your employee in the system. Employees can check whenever they want from the performance review tool like the one embedded in the HRMS. 
This will remove the ambiguity of defined roles and responsibilities amongst teams. They will know the weightage each task has and the deadlines to complete it. 
Ensure to define and communicate the consequences of non-performance of duties:
You have to make sure that consequences are attached to every non-performing activity or attitude. This is not a punishment for employees. It's keeping the culture same and straight in the organisations where achieving goals with dignity and autonomy matter. 
Even your remote employees, labourers, contractors, or freelancers must know that. Everyone who works for you must know the consequences of delays and non-delivery of the goals. 
This could result in reduced review points, fewer incentives, or other benefits/privileges. But the basic pay of the staff does not get impacted by it. However, the overall growth is decided on how much employees perform: their efficiency and effectiveness. 
Ensure to communicate the rewards and recognitions attached to each milestone:
While setting up your employee performance evaluation in the new normal, communicate the benefits of breaking records and milestones. This is an equally opposite feature or factor to be kept in mind compared to the point discussed above. 
But it holds the same value. If you define consequences for non-delivery, decide and communicate the rewards and recognitions too. This motivates employees to outperform. They would want to win exciting incentives and accolades.
After winning these review points, recognitions, or timely rewards, they have a greater sense of purpose, belonging, and job satisfaction. They would prefer to remain in this organisation which rewards their inputs on time. 
Decision-makers should be deciding to achieve common goals:
The performance evaluation process and system have to work in tandem with decision-makers. It can show the teams' progress reports to their reporting managers. They will get the hint from there, whether their teams are working towards the organisational goal. 
If not, reporting managers have to align them repeatedly. This is a continuous process. When teams are given autonomy to work out their time and projects, detours can occur. Live dashboards and insightful reports help HR persons and reporting managers. 
This way, the performance evaluation system works best in the new normal age where diversity and inclusion factors are prominent. 
So, each reporting manager can overview different workforces at once, irrespective of their work hours or locations. That would not be a barrier anymore. 
Instead, they can instantly connect with their team members with smart uKnowva tech tools on time. With that, the alignment of decision-makers toward the common goal is faster, and so is the delivery. 
These reports also overview if decision-makers working under the reporting managers are contributing right or not. 
Later, managers can change their human resource allocation or review workforce performances based on such behaviours. That is after the alignment is still not effective. 
Engage with teammates regularly for their motivation and connection:
The performance evaluation or appraisal software in the new normal age has to be interactive. Employees need that platform where they feel they are not alone or in information silos. They must connect to their job, work hours, and reporting managers. 
After all, they are giving 8-12 hours every day to their job. Be it from any location or at any given hour. If there is no connection or a delayed one between subordinates and superiors (RMs, TLs, HRs), they feel isolated and demotivated.
However, a new-age employee performance evaluation tool tackles this hindrance promptly. Managers can regularly use the chat platform to connect and collaborate with their teams. 
They stay in touch genuinely. The notifications of each message and chat are emailed, sent as push notifications, or a loud buzz. This is a proactive way to stay connected or receive alerts from staff looking out for you. 
With this continued practice, employees build trust in the reporting managers. They know when to approach their seniors and how. 
Reporting managers, in return, form a rapport with their members. These managers know each team member's strengths and weaknesses. 
Later, they can use the same to allocate or reallocate human resources for faster and more efficient project delivery. Together, teammates and reporting managers can work to outperform their team's productivity. 
All this happens when the communication is strong, consistent, and responsive. The platform provides it. Reporting managers must also respect each member; listen attentively to act upon their queries and suggestions proactively. 
Conclusion:
A performance evaluation or management tool has to be interactive, smart, and agile. The new-gen expects workflow automation, quicker review and response, and an on-time hike in salaries. 
They no longer just want compensation for their jobs. Complete appreciation, job security, safety, and connection matter. 
They must also review themselves along with their peers and seniors. So, a modern employee performance evaluation software must provide these features. Other than that, the points above educate you on aligning your team efforts in the PMS with agility and integrity. 
Contact us today for more updates on changing performance management trends.