Businesses expect HRs to excel every day with the advancement of technology. Their role is now more of a full-time manager for the talent they onboard. That's one of the many key roles increasing the importance of technology in HR management.
The software or tool an HR professional must use to manage their workforce must be dependable, reliable, empowering, and secure. This tool like uKnowva HRMS must help them solve and execute complex or tedious HR tasks. 
However, these are just a few examples of HR technology for modern companies. To study its importance and the impact of its implementation, continue to read this blog.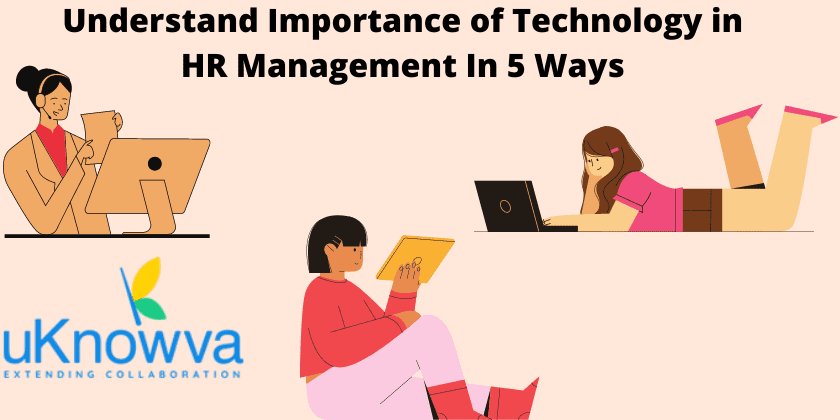 5 Ways To Show The Importance Of Technology In HR Management In 2022 And Beyond:
Widely used ATS to screen potential candidates:
Applicant Tracking Systems are now in wide and regular use when we talk about employee management software. This is a functionality each such tool must-have. It makes HRs job to screen potential candidates easier and quicker than before. 
They set triggered actions in the system. For example, automatic reminders will be set. HRs would know the application status of each candidate. They can leave remarks for each registered candidate in the uKnowva recruitment and onboarding system. 
Later, the analytics will be used. For example, it will screen and shortlist candidates depending on their remarks and previous application status. It could also depend on earlier aptitude test scores attempted and achieved by a candidate reapplying to the firm. 
All in all, candidate data management is in one place. This could be useful to HRs when they want to maximise the potential of each hiring cycle for the company. And this system doesn't require an investment of long person-hours either. 
Automatically post jobs on the selected job portals:
The growing importance of technology in HR management also relates to the ease of posting jobs online. Powerful and agile tools like uKnowva HRMS assist HRs in posting jobs to their selected list of job posting websites. 
The data of job postings is integrated with the third-party apps and sites on demand. So now HRs don't have to post the same job vacancy on each website manually. All job postings get published on the required websites integrated with the recruitment engine.
Such HR technology examples are empowering. They lead to better employee hiring, onboarding, and talent acquisition episodes.
Automate mundane tasks like a Pro and on the go:
HR & technology are becoming two inseparable pairs. With the growing importance of technology in HR management, recruiters can now automate their regular tasks like a pro. 
There is an added advantage for HRs when using uKnowva HRMS – they access it anywhere and at any time. This ensures that HRs have full accessibility to automate their tedious health checks on employee management and acquisition. 
They won't be required to waste long hours anymore. Instead, focusing on more key performance indicators would be beneficial and useful for HRs because of this technology. 
It also means that HRs are not missing or skipping their regular tasks. Instead, they get it done by using the HRMS without extra effort. 
For example, they can access employee efficiency reports live from the dashboard on the PMS. Now, they don't need to extensively calculate labours' hours manually in the excel workbook and waste hours. 
More engagement for teams and employees at any level:
The importance of HR technology is also getting the necessary limelight because of the empowered employee engagement levels in the organisations. Now teams can easily talk to each other over chatbots and messenger apps integrated in the HRMS instance of uKnowva. 
This increases a team's productivity and proficiency. They don't waste hours in unproductive conversations. Rather, their communication remains to the point and transparent. Anyone from the team can access the Zulip chat box to put forward their queries.
Other team members get instant notifications of new messages on their mobile phones and operating systems. There is a buzzing sound for the notifications as well to alert the professionals who are working away from the keyboard. 
This experience ensures that no communication gets delayed or missed. Therefore, projects have higher chances to be met and accomplished within the deadlines. As there is no chance or scope of miscommunication. 
This is possible for every employee at any level in the firm. So employees at the bottom line can directly converse with the management using the chat messenger. 
It shows the culture of inclusion and involvement. Therefore, each click gives employees a memorable and respectful experience. 
Real-time data analytics on performance reports:
The importance of technology in HR management impacts how HR professionals measure and monitor their talent's efficiency levels. With the availability of live reports, it's all the more possible now. 
These reports are accessible by reporting managers and hiring managers at any time. The ultimate access to all analytics is with the admin of the system. Accessing these analytics reports on workforce performance could be coordinated based on roles and responsibilities. 
These reports are accurate. That's because the data entered in these reports for live dashboards is from the registered employee data. 
There is no scope for human errors here. So whenever employees update their project details, attendance, and timesheets, their proficiency level impacts simultaneously. 
Yet again, HR professionals and employees don't have to depend on each other for gauging their projects and timesheets. Instead, employees can access their projects and leaves/attendance sheets themselves. 
On the other hand, HRs can use insightful live reports to judge and measure a particular employee's performance. They won't have to solicit the employee every time they want to audit a system-generated report. 
However, there are options in this HR technology or tool to regularise attendance and project hours. For this, the approval for final edits shall be with the admin, reporting manager, or the management. 
Conclusion:
In the 5 ways mentioned above, the importance of technology in HR management shall be pretty clear to new hiring managers. However, each company has its own policy to use different technologies for managing and developing talent. 
Whatever may be the case, systems like uKnowva HRMS can streamline hire to retire HR tasks for hiring managers effectively.