It's natural for employees to look for different companies to shift to. You cannot stop them from pursuing a better option. But as a talent nurturer, it's your responsibility to offer them irresistible pay grades, tech tools, and roles to accomplish. 
Such strategies level up their job satisfaction and engagement for them to reconsider the exit. With time, you need to reform these strategies in line with employees' preferences. Without the involvement of HR tech, that becomes a compulsion.
That's when smarter employee engagement solutions help HRs reduce the expected turnover rate. These strategies reengineer people management processes applied by HRs conventionally.
The recruiters can form comprehensively aligned strategies over the uKnowva intranet tools. They do so to nurture their talented employees from one point to seemingly another.
Smart systems like uKnowva ensure that workforce turnover reduces as the internal branding improves. Let's read the blog ahead to understand how that plan executes, keeping the humanised factor intact.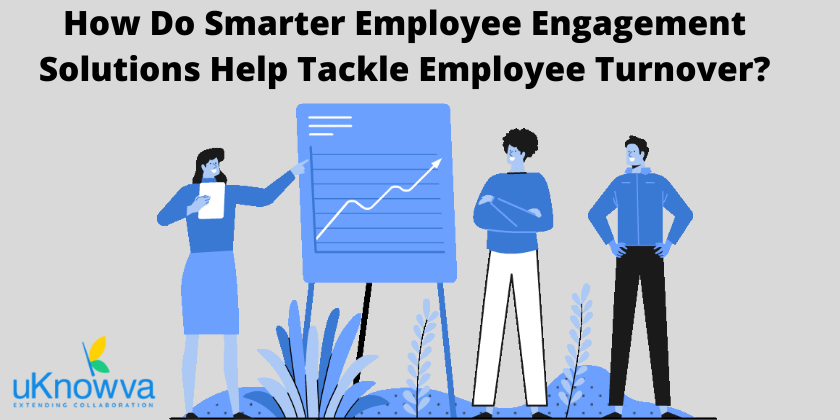 List Of Five Implementable Employee Engagement Solutions To Tackle Expected Employee Turnover:
Provide feedback to add value to employees' work lifecycle.
Dedicated employees need to retune and refine their power and commitments for better business results. That is possible when a process of concrete and constructive feedback is in place. 
HRs and reporting managers must enable this process using the uKnowva intranet and employee engagement tools. This strategy is to boost employee engagement across all divisions and business units. 
Employees get a realistic image of their performance with genuine feedback. They can improve their commitment and contributions to standardise their lifecycle at work. 
Organisations which offer feedback on time are more successful in turning employees into loyalists and brand ambassadors. That means such workers decide to stay in the firm for long to break the usual turnover norms. 
Collect ideas from your staff and work on them.
An organisation is more likely to prosper and profit from collected and shareable ideas. Employers connect with their employees from the executive, middle, to the bottom line while collecting ideas.
It gives a very strong impression to every worker when senior management approaches them for ideas. This is made possible with the uKnowva social intranet network. Anyone in the team and/or organisation can create a survey, poll, or discussion forum. 
Employees interact and put their ideas using those features. There is usually a multiplied increase in employee engagement when employees cast their votes. It helps managers and C-suite seniors to reinforce necessary strategies in their culture. 
We can say that it is a loop that helps organisations grow and optimise their internal branding. Employees feel that they are being respected, heard, and listened to actively. This notion makes them stay more often. 
Employers must share the update with teams when they work on these collected ideas and insights. Members of each team feel special and honoured, acknowledging that their ideas are working for the firm. 
This activity boosts their self-confidence and interaction with teams and the system. They look forward to sharing more ideas and getting more recognition as per their calibre. 
That's why this is one of the most impactful employee engagement solutions implemented with smart HR tech tools. 
Provide new courses and modules to teach to your teams. 
Attract employees' interest with new courses and training sessions. They need to learn and level up to upgrade their CVs and professional portfolio. In the private sector, we know and openly acknowledge employees have a limited work life cycle.
These learning and growth opportunities help employers retain their most outperforming employees at a lower cost. The eLMS function is now available at uKnowva HRMS. Employers can use it to launch new modules, sessions, and courses. 
They get insights on the numbers of employees starting and finishing each course. These insights help gauge if the learning module effectively garners more interest from employees. 
When employees learn more, their engagement rates multiply. They want to work on new projects demanding the application of their newly learned skills. 
That is another way you boost employee engagement flawlessly for an output of never-ending business growth.
Invest in new and great ideas for building rapport with your teams. 
Interact with your teams. Make it a habit. Do not shy away from it as a manager. Employees might fear missing out, being isolated, or being unheard. That is when there is a greater communication gap. 
You resolve it by indulging in different team-bonding activities with your fellow teammates. Make them feel valued every time you interact. Show them how you respect their decisions and work lifestyles. 
Invent and invest in new ideas to bring your scattered workforce together in the hyper-digital world. That is possible with the uKnowva intranet, where teams join and connect to co-create purposefully. 
Besides that, find ways to communicate with your teams creatively. Build one-on-one rapport. Know the deep desires and expectations of each worker you manage or deal with daily. 
This practice becomes contagious and helps you spread the sense of belonging, positivity, and together across. When that feeling settles in every team member, they show up at work frequently.
Their non-serious or frivolous nature for work will reduce. Rather, they would want to talk to you openly about new ideas, challenges, and projects to complete. This will make your team stronger and more enthusiastic.
Otherwise, you can play brainstorming games and activities with your teams on weekends. That is to unwind their stress and help them rejuvenate on light working days. 
These are one of the fantastic employee engagement solutions to follow for reducing the predicted attrition rate.
Appreciate and recognise their efforts randomly.
Surprise your employees to increase the employee engagement scores of your teams. Take them to luncheons or pay them regards or cheers for conquering difficult projects effortlessly. Do it without notice and prior acknowledgments. 
See how your teams behave and feel super elated. Ensure to provide them with delightful experiences like these once in a while. That is similar to nurturing your customers to turn them into evangelists over time. 
The same concept is with employees, as these are your internal stakeholders. You have to continually impress and motivate them to be more productive as a talent manager. And everyone likes appreciation, especially when it's in front of the entire organisation or the unit. 
That's easy to implement using uKnowva smart social intranet system. 
Conclusion:
HR experts implement these employee engagement solutions and strategies above to reduce possible employee turnover. Your company can do it too by welcoming uKnowva employee engagement tools onboard.